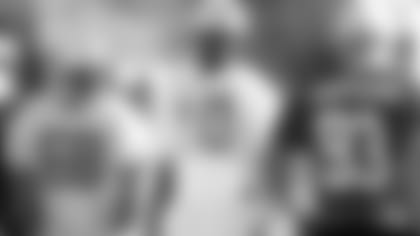 Titans players Kevin Mawae (68), Vince Young (10) and Kyle Vanden bosch (93) take part in Wednesday's Pro Bowl practice in Fort Lauderdale.
FORT LAUDERDALE, Fla. --** Day one of Pro Bowl practice in South Florida got off to a strong start for the Titans players that were selected.
It was a beautiful morning as the AFC team assembled on the field of St. Thomas Aquinas High School in Ft. Lauderdale, Fla. This being the first year the Pro Bowl is being played the week before the Super Bowl and in the same city, all of the players were excited as they benefited from the Super Bowl treatment.
Vince Young, Chris Johnson, Kevin Mawae and Kyle Vanden Bosch all arrived via the team buses to the football field about 8:30 a.m. ET. After light stretching and warmups, CJ2K exchanged some wise cracks with Bengals wide receiver Chad Ochocinco before practice got under way.
As the offense and defense went their separate ways, I headed down to the offensive side of the field to see three of the Titans players in action. It looked as if AFC Pro Bowl coach Norv Turner knew that he needed to take advantage of having the sixth running back in NFL history to rush for over 2,000 yards.
As the first play of practice unfolded, Texans quarterback Matt Schaub handed the ball off to Johnson, who took it to the house, just like he did all season long. Yes, there was no defense on the field at the time, but with C.J.'s results in 2009, that didn't much matter. Young got under center and handed the ball off to Jaguars running back Maurice Jones-Drew the very next play. Obviously, some very dangerous duos.
During one part of the practice, Young and Vanden Bosch lined up on the line in punt protection with VY chasing down Browns kick returner Josh Cribbs. It was all fun and games for the players as they got the chance to do some things they are not accustomed to during the season.
Overall, it was a great first day for the four Titans players. The practice was light as the AFC players got reacquainted with one another. The AFC team wrapped up its first day of practice at around 10 a.m. to make room for the NFC squad that arrived 30 minutes later. Each of the players spent some time with members of the media before boarding buses back to the team hotel.
---
Dan Beckler was the 2009 season-long public relations intern for the Tennessee Titans. He will be filing daily Titans reports from Fort Lauderdale, leading up to the day of the Pro Bowl.