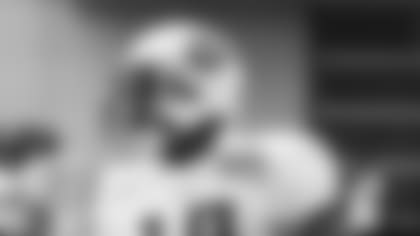 The Titans are making sure wide receiver Kenny Britt is healthy for the regular season opener at Jacksonville.
NASHVILLE, Tenn. - Titans receiver Kenny Britt is back on the field.
It was a welcome sight for Tennessee fans: Jake Locker lofting a pass down field and Britt hauling it in.
The Titans have been very cautious with Britt since the start of training camp because he reported with a right hamstring he hurt working on his own in New Jersey in late July. That's the same hamstring Britt hurt last season, knocking him essentially out of five games.
Coach Mike Munchak said the Titans will need a healthy Britt to win the AFC South. That's why the focus is on making sure Britt's fully healthy by the season opener at Jacksonville on Sept. 11.
"He looks pretty special to me, but I think he has another gear too,'' Munchak said of Britt. "I think that will come in time too, and we don't need that right now. We just want to keep him healthy, keep him working because we know we need him when the season starts.'
Britt spent the first week of training camp working his up to running on a side field with a trainer, and he joined into individual drills last week before working with the scout team at the end of the week before the preseason opener.
On Monday, he finally took the field with the full team, though Britt said he doesn't feel near 100 percent just yet. That's why he's patiently listening to the trainers.
"I still feel it in the back of my mind,'' Britt said. "I know I just can't go out there and run full speed and set myself back and be out for the next three weeks.''
Britt said he is patiently listening to trainers even though he hates holding back. Teammate Nate Washington told Britt he was a little hard-headed Monday.
"He told me to ease into it, and I go the first one-on-one I go on a deep route, and (I'm) still feeling it. I've got to calm myself down a little,'' Britt said.
For all of Britt's headlines off the field during the NFL lockout with two arrests in New Jersey and two arrest warrants issued for him in Tennessee over driver's license applications, the 2009 first-round pick out of Rutgers has shown talent on the field that could make him a top receiver.
The 6-foot-3, 215-pound Britt turned in the best game by a receiver in 2010 on Oct. 24 when he had 225 yards receiving off seven catches for three touchdowns. But he hurt his right hamstring a week later early at San Diego running on a deep pass route.
Britt missed four games healing up and still led Tennessee with 775 yards receiving and nine TD catches.
"I proved I can be one of the No. 1 receivers, hopefully keeping my job and not getting injured things like that ...,'' Britt said. "I'll do whatever the coaches want me to do.''
Quarterbacks Matt Hasselbeck and Jake Locker had been eager to really get to work with Britt. With his size, Hasselbeck said Britt has a "little Michael Irvin-thing about him, which is good.''
Offensive coordinator Chris Palmer hasn't been worried about Britt not working on the field much in a training camp that wraps up Aug. 23. He noted Britt has been good in the meeting room and knew which play had been signaled in a goal-line drill, proof the receiver is paying close attention.
"I've been very impressed with him,'' Palmer said last week.
A big worry among fans is whether or not Britt gets punished by the NFL for his busy offseason. At camp, Britt promises he only wants to prove that he is a team player. With so many rookies asking him questions, Britt said he wants to pass along tips like those he got from Randy Moss last year.
Britt also can't wait to play in a preseason game, though he knows that may not happen Saturday when the Titans visit St. Louis.
"I'm real hungry. I feel like a fat kid that never ate in two, three years,'' Britt said. "I'm just waiting to go out there and play with my teammates and try to show them I'm here 100 percent. My mind's here, and it's always going to be here.''