**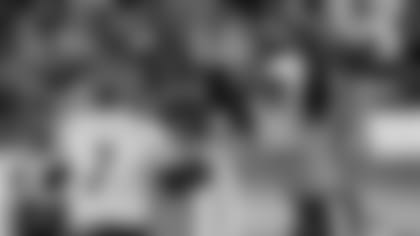 Defensive tackle Jason Jones registered 3.5 sacks and two forced fumbles against Pittsburgh last season.
NASHVILLE, Tenn. -** The Tennessee Titans are hoping they can come close to pressuring Ben Roethlisberger as they did last December when they sacked the
Pittsburgh Steelers
quarterback five times.
And they're not changing the plan that worked so well in that game.
"We had a bunch of relentless pass rushers and kept everyone fresh,'' Titans defensive end Jevon Kearse said. "We had a pretty good rotation going on as we always do as a defensive line. Keep a bunch of guys in his face and knock him down as much as we can.''
The Titans not only sacked Roethlisberger five times in that 31-14 win Dec. 21. They also notched eight hits on the bruising quarterback while coming up with four turnovers.
The good news for Tennessee going into Thursday night's season opener against the defending champs in Pittsburgh? The Titans still have the tackle who racked up 3 1/2 sacks in that game in Jason Jones, the man who took the starting job left open when All Pro Albert Haynesworth left for his $100 million contract in Washington.
Coach Jeff Fisher said defenses have to be very smart when trying to pressure the 6-foot-5, 241-pound Roethlisberger.
"We were fortunate that we got to him, those plays very well had the defender been on a different foot or off between strides, he may not have made those plays. It's unrealistic for us to think that that's going to happen again. We'll have to play very, very solid defense,'' Fisher said.
Haynesworth is the only player missing from that Tennessee defense that finished second to Pittsburgh in the NFL in points allowed per game. Haynesworth sat out that Dec. 21 game with an injury, which gave Jones the second start of his rookie season. Jones wound up leading all rookie tackles with his five sacks, a total that ranked him fourth overall.
Pittsburgh coach Mike Tomlin said the Steelers kind of knew what was coming from Jones after interviewing him at the 2008 NFL Combine and visiting with him before the draft.
"We liked him, we saw him coming, and we still couldn't do anything about it. Hopefully we fare a little better this time,'' Tomlin said.
Kearse said the Steelers could try to fix their protection but wasn't sure how much more they could do than in that last game.
"Then again, we've got to find ways to beat even that as well,'' he said.
The Titans way involves rotating defensive linemen to keep them as fresh in the fourth quarter as the first. It's why they kept 10 on the roster. Tony Brown slid over from his spot as the left tackle to fill Haynesworth's slot at right tackle beside Kyle Vanden Bosch. Jones starts at left tackle next to Kearse.
Then they can come in waves with free agent signee Jovan Haye and Kevin Vickerson next at tackle. Dave Ball, Jacob Ford and William Hayes, who recovered a Roethlisberger fumble, all rotate in at end.
Vanden Bosch said Roethlisberger's mobility in the pocket is their biggest challenge.
"As good as our defensive backs are, they can't cover receivers forever. He buys time for his receivers to get open. It's on us up front to get pressure on him and make sure he's not running around forever,'' Vanden Bosch said.
The pressure also will come from linebackers Keith Bulluck and David Thornton. The Titans insist they won't be blitzing more under new defensive coordinator Chuck Cecil than they did a year ago, but safeties Michael Griffin and Chris Hope and cornerbacks Cortland Finnegan and Nick Harper can get to the quarterback if they call for an extra rusher.
The key will be plaster coverage as Roethlisberger scrambles around to keep plays alive.
"You have to stay in coverage. We call it plaster technique,'' Thornton said. "Hopefully, our defensive linemen will continue to pressure and get some sacks and some hurries.''