**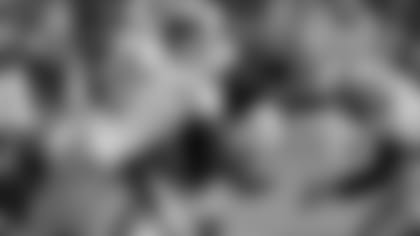 Former Florida State safety Myron Rolle will take his shot at the NFL after the Titans drafted him in the sixth round on Saturday.
NASHVILLE, Tenn. --** Myron Rolle isn't sure how much his decision to leave football and take advantage of his Rhodes scholarship to study in Oxford cost him.
Rolle does know those who question his commitment to football are way off base.
"I sacrificed a lot in my Rhodes scholarship experience to stay in shape, make sure I was ready and pride myself for this exact moment,'' Rolle said Saturday after the Tennessee Titans grabbed him with the final pick in the sixth round.
"Where my classmates were drinking at the pubs at 1:30 in the morning or traveling to different parts of the EU, I was working out, training, going to sleep, resting my body, making sure I was ready to compete. I love this game. I love this sport, and I want it to be my vocation for the next 10 years.''
The 6-foot-2, 215-pound Rolle finished his undergraduate degree in premed in 2 1/2 years, then took off from football in 2009 to study in Oxford. He entered the draft and waited to hear his name until the Titans called and used the 207th pick overall on him.
Rolle noted his strength coach, Tom Shaw, gave him a two-hour workout that he and his brother followed six days a week between 6 a.m. and 8 a.m. to keep himself in shape. He also worked with a rugby team and returned in mid-December to start preparing for his return to football at the Senior Bowl in January and the NFL Combine in February.
He said listened to the advice of former Rhodes scholars and top athletes like Hall of Fame basketball player Bill Bradley not to eat or drink too much while in Oxford.
He had 62 tackles with five passes deflected in 2008 when he was a third-team All-American, and he also started 35 of 38 games at Florida State before passing up his final year of eligibility because he wants to become a neurosurgeon.
Rolle noted he improved his 40-meter time from as high as 4.68 seconds at the combine to between 4.48 to 4.54 seconds at his pro day.
"My times improved when I had a second chance to do it,'' Rolle said.
So how much did his year off to study hurt him? Rolle said he didn't expect to go Thursday with a small chance to go late Friday night in the third round. He didn't expect to wait as long as he did Saturday before receiving a call.
Rolle learned he finally had been picked while texting with distant cousin and former NFL cornerback Samari Rolle, who started his career in Tennessee. Rolle said he had visited his cousin while Samari still played for Tennessee but had not heard from the team before Titans coach Jeff Fisher called with the news Saturday.
"We'd love to see what the draft process is like in the back war rooms as teams, what they're looking at, how they're evaluating players,'' Rolle said. "Obviously, the Titans have noticed my ability and see that I'm special, and I'm certainly ready to compete and help the franchise anyway I can.''