NASHVILLE, Tenn. — The Titans surprised some draft forecasters in 2012 with the selection of receiver Kendall Wright at the 20th overall spot, but shifted back to defense for five of their other six picks.
Tennessee selected linebacker Zach Brown in the second round, defensive tackle Mike Martin in the third, cornerback Coty Sensabaugh in the fourth, tight end Taylor Thompson in the fifth, safety Markelle Martin in the sixth and defensive end Scott Solomon in the seventh.
Wright proved to be a top talent, tying for the rookie lead with 64 receptions. He gained 626 yards on those catches and scored four touchdowns. The Titans would like to increase his yards per reception from 9.8 a year ago toward the 13.3 mark he averaged in four seasons at Baylor. Wright increased his number of catches, yards and touchdowns each season of college.
Brown started 13 of 16 games as a rookie and became a more dynamic player each week. He recorded 93 tackles (70 solos and six for loss), 5.5 sacks, three interceptions, six passes defensed, two fumble recoveries and one forced fumble. Brown showed his elite speed for his position in the finale when he returned interceptions 79 and 30 yards for touchdowns against Jacksonville.
Mike Martin played in all 16 games and recorded 40 tackles (five for loss) and three sacks while adding depth at defensive tackle. Sensabaugh made three starts in the 16 games he played and recorded 27 tackles (23 solos) and three passes defensed while also playing special teams.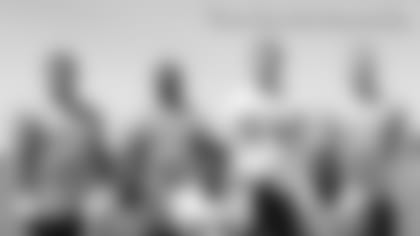 ](http://www.titansonline.com/media-center/photo-gallery/Revisiting-the-2012-NFL-Draft/6954ac71-bb1e-42fd-9d20-d756778fdb9f)
The Titans drafted seven players in the 2012 NFL Draft and are scheduled to make nine selections this year. Click here for a slideshow of players chosen last year.
Thompson was another selection that drew interest because he played defensive end in college but entered the draft as a tight end. Thompson played in all 16 games as a reserve tight end and on special teams where he recorded 11 tackles. His blocking came along quickly, and the Titans are likely to look to him more in the passing game this season.
In its first draft with Ruston Webster as general manager, Tennessee traded up 10 spots to draft Thompson and sent its fifth and seventh round picks to Miami. The Titans traded back into the seventh round by sending a sixth-round selection to Minnesota and drafted Solomon, who played in 13 games as a reserve on the defensive line and on special teams.
Markelle Martin fell to the sixth round last year after suffering a knee injury during his preparations for the NFL Combine. He was unable to regain full healthfulness last year.
The chart below shows the selections made by the Titans in the 2012 NFL Draft:
5a-pick acquired in trade with Miami for fifth (155) and seventh-round (227) picks
5b-pick traded to Miami (see 5a)
7a-pick acquired in trade with Minnesota for a sixth-round choice in 2013 7b-pick traded to Miami (see 5a)