NASHVILLE, Tenn. —The Titans traded their first-round pick and a seventh-round selection in the 2001 NFL Draft during separate deals to add a player on the offensive and defensive line.
Tennessee sent the 29th overall pick to St. Louis for defensive end Kevin Carter, who was drafted sixth overall in 1995 and started 64 games in four seasons for the Titans. Carter recorded 23.5 sacks with Tennessee, including 10 in 2002 when he earned selection to the Pro Bowl. The second trade involved a swap of the 229th overall pick for Oakland offensive lineman Gennaro DiNapoli, who started 18 of 23 games (all 16 in 2002) in two seasons with the Titans.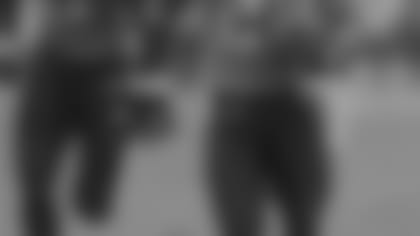 The first-round trade positioned Tennessee's first selection at the 60th overall position in the second round where they chose Andre Dyson, a cornerback from Utah.
Dyson started 60 of 62 games he played in four seasons with Tennessee. He recorded 16 interceptions in that span, including a career-high six that he returned 135 yards in 2004. The previous season Dyson returned two of the four interceptions he made for touchdowns.
Dyson also recorded 59 pass breakups and three forced fumbles with the Titans, who drafted his older brother Kevin, a receiver, in the first round of the 1998 NFL Draft. The Dysons were on the Titans in Andre's first two pro seasons, and made NFL history when Andre returned an interception for a touchdown and Kevin had a receiving touchdown in the same game (Sept. 22, 2002).
The Titans turned to offensive players with their next five picks, selecting TE Shad Meier in the third round, WRs Justin McCareins and Eddie Berlin in the fourth and fifth rounds, and RB Dan Alexander and T Adam Haayer in the sixth round.
Meier caught 42 passes in 53 games with the Titans, including 25 in 2004. McCareins worked his way up the depth chart and started 10 games in 2003 when he had 47 receptions for a career-best 813 yards and seven touchdowns. He also returned 29 punts for 330 yards and a touchdown and 13 kickoffs for 256 yards.
The chart below shows selections made by the Titans in the 2001 NFL Draft:
1-pick traded to St. Louis for DE Kevin Carter
6b, 7b-picks awarded as compensatory selections
7a-pick traded to Oakland for C Gennaro DiNapoli