**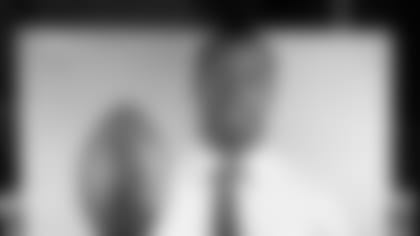 The Titans added an outstanding run stopper and edge rusher in UCLA LB Akeem Ayers.
NASHVILLE, Tenn. -** The Tennessee Titans are sticking to their gameplan in the NFL draft.
The Titans took UCLA linebacker Akeem Ayers with their second-round pick Friday, adding size and versatility to a team that desperately needs to improve its run defense.
They also added a guy who's a little bit ticked off. Ayers spent Thursday in New York at draft headquarters, but flew home to Los Angeles on Friday after being passed over in the first round.
"All the teams that passed on me, I'm going to make them wish that they didn't,'' Ayers told reporters in Nashville by conference call.
The Titans were surprised he didn't go at the end of the first round, too. They identified him Thursday night as a player they wanted Friday with the seventh pick in the second round, 39th overall. The Titans entered the draft with needs at linebacker and defensive line and Ayers helps at both positions.
Along with 28 starts at strongside linebacker he also lined up at defensive end on third downs. He finished his career with six interceptions, 29.5 tackles for loss and 14 sacks.
New Titans defensive coordinator Jerry Gray sees a number of possibilities for him in passing situations.
"So now I think that creates a little confusion on the offensive line that you've got to find out who that fourth rusher is,'' Gray said. "And to me that's only going to help us. The good thing about him is he's not a one-position guy, he can play two positions. And you're always looking for somebody who can be more versatile.''
The pick comes after the Titans addressed their biggest need, taking former Washington Huskies quarterback Jake Locker with the No. 8 overall pick to replace soon-to-be-gone Vince Young.
Ayers was a Butkus Award finalist as a junior for the Bruins last season and immediately gives the Titans a little more presence in their front seven. At 6-foot-4 and 255 pounds, he could be the answer at a position where Tennessee has been undersized.
There's also the question of whether starting middle linebacker Stephen Tulloch will be back. He could become a free agent depending on how the new collective bargaining agreement works out. Ayers gives the Titans the ability to move Will Witherspoon to middle linebacker if Tulloch leaves.
Ayers was confidant he was the right choice no matter what he's asked to do.
"I never once questioned my ability as a player and once I get down to Tennessee and put in the hard work and really just dedicate myself to football, now that I don't have school and all those things, I can really dedicate my time and become a much better player than I was at UCLA,'' he said.
Gray and Munchak were optimistic they could continue to improve the defense with another linebacker or defensive lineman with the 77th pick in Friday's third round.