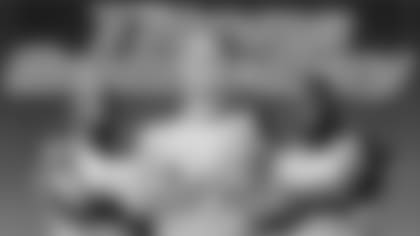 From L to R: Cornerbacks Jason McCourty, Cortland Finnegan and Alterraun Verner.
NASHVILLE, Tenn. -- Jerry Gray believes a nickelback is worth a whole lot more than a situational substitution.
Teams often bring in a reserve defensive back to play the position when they expect offenses to throw the football, but Gray believes the best player on defense should man the post.
Gray, a four-time Pro Bowl defensive back in his playing days (1985-93), is in his first season as Tennessee's defensive coordinator. Exerting pressure and generating production from nickelback position is a key element to Gray's scheme. Gray said Cortland Finnegan's aggressiveness and versatility make him the ideal nickelback.
"He can cover, he can blitz, he can do a lot of stuff for you," Gray said. "You're always looking for guys like that. He's smart, he understands what we're trying to do. If we wanted him to play safety, I bet he could line up there. That's the type of attitude he brought this year to be a leader and hopefully help us win a championship."
Finnegan said he was excited when he learned he would move from his outside post of cornerback and line up against players in the slot and position himself closer to where the ball is likely to go. He said he's tried to bring a "linebacker attitude" to go along with his 5-foot-10, 188-pound cornerback frame.
"I'm finally getting to do the mini-linebacker thing that I've always wanted to do," Finnegan said. "Growing up, my childhood [hero] was (Baltimore linebacker) Ray Lewis, so it works out for everyone."
Secondary coach Marcus Robertson said Finnegan has enabled the Titans to do "some of the things we do on defense." Sometimes it's with a big hit that breaks up a completion and sends a message to opponents like Finnegan did early against Baltimore. He also tipped a pass that Jason McCourty intercepted against the Ravens.
Other times, it is when he pressures a quarterback into a bad decision. Finnegan brought heat just before Cleveland's Colt McCoy threw a pass that Jordan Babineaux returned 97 yards for a touchdown. Finnegan led the Titans with a career-high 15 tackles against the Browns.
"Cortland's an excellent cover guy in man-to-man or zone, but I think where he helps us out the most is where he creates pressure when he rushes," Robertson said. "When he blitzes the quarterback, he's real disruptive."
Robertson and Gray said they are able to move Finnegan to the inside because of the confidence they have in McCourty and Alterraun Verner on the outside. The coverage that McCourty and Verner provide creates more opportunities for Finnegan, who was voted by teammates as the team's defensive captain, to get closer to the football on more plays.
"When you've got a guy like Cortland, you've got to find a way to get him around the football," Robertson said. "That was one of the ways to do it. On third down, the offensive player in the slot, usually, is the go-to guy, so we wanted to put our best football player where we felt like the ball was going.
"He did it as a rookie, but then when he became a starter, we kept him on the edge. Any time you've got a guy that's that dynamic, you need to put him in a position to make plays. He's an exceptional blitzer. He causes havoc, and we kind of like that factor."
Finnegan and McCourty started at cornerback last season. McCourty fractured his arm in Week 3, accelerating the debut of Verner, who proved he wasn't over-matched by playing before he thought he would. Verner led the Titans with 15 passes defended and added three interceptions in his rookie campaign.
"It was a true blessing to get out there and get my feet wet," Verner said. "I think it made me better for this year, and just learning from the older guys. We all mesh well. They're real easy to talk to. I appreciate it and am trying to get better every day."
He's continued his ball-hawking this season, recording an interception against Baltimore, and recovering an onside kick against Pittsburgh.
"Verner's got excellent ball skills," Robertson said. "The guy's football IQ is extremely high. He understands what his weaknesses are and plays to his strengths. He played a little bit of this system in college, and I think when he came in here, he didn't miss a beat. You could see the way he transformed into the defense spontaneously. He played at a high level from day one."
McCourty has also demonstrated a knack for being around the ball this season. The third-year pro recorded interceptions in consecutive weeks against Baltimore and Denver and forced a fumble on his first career sack against Jacksonville. It's been a great start for the former sixth-round pick, whose identical twin, Devin, plays for New England. The Patriots selected Devin McCourty in the first round in 2010, and he had seven interceptions in his rookie season.
"Everyone tries to compare [Jason] to his brother. I think he's actually a little bit better than his brother," Robertson said. "That's all debatable and things of that nature. Considering I've got him here, he's the better one. J-Mac is continuously improving. He has all the tools, he's very coachable. He understands the game and he's not afraid to make plays. He's a heck of a tackler and he'll blitz sometimes off the edge."
The Titans defense started out in the top 10 in multiple categories this season. Tennessee held its first four opponents to 16 points or fewer, and briefly led the league in yards allowed per game, yards allowed per play and points per game. The trio also helped Tennessee's defense hold Carolina to a season-low three points last week.
The security of coverage that McCourty and Verner provide on the outside enables other Titans players to take more chances, and the pressure applied by other positions creates opportunities for McCourty and Verner, who both said they are appreciative of the confidence that Titans coaches and players have in them.
"We all kind of feed off each other and we understand that all three of us on the field is kind of a dynamic thing for us this year," McCourty said. "We kind of just want to be able to work together, talk about what offenses may try to do, collaborate and play well on Sundays."
The three defensive backs have enjoyed developing their on-field chemistry and direct much credit for their individual plays and the team's success to each other.
"Those guys are playmakers, so that allows me to go inside," Finnegan said. "All of us are going to have our growing pains in this new defense, but we all believe in one another and continue to watch film together and push each other."
The NFL lockout eliminated organized team activities and shortened the amount of time and opportunities in which Titans coaches and players could develop the new defensive scheme.
Finnegan, McCourty and Verner tried to bond with each other off the field until the labor dispute was resolved. They had Bible studies, meals, conversations and laughs.
"I think we've grown together tremendously," Finnegan said. "We know what one another is thinking, and we're continuing to build on that."
Said Verner: "I love hanging out with these guys. I would always get a kick out of hanging out with Cortland and Jason. Cortland's probably one of the funniest guys I know. … That made our bond closer and made us enjoy playing with each other that much more." 
Gray said it's been enjoyable to blend the personalities and attributes into a cohesive unit that yields results.
"You have an attitude guy in 31 [Finnegan]," Gray said. "The other two guys are laid back but they're really good football players and they know when the ball comes their way, they're going to compete just as hard as 31. That's what you like."