PHOENIX – When the Titans traded for former Dolphins quarterback Ryan Tannehill, they welcomed in a regular NFL starter and paired him with the team's starting quarterback in Marcus Mariota.
On the day of the trade, Titans General Manager Jon Robinson made it clear to everyone – Mariota, Tannehill and media – that Tannehill was brought in to be Mariota's back-up.
Titans coach Mike Vrabel, speaking on the subject from the NFL owners meetings for the first time since the trade, did nothing to contradict the GM's stance.
Like Robinson, Vrabel said the move was made to make the Titans better. Vrabel believes it should make Mariota better as well.
Vrabel referenced his own playing career, during its early stages, when asked how Mariota should react to the newcomer in the team's quarterback room.
"I'll tell you a quick story about my career, and I try not to reference it much," Vrabel said. "But I went to training camp one year, and … I called (my wife) Jen and said, 'Man, there's like seven guys who have started in this league in the linebacker room.' And she said, 'Well, you better practice hard and play hard'.… And I was like, 'I love you, too, baby.'"
"The message (then and now) is it's understood we're going to put as many guys on the roster as possible that can compete and help us win," Vrabel said. "It only makes guys better.
"Obviously if Marcus is healthy, and he's available, he's our starter. We just felt like, to be able to strengthen the position, to have a chance to add a player like Ryan, who could help us if Marcus isn't available, then we were excited to do so."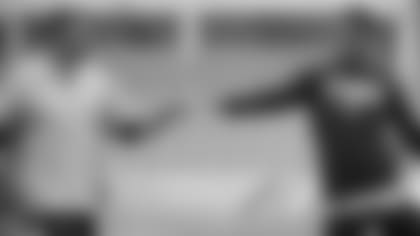 Vrabel said he anticipates Mariota, headed into his fifth NFL season, will be ready when the Titans kick off their offseason program on April 15.
Vrabel said Mariota is healing up from his injuries from 2018.
"I think I do," Vrabel said. "After our conversations together – we text and we talk and I say: 'How are you feeling? How's the family? How's everything else?' So I think he is enjoying some time away from this thing and he is really focused on coming back healthy and he's excited about moving forward with (offensive coordinator) Arthur Smith and the staff. We made an addition with (tight ends coach) Todd Downing.
"I know Marcus is excited to have his second year in the same offense, the same verbiage and communication. We are going to add some stuff, but I think he is excited to get going with that."
Vrabel believes the addition of Tannehill should be a plus.
In 2018, quarterback Blaine Gabbert served as Mariota's back-up.
Tannehill, a first-round pick (eight overall) by the Dolphins in the 2012 NFL Draft, has played in 88 career games in seven seasons in Miami. Tannehill, 30, started 11 games for the Dolphins in 2018, and he completed 176-of-274 passes for 1,979 yards and 17 touchdowns, with nine interceptions.
"We felt like he's a proven starter, a starter in this league for a lot of years," Vrabel said of Tannehill. "We felt like it upgraded the position. Blaine did a great job. Blaine did everything that was asked of him. Blaine was amazing in the room, after hours, helping out, trying to find ways to do things for us offensively and give us an edge. He was great with Marcus. He got thrown into a couple of tight spots and he competed and did a nice job. We just felt like an opportunity came for us to upgrade the position and we did it."
The Titans plan to add another quarterback this offseason as well, Vrabel said.
"We are going to have to add somebody to it," Vrabel said. "We are going to need a young guy that we can develop."
Vrabel reiterated Mariota is champing at the bit following a season when he started 13 of the team's 16 games in 2018, and played in 14 of 16. Mariota finished the year with 2,528 passing yards with 11 touchdowns and eight interceptions. He set the franchise record with a completion percentage of 68.9 %.
At the end of the 2018 season, Vrabel said the Titans planned to identify ways to help keep Mariota healthy moving forward. In an interview with Titans Online earlier this offseason, Hall of Fame quarterback Warren Moon suggested Mariota add some bulk to his frame.
Vrabel was asked if the Titans want Mariota to add weight this offseason to help.
Everything is up for discussion heading into 2019, Vrabel said.
"I think when you talk about durability at different positions there's a lot of things that go into it – weight, strength, understanding when the journey is over when you're a quarterback, knowing we can't block them forever," Vrabel said. "Sometimes we have to do a better job of helping him and he has to do a better job of helping himself.
"Marcus and I have a lot of conversations and he's open and I am always honest with him. So there will be things that we'll ask him to do, whether that be training regiment, strength, lifting. It's always nice because he is always going to do what the coaches ask him to do and he's going to try and do it at a high level."