**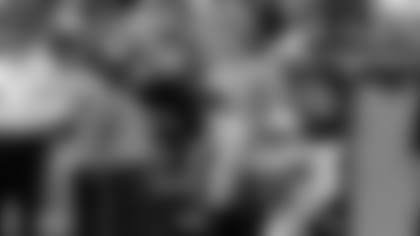 Titans cornerback Cortland Finnegan and Texans wide receiver Andre Johnson meet again Sunday.
NASHVILLE, Tenn. -** Tennessee cornerback Cortland Finnegan says fans should get their popcorn ready when he and Houston receiver Andre Johnson take the field Sunday for "The Rematch.''
Instead of punches and helmets being yanked off, look for a face-to-face apology with no retaliation. Quick jamming probably is out too to be safe.
"Just clear the air. Let everybody know no hard feelings. Let's just play football,'' Finnegan said Wednesday.
Johnson is ready to listen to end this episode. He regrets losing his temper and yanking off Finnegan's helmet before hitting him three times Nov. 28. He doesn't think that brawl changed him and plans to ignore Finnegan's shenanigans this time around.
"He's a feisty guy. He plays very hard,'' Johnson said in the Texans' locker room. "If you look at other games that he's been in, he sometimes gets guys out of their game during games and when we played them last time he got me out of mine and got me ejected. That's just something that you as a player have to control, and I'll do that on Sunday.''
Both men will be watched closely - especially by officials - to see how they react three weeks after being ejected in Houston's 20-0 win and fined $25,000 each by the NFL. Fights happen all the time during the heat of training camps, but this incident was a shocker.
"What happened last time is unacceptable,'' Finnegan said. "We're just looking forward to a victory, looking forward to the next game and getting that bad taste out of our mouth.''
That's exactly the same approach Johnson is taking.
The Titans (5-8) have lost six straight, and the Texans (5-8) have lost six of seven. Houston has the chance to sweep Tennessee for just the second time since the Texans began play in 2002 as the replacement to the Oilers who fled north to become the Titans.
Not that the Titans are backing down.
Finnegan will match up on Johnson throughout this game just as he did in Houston, which is the first time the Titans had matched the 5-foot-10, 188-pound cornerback on the 6-4 receiver who is the only player in NFL history with 60 or more catches in his first eight seasons.
Before they were ejected, Johnson had caught nine passes for 56 yards and a touchdown. Titans coach Jeff Fisher said he doesn't think Finnegan did anything to deserve ejection or suspension in that game. He sees Johnson and Finnegan as great players and competitors and is sticking up for the cornerback with a short memory who fights and scratches every down.
"For the most part, he plays within the rules,'' Fisher said of Finnegan. "Yes, he's had his share of fines for play-related things. Not a lot of his fines were from outside the line. I think he has a reputation around the league that if most people got to know him they would feel otherwise.''
Houston tight end Owen Daniels has a different opinion. He sees Finnegan as an instigator who doesn't need to do any of that extra stuff to prove himself.
"I thought we were cool, but then we were taking a knee last year when we played them up in Tennessee, and he decided to put his helmet through my chest when we were taking a knee. We even say: 'Hey, we're taking a knee.' That's just who he is,'' Daniels said. "So I don't know if 'Dre put him in his place or what, we'll see.''
Houston coach Gary Kubiak said as a coach he appreciates watching great players working so hard to win a game. Kubiak doesn't know what happened last time.
"I don't think you ever know personally exactly what's going on out there between two guys, but they always play hard and they're always getting after each other and they challenge each other and they both rise to the challenge. That's what makes them both great players,'' Kubiak said.
Finnegan insists nothing will happen this time around beyond just football.
"Retaliation is for the birds,'' Finnegan said.
Johnson says that wasn't him that day. He isn't proud of what he did and wants to just move past that fight.
"It's over with, and there's nothing I can do about it, " Johnson said.
Texans running back Arian Foster expects the men to talk back and forth but almost guaranteed no repeat brawl.
"That's a big fine they give you,'' Foster said. "I know I ain't going to fight anybody, I can promise you that.''