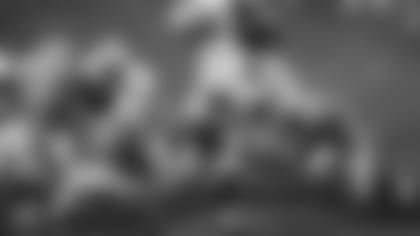 Rookie running back LeGarrette Blount carries the ball during Wednesday's night practice at Baptist Sports Park.
NASHVILLE, Tenn. -** Jeff Fisher already had practice scheduled for under the lights. The Tennessee Titans coach's timing couldn't have been much better.

The temperature in Nashville hit 101 degrees, and the field hit more than 120 degrees when gauged Wednesday afternoon. By the time the Titans hit the field at night, it had cooled off to a balmy 98.

The Titans worked in full pads for the first time in training camp. They also had the help from NFL officials, including referee Ed Hochuli. The officials will be with the Titans through Saturday as they learn the league's rule changes.

"The umpire is now on the other side of the line of scrimmage," said Fisher, co-chairman of the NFL's competition committee.

"They need the work. This is their first opportunity to get live reps. We told the team we asked them to throw the flag and explain the infractions and the fouls. We're continuing to do that. We have to clean some line of scrimmage things up, but so far things have gone well."

Tennessee kicker Rob Bironas helped put on a bit of a show for the biggest crowd yet at camp. He kicked three footballs onto the roof of the team's headquarters.

"We'll figure that out. I'll leave that up to Rob," Fisher said.

Thursday's forecast is more of the same in Nashville. The Titans will be practicing in the heat of the afternoon. Fisher said they won't be in pads, so the players should be fine.

NOTES: RB Chris Johnson finished up the night early, sitting out the final period. ... DT Jason Jones also was pulled early, taking off his shoulder pads and watching from the sideline. He spent the offseason recovering from shoulder surgery.