**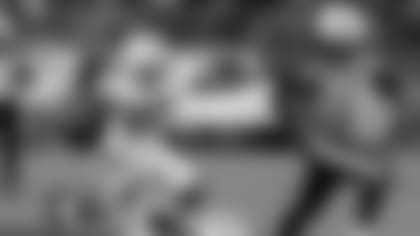 Chris Johnson and the Titans will look to prevent the Colts from clinching the AFC South on Sunday.
NASHVILLE, Tenn. --** The
Indianapolis Colts
were in must-win mode the past three weeks. With another victory Sunday, they can secure a ninth straight playoff appearance that would tie an NFL record.
With their postseason fate coming down to their final game, the Colts look to clinch their seventh AFC South in eight years when they host the Tennessee Titans.
Indianapolis (9-6) is a game ahead of Jacksonville, so it would win the division with a victory or a Jaguars loss to Houston. The Colts can also move up to the No. 3 seed with a win and a loss by Kansas City.
However, if Indianapolis loses and the Jaguars win, it will miss the playoffs for the first time since 2001.
"Our guys have done a great job of staying focused and not getting caught up in all the scenarios," coach Jim Caldwell said. "The lowest common denominator is that we have to win. That's what we try to focus on."
Caldwell's team is trying to match Dallas (1975-83) for the longest streak of postseason appearances in NFL history.
Indianapolis has so far embraced the pressure, keeping its playoff hopes alive with three consecutive victories. The latest was 31-26 at Oakland on Sunday in which it totaled 191 yards rushing, its most since 2007.
Veteran Dominic Rhodes, signed earlier this month after playing in the UFL, ran for 98 yards on 17 carries while Joseph Addai added 45 yards and one touchdown. It was Addai's first game since Oct. 17 after being sidelined with a neck injury.
The Colts' running game has been revitalized the last two weeks to help key the playoff run. They rolled up 155 yards on the ground against Jacksonville on Dec. 19 and ran the ball 39 times against the Raiders.
It's a big turnaround after Indianapolis averaged 60 yards rushing in six games from Nov. 7-Dec. 9.
"You know what you've got to do in the playoffs and that's run the football," Rhodes said. "I think the line took that upon it shoulders as well as us running backs and we're just trying to show what we can do. ... We proved we can run."
The improved running game has helped take the pressure off Peyton Manning, who is without one of his top targets for the rest of the season after Austin Collie was placed on injured reserve with a concussion last Wednesday.
Manning threw for three touchdowns but two interceptions and a season-low 179 passing yards last week.
Manning had one of his better games of an up-and-down season against the Titans on Dec. 9, passing for 319 yards and two touchdowns in a 30-28 victory.
"This is a huge rivalry, year in and year out," Caldwell said. "We know the Titans will be well-prepared. ... These are always competitive games."
Tennessee's disappointing season will come to an end Sunday. The Titans (6-9) won five of their first seven games before losing six straight. They snapped the slide by beating Houston on Dec. 19, but a 34-14 defeat at Kansas City last week will cause them to miss the playoffs for the fifth time in seven years.
Tennessee came into last week's game with slim postseason hopes but fell behind 24-0 and trailed 31-7 at halftime.
Despite that apparent lack of urgency, coach Jeff Fisher doesn't think motivation will be a problem for his team Sunday.
"These guys are pros ... " he said. "It's not going to be difficult to get them to rally and get them ready to play."
The Tennessee coach said he would give some younger players a chance to start Sunday, but wouldn't say at which positions. He did confirm that veteran Kerry Collins will start at quarterback.
Collins passed for 235 yards and two touchdowns Sunday to become the 12th player to throw for 40,000 yards.
He had one of his best games of the season against the Colts earlier this month, throwing for 244 yards, three touchdowns and no interceptions.
The game could be the last for Collins, who turned 38 this week. He will be a free agent after the season and has not said whether he will play next year.
It could also be Fisher's finale with the Titans, as owner Bud Adams said he will be evaluated at season's end.
"I'm not going to go there," Fisher said Monday when asked about the subject. "I've never gone there. Again, I'm going to take the same approach I take week after week and that's to get them ready to play and try to find a way to win a ballgame."
The Titans have lost in their last two visits to Indianapolis and have dropped six of the last seven road games in the series.