**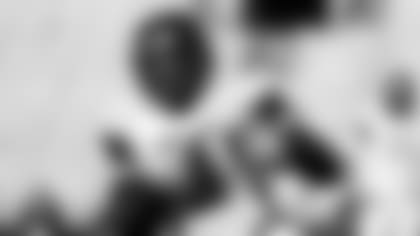 Former Oregon RB LeGarrette Blount was one of 15 undrafted free agents signed by the Titans.
NASHVILLE, Tenn. -** LeGarrette Blount, the Oregon running back suspended for punching a player last season, agreed to terms Monday with the Tennessee Titans as an undrafted free agent.
Blount missed eight games in 2009 for punching Boise State defensive end Byron Hout in the season opener Sept. 3. Blount returned late in the season and played in the Rose Bowl loss to Ohio State.
Titans coach Jeff Fisher said in a statement the team talked to a number of people, including Blount, before offering him a deal.
"He was a good college football player who, after talking to a number of people, merits a second chance,'' Fisher said. "Certainly LeGarrette should understand consequences at this point and we have explained what our expectations are for him to be successful with this opportunity.''
Fisher traded one of his backs with off-field issues on Saturday, sending LenDale White to Seattle. White missed some team meetings with Tennessee, particularly after losing his starting job in 2008 to Chris Johnson.
The Titans also drafted troubled cornerback Adam "Pacman'' Jones in 2005, but after a series of off-field incidents, he was traded away. Jones subsequently was suspended by the NFL for one season and currently is out of the league.
Blount went to the NFL combine in February and talked of how he made a mistake by overreacting at the end of the loss to Boise State. He had been projected as a middle-round pick with a resume that included being suspended from the team in February 2009 for not fulfilling team obligations, and also having weight problems.
Blount rushed for 1,002 yards in 2008.
Tennessee also agreed to terms with Southern California running back Stafon Johnson, whose larynx was crushed in a weightlifting accident last September. He returned to play in the Senior Bowl in late January.
Johnson ran for 1,552 yards and 19 touchdowns during his USC career.
The Titans already have Chris Johnson, who ran for 2,006 yards last season as just the sixth NFL player to reach that mark. He was the NFL Offensive Player of the Year.
They also have Javon Ringer, an All-American drafted a year ago.
The Titans also agreed to terms with centers Kevin Matthews of Texas A&M, son of Hall of Fame lineman Bruce Matthews, and Kenneth Alfred of Washington State; offensive linemen Nick Howell of Southern Cal and John Malecki of Pittsburgh; running back Dominique Lindsay of East Carolina; fullback Willie Rose of Florida Atlantic; tight ends Gerald Harris of Mississippi and Steve Pfahler of Montana; receivers Mico McSwain of North Alabama and Bobby Sewall of Brown; linebackers Jacob Lewko of Pennsylvania and Mississippi's Patrick Trahan; and defensive tackle Joe Joseph of Miami.
The rookies report to Nashville on Thursday and hit the field for orientation Friday.