NASHVILLE, Tenn. — The Titans see former University of Tennessee receiver Justin Hunter as first-round talent and thought other teams might.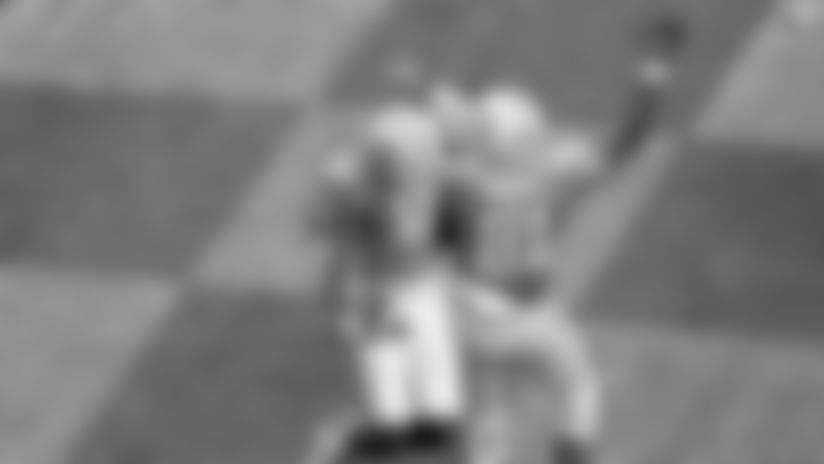 ](http://www.titansonline.com/media-center/photo-gallery/2nd-Round-34th-overall-WR-Justin-Hunter/d911c85d-008c-485a-9ced-6d64ba032638)
The Titans executed a trade to move up six spots in the second round and draft former Tennessee Volunteers receiver Justin Hunter from the 34th overall spot. Click here for a slideshow of Hunter's career.
Once Hunter did not get picked in Thursday's opening night of the draft, Titans general manager Ruston Webster and the personnel department began work Friday with figuring out a way to land the 6-foot-4 receiver in the second round.
The Titans were originally slotted to make the eighth selection of the second round and 40th overall, but Webster executed a trade with San Francisco, sending the 40th pick and a seventh-round selection in this year's draft and a third-round pick in 2014 to the 49ers to move up six spots and select Hunter one pick after Jacksonville opened the second round by drafting defensive back Johnathan Cyprien.
"For us, (Hunter) was on a different level grade-wise than the rest of the players on the board," Webster said. "It was not even really close for us. With him sitting there we just saw this great opportunity to get a really talented wide receiver with a lot of upside. That was really it. We liked Justin Hunter a lot. We explored some things last night as it got into the latter parts of the draft. He was a target for us."
It was an aggressive pass that required giving up the picks, which Webster doesn't particularly enjoy, but the Titans don't consider it a Hail Mary. Webster said his good relationship with 49ers general manager Trent Baalke helped the decision.
It's somewhat appropriate the trade was made with a team that draws its nickname from gold prospectors because the Titans believe Hunter has physical abilities that are nearly as hard to find.
"Comparisons are tough for a player like that," Titans director of scouting Blake Beddingfield said. "He's 6-foot-4, 195 pounds and runs a 4.37 (in the 40-yard dash). The comparables are tough just because there are very few of those guys. It's not compared to most people that are 6-4 and 195. It's tough to compare those kinds of guys. He's a rare athlete. He has very nice physical traits that add on speed and his range. Yet he is programmed. He's played in a good system for a good offensive coordinator. He's had other talent around him and a quarterback that has a pro arm."
Hunter made 16 catches for 415 yards (a whopping 25.94-yard average per catch) and caught seven touchdowns (a school record for a freshman) in his first season with the Vols. He became a starter as a sophomore and had 17 catches for 314 yards and two TDs before suffering a knee injury that cost him the rest of the season. He returned with a vengeance in 2012, catching 73 passes (second most in a season in school history) for 1,083 yards and nine touchdowns.
Webster said Hunter's response from the injury assured the Titans.
"Usually the year after an injury, it's not quite your best," Webster said. "He actually did pretty well. We feel like he's set from a medical standpoint."
Offensive coordinator Dowell Loggains and receivers coach Shawn Jefferson made strong campaigns for Hunter.
"His ability to take the top of the coverage off as an outside receiver was a huge factor for us," said Loggains, adding that he thinks Hunter can play either outside position or in the slot.
Hunter said his ability to stretch the field with his speed is his "best asset." He also has a 40-inch vertical.
"I'm going to push the other players just like they are going to push me, so we are going to get a lot out of it," said Hunter, adding that the Titans had expressed how happy they were to have him.
"The receivers coach told me he wanted me bad and he is ready for me to come up there and work, Hunter said. "(The willingness of the Titans to trade up) means a lot to me, and that makes you want to work harder just for them, for the things that they did for me."
Titans coach Mike Munchak said the selection of Hunter a day after the Titans picked guard Chance Warmack from the 10th overall spot is another move that will help third-year pro Jake Locker, who is coming off shoulder surgery and preparing for his second year as starting QB.
"There is a lot of stress on a quarterback, but when you can run the football like we are hoping we can do with the changes we've made there, then that takes pressure off him," Munchak said. "We have receivers we're hoping could stretch the field and do things. Go up and catch a tough ball and go up and make plays when the ball is not perfectly thrown every time.
"Two years ago, we made the decision on a quarterback that we felt was going to lead this team to the Super Bowl," Munchak continued. "Now, it's up to us to surround him with people that can help him do that. I think we are doing that in the offseason. We're doing that in the draft. Obviously he's excited, but he understands that there is a lot on him too. He needs to have a good year and he's doing everything he can to do that. We're excited obviously. We think that the offseason is going well. We obviously have a long way to go, but we're doing the right things."