NASHVILLE – The Titans are bringing a familiar face back to the locker room – offensive lineman Hroniss Grasu.
On Tuesday, the Titans agreed to terms with Grasu, who joined the team earlier this offseason and spent all of training camp and the preseason with the Titans before being waived.
To make room on the team's 53-man roster, the Titans waived running back Dalyn Dawkins.
Grasu was college teammates at Oregon with quarterback Marcus Mariota, and during the offseason Grasu lived at Mariota's house in Nashville – just like in the past.
Grasu (6-3, 301) previously spent time with the Bears, Ravens and Dolphins since entering the NFL in 2015, the same year as Mariota.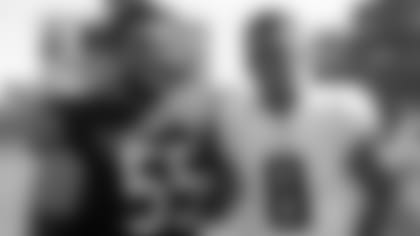 With the Titans, Grasu has mainly worked at center, but he's played some guard as well. He'll provide depth behind starting center Ben Jones.
Drafted in the third round by the Bears, Grasu has played in 17 games, with 13 starts. He missed the 2016 season with a torn ACL after spending that offseason working under the tutelage of Hall of Famer Kevin Mawae, a Bears assistant the time. As a rookie for the Bears, Grasu started eight games at center. Following the 2016 season, he started four games at center in 2017.
Grasu was waived by the Bears at the end of the 2018 training camp and signed with the Ravens, where he played in three games. Grasu also spent the month of December with the Miami Dolphins, before being waived.
A two-time All-America performer in college, Mariota took snaps from Grasu at Oregon for three seasons from 2012 through 2014. Grasu started 50 consecutive games at center at Oregon and earned first-team All-PAC 12 honors three times.