INDIANAPOLIS – Joejuan Williams still remembers the day he fell in love with football.
He was five years old, living in Nashville, and heading down Brick Church Pike.
"Right down the street from my granny's crib is a youth football organization, and I saw they had sign-ups and I begged my mom to sign me up," Williams said on Sunday at the NFL Combine. "Ever since I put that oversized helmet on, I fell in love with it."
Williams, who played at Father Ryan High, just wrapped up his collegiate career at Vanderbilt.
Now's he's hoping to fly at the NFL Combine.
"I am going to run fast," Williams said with a smile. "F-A-S-T."
Depending on how fast he runs, Williams could pole vault himself up very high among cornerbacks – and possibly into the first round of the upcoming NFL Draft.
"If he runs in the low 4.5s, I wouldn't be shocked if he went in the first round," NFL Network draft analyst Daniel Jeremiah said of Williams. "The expectation is that he's going to run in the 4.6s. But if he runs 4.52, I would say it is more likely than not that he'll go in the first round."
The 6-foot-4, 211-pound Williams arrived here with size, and impressive credentials.
Williams was an All-SEC cornerback in 2018, when he led the conference in pass breakups (14) and ranked second in interceptions (4).
Jeremiah currently has him ranked No.37 on his overall board (the fifth-ranked cornerback), but that could change when Williams runs with the defensive backs here on Monday.
"I just want to show that overall, I am one of the best DBs in the nation," Williams said. "I want to show my movement skills, I want to show my speed, and I want to put everything I've got on display."
Growing up in Nashville, Williams said he rooted for the Titans.
On December 6, his birthday, he was in the crowd to witness running back Derrick Henry's 99-yard touchdown run against the Jaguars. On Sunday, he recalled being at Nissan Stadium when return man Pacman Jones returned a punt for a touchdown during his playing days with the team.
He said he looks up to current Titans safety Kevin Byard because of the way he plays the game.
"Just his passion and aggression," Williams said of Byard. "He's a playmaker, and that is something you want in a DB. You want to have that fire."
Williams has told NFL teams he wants to be a great player, but also a role model, and someone who is a great example in the community.
He called his mom his "superhero." He said he loves Vanderbilt head coach Derek Mason, who helped him develop as a player, and a person.
"Just like I was looking up to all the Titans players back in the day, from Steve McNair to Eddie George to Chris Johnson, Vince Young," Williams said. "All those guys I looked up to when they played for the Titans, kids are doing the same thing (for me), and I just want to be that role model."
Williams couldn't keep from smiling when answering questions on Sunday.
"It is a blessing to be here," he said. "This has been a dream of mine since I was five. Showing these scouts, these coaches what I can do at the next level, this is definitely a blessing."
Next month, Williams will find out where his NFL home will be.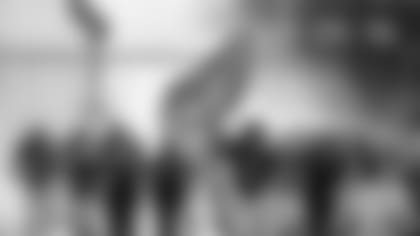 He's excited about the draft being in Nashville, and he smiled bigger when asked about the possibility of being picked by his hometown team.
The Titans are currently stocked at cornerback, with veterans Logan Ryan, Malcolm Butler and Adoree' Jackson, and LeShaun Sims and Kenneth Durden are also under contract.
Still, Williams said he has had some contact with the team, including a sit-down with secondary coach Kerry Coombs.
"Playing for the hometown team, what I would say is: Don't draft me just because I'm from Nashville. Draft me because I am the best option, the best defensive back in the draft," Williams said. "Playing for the Titans, that would be something special, too."