NASHVILLE, Tenn. —Protector, disrupter or denier? 
Predictions from NFL Draft analysts think the Tennessee Titans will select a pass protector (offensive lineman), pass disrupter (defensive lineman) or pass denier (defensive back) with the 10th overall selection on Thursday.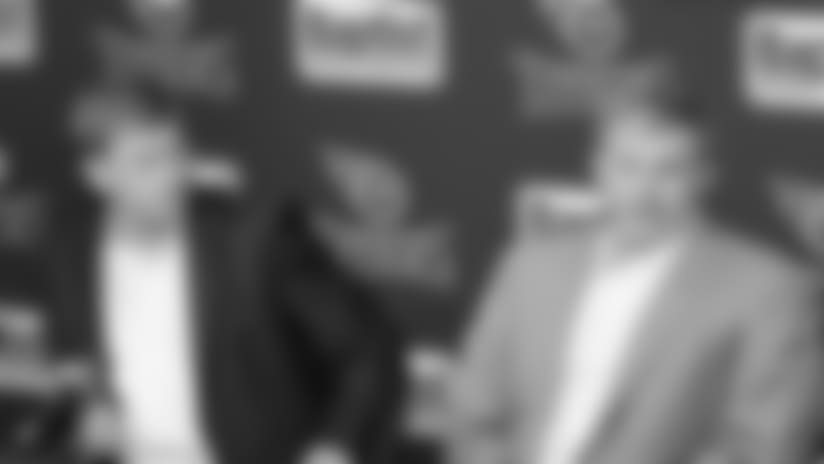 ](http://www.titansonline.com/schedule/2013-draft.html)
Titans general manager Ruston Webster and coach Mike Munchak have had multiple discussions in preparing for the 2013 NFL Draft to discuss possible scenarios that Tennessee will experience.
Click here to visit Titans Draft Central.
Titans general manager Ruston Webster, who is preparing for his second draft in this role, has said throughout the evaluation process that offensive line and defense will be priorities for Tennessee's nine options during the three-day event. The Titans/Oilers franchise has never selected from the 10th spot in the NFL Draft.
Ideally, players selected from that spot will be more than one dimensional: an offensive lineman who can also block in the running game, a defensive lineman who can stop the run and a defensive back who can support run defense, but the NFL's recent emphasis on the passing game may lead teams to make more decisions based on improving their passing offense or defense.
When mock drafts began in January, the early projections were an offensive guard or defensive linemen, with a handful predicting a defensive back. Here's a look at those three lines of thinking.
Guards Chance Warmack out of Alabama and Jonathan Cooper out of North Carolina have been highly touted by draft analysts throughout the process. Warmack is generally regarded as a power player, and Cooper's athleticism is said to be his greatest asset.
Webster said this year's draft class has a "good group of guards."
"I think there is some depth there in that group and there are a lot of players that we like," Webster said. "There is some difference (between Warmack and Cooper and the other guards) obviously because of where they are going, but I think that is not to slight those other guards and say they wouldn't be good starters in the league."
Tennessee has drafted one offensive lineman (tackle Byron Stingily in the sixth round of 2011) in the past three drafts but signed highly-sought guard Andy Levitre, and veteran interior linemen Chris Spencer and Rob Turner during free agency.
Coach Mike Munchak (eighth in 1982) and offensive line coach Bruce Matthews (ninth in 1983) were both drafted as guards and spent all of their Hall of Fame careers with the franchise. Brad Hopkins (13th in 1993) is the most recent offensive lineman drafted by the Titans/Oilers in the first round.
Munchak frequently developed offensive linemen who were picked in later rounds prior to his promotion from offensive line coach to head coach in 2011 and it's still one of his favorite aspects of coaching. He said he looks for players with potential to come in and start and then assesses other factors. Munchak said "maybe there are four or five different guards for example that can come in and play."
"They have the capability. Now it is just a matter of us getting them ready when they come in here," Munchak said. "That is what is exciting, that there are guys that have a lot of tools in place and it is just a matter of now being coached."
If a guard that the Titans like has already been selected or they decide it is better to wait on that position, they may opt to add a defensive end or defensive tackle.
Tennessee added defensive end Kamerion Wimbley as a free agent in 2012 and defensive end Sammie Hill during free agency this offseason, but Webster agrees with people who say "you can't have too many good defensive linemen."
Edge rushers Barkevious Mingo out of LSU and Dion Jordan out of Oregon have received multiple first-round mentions from analysts, as have interior linemen Sharrif Floyd out of Florida and Star Lotulelei out of Utah.
Webster said predicting what other teams will do with picks ahead of the Titans in this draft has been a little more difficult this year than other years. Multiple teams have new general managers or coaches or both, creating a lesser degree of familiarity, and the 2013 class has been credited with depth that's added to the scenarios.
If neither line has the option the Titans like the best at the 10th spot, they may opt for a cornerback or help at safety, even though Tennessee added veteran safeties Bernard Pollard (a one-year deal) and George Wilson (a two-year contract) through free agency.
The Titans last drafted a safety in the first round in 2007when it selected Michael Griffin out of Texas. Tennessee has picked at least one cornerback in each of the past 12 drafts, but both cornerbacks the Titans selected in the first round (Andre Woolfork in 2003 and Pacman Jones in 2005) did not pan out as long-term players.
Munchak was asked about the possibility of drafting a cornerback who has graded high in his ability to play "press" man-to-man coverage against top receiving threats to allow Tennessee's defense more opportunities to blitz and said, "We will definitely look at a corner if there is one that we like at the time we are picking that has those kinds of abilities that can be up more and get in your face more and play a little bit more man to man."
Munchak said conversations with coaches and the personnel department have centered on the plan for each potential player and how he will fit the offensive or defensive schemes.
"There's a lot of great players in this draft but they don't all fit with what we do on offense or defense," Munchak said. "Will it be hard to get them into the game? Will it be hard for them to make plays? Would we ask them to do things that they wouldn't be successful at, so I think you have to weigh all those things because you only get so many picks.
"We can't go out and sign 20 of these guys," Munchak continued. "We get one guy, and a lot of those guys are going to be gone by the time we pick in the second round, so there's not a lot — you have to make a decision on what's best overall for your football team and maybe what else you can get later on in that draft."