NASHVILLE, Tenn. – Another Hall of Fame class is on the verge of being selected, and former Titans running back Eddie George is among those in the mix.
Last week, George was named one of 26 modern-era semifinalists for the Pro Football Hall of Fame class of 2022.
In past interviews conducted by TennesseeTitans.com, four Hall of Famers spoke up in favor of George getting into the Hall of Fame.
All four players played in George's era, and agreed his impact on the game should put him in greater consideration for the game's greatest honor.
"The way I think about Hall of Fame players is being dominant in your generation, and you can't tell me Eddie George wasn't dominant in his generation – he was," Hall of Fame running back LaDainian Tomlinson said. "Eddie was one of the best running backs of his generation. And so I do think he needs to have second consideration, because that stretch that he had, it was pretty phenomenal. Not many people can say they had a stretch like that."
Hall of Fame running back Terrell Davis and Hall of Fame defensive back Rod Woodson agreed.
Hall of Fame linebacker Ray Lewis has also spoken up in favor of George, who is the Titans/Oilers record holder for career rushing yards (10,009), ahead of Hall of Famer Earl Campbell (9,407). George finished his career with 10,441 yards. George is the only running back in NFL history to record 300 or more carries for eight consecutive seasons.
During his playing days in Tennessee (1996-2003), George never missed a game – a span of 128 starts. He was a 1,000-yard rusher seven times, and a four-time Pro Bowler.
On a list of the NFL's all-time rushers, his average yards per season ranks an impressive 7th overall -- ahead of five running backs in the Pro Football Hall of Fame. He was one of the most productive running backs of his era.
"Should he get consideration for the Hall?," said Woodson, who played against George as a member of the Steelers, Ravens and Raiders. "I think he should have consideration for the Hall. I think he played well enough, and he has really good numbers. The hard thing is, we don't get to vote. Guys that are in (the Hall of Fame), they don't get to vote. We can talk about them a little bit, but at the end of the day the voters have to figure out what the qualifications are for each position to get in. Hopefully he'll get some … momentum going for his name to get in.
"It is not about (the Titans) winning or losing (Super Bowls), it is about what he meant to the team. Was he considered one of the best backs of his era when he played? I would say yes. He was one of the top backs in the league in his prime. And those types of things put you in consideration for the Hall of Fame."
George has previously been among the modern-era nominees for the Hall of Fame class, but when the list of modern era finalists was trimmed, he didn't make the cut.
The nominees for next year's class will be reduced to 15 finalists in January before the selection committee chooses the class, which will be enshrined in August 2022.
"It's amazing," George said last week after being named a semifinalist . "It's such an honor to be considered for the NFL Hall of Fame. (It's) something that's completely out of your control. You try not to think about it, but to be considered for this – a semifinalist – is tremendous. I'm just truly, truly floored an honored.
"This is not an easy fraternity to get into. Just to be considered for it is an accomplishment unto itself."
George's case is one of availability, durability and production. While some other backs put up bigger numbers over more seasons, in George's era he was without question one of the most dependable and consistent running backs in the history of the NFL.
During his career, George racked up 36 100-yard games, and the Titans recorded a 30-6 record in those games. He did it while being the focal point of defenses, and while playing in a division that boasted some of the league's top defenses during most of his career, where he played Pittsburgh, Jacksonville, and Baltimore twice a season. In fact, during his career with the Titans, Pittsburgh fielded a top 10 defense four times, Baltimore three times, Jacksonville twice, Cincinnati once, and Indianapolis once.
George's finest season came in 2000, when he rushed for 1,509 yards, scored 16 total touchdowns, and six 100-yard performances for the 13-3 Titans. Playing alongside quarterback Steve McNair, George helped the Titans reach the playoffs four times in his eight years in Nashville, including a Super Bowl, and two AFC title games. George went over 1,300 yards in a season four times, and he racked up 12,668 all-purpose yards in his career.
"Absolutely Eddie deserves it," said Hall of Fame running back Terrell Davis, who ended his career with 7,607 rushing yards (nearly 3,000 fewer than George), but won two Super Bowl rings with the Broncos. "Numbers are tricky, and you can't look at just numbers. You have to look at that era, and when you watched him, what do you remember about that player? It shouldn't always be about the numbers, it should be about the impact a guy made on the game, and Eddie certainly deserves that.
"When Eddie came in, he was that pounder. And he was a back the Titans were riding a lot – he was leading them to a lot of wins, just a real, big, physical cat. I watched him coming out of Ohio State, and he went to Tennessee and did his thing. Eddie was an incredible back. I loved his running style. He was 6-4, probably 240 pounds coming downhill, and he never bowed down to anybody. He was a tough back."
Some of the evidence that backs George's case:
On a list of the NFL's top running backs, George ranks 7th in average yards rushing per year. With a 1,160.1-yard average per season, he ranks behind only Hall of Famers Barry Sanders (1,526.9), Jim Brown (1,368.0), Walter Payton (1,286.6), Curtis Martin (1,281.9), LaDainian Tomlinson (1,244.0) and Emmitt Smith (1,223.7). On the list, George ranks ahead of Hall of Famers Eric Dickerson (1,104.9), Terrell Davis (1086.7), Tony Dorsett (1,061.6), Jerome Bettis (1,050.9) and Campbell (1,045.2). Some of the running backs on this list played 14-game seasons, but the majority played 16-game seasons, like George.
At the time of his retirement, only Payton (170) had more consecutive starts than George (130). George is only the second NFL running back to rush for 10,000 yards while never missing a start, joining Brown.
During his playing days in Tennessee, George trailed only Hall of Famers Faulk and Martin in top yards from scrimmage – Faulk racked up 13,022 yards and Martin 11,317, which bested George's 10,959. Smith (9,267) and Bettis (9,085) rounded out the top five.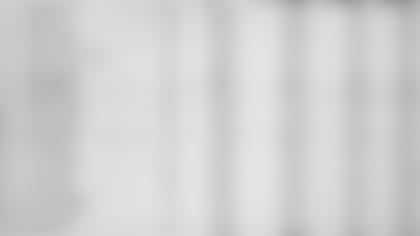 George's detractors point to his average per carry (3.6) or the fact he never won a Super Bowl in his career.
But there's no denying that when George played in the NFL, he was one of the best to play his position, and his productivity ranks among other running backs who have made the Hall of Fame from his era.
Will he get more consideration this year?
Well, we'll find out soon.
But clearly, those who played the game think he's worthy.
"Should he be (in the Hall of Fame)?," former Ravens linebacker Ray Lewis said of George. "His body of work spoke for itself. I judge a man from the impact of making everybody else better around him. When you're carrying the ball, 400-plus times in one season, that's a problem.
"Eddie is at the top of all backs I've ever faced, I mean top, top. What a load. (When you faced the Titans the game plan) was simple: Slow down Eddie. … The No.1 objective on our board every week when facing the Titans was control 27."
(A similar version of this story originally ran on February 8, 2019 after interviews done at Super Bowl LIII. It was updated and posted again since George was announced as a Hall of Fame semifinalist for the Class of 2022 last week).