ATLANTA – The Super Bowl is back in this city, and the return brings back memories from the last time the game was played here, when the Tennessee Titans faced the St. Louis Rams back in XXXIV.
It was my first season covering the Titans, working alongside sports writers Jeff Legwold and Paul Kuharsky, and columnist David Climer at The Tennessean at the time.
Let's take a look at some of the vignettes I've collected in the years since, some from my days with The Tennessean.
It's cold here today, five days before the New England Patriots face the Los Angeles Rams in Super Bowl LIII.
But the weather isn't nearly as cold as it was leading up to Super Bowl XXXIV.
Playing inside the Georgia Dome, the Titans and Rams had no worries on game day. The week leading up to the game, however, was a different story.
Temperatures were in the 20s, with below-zero wind chills. Many of the Titans weren't prepared, and needed to buy coats. Early in the week, the team's media sessions were held in a poorly heated tent adjacent to the team hotel.
Getting around during the week was treacherous. Because of the ice storm, the Titans were never able to get a team picture at the Super Bowl – it had been scheduled for the Saturday before the game, but the team couldn't get to the Georgia Dome.
"The weather ruined that Super Bowl,'' quarterback Neil O'Donnell said. "You couldn't go anywhere. It was like the whole city was shut down.
"One of my funniest memories of that week was sitting in my hotel room with Zach Piller and Benji Olson, laughing as people slipped and fell on the ice as they were coming out of the hotel. We were like little kids looking out the window. For a half-hour, one person after another slipped and fell because you couldn't stand up down there."
Titans guard Piller admits he slipped and fell himself that week.
Titans receivers Derrick Mason, Isaac Byrd and Joey Kent ventured out – and got a scare of their own. While sitting at a traffic light in downtown Atlanta, what Kent described as five-foot sheet of ice came flying off the top of a building and landed on the hood of their rental car, causing a dent.
"It was crazy,'' Mason said. "Luckily no one got hurt."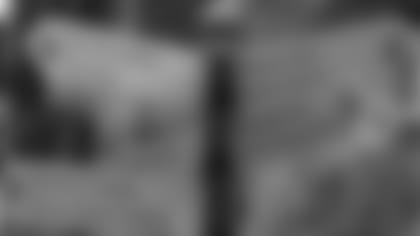 Piller met Muhammad Ali. The boxer came to his table and shook his hand.
Receiver Chris Sanders stopped in his tracks when former Steelers receiver Lynn Swann walked by. Unfortunately his camera malfunctioned, and he couldn't get a picture.
All week, the NFL players crossed paths with celebrities.
Receiver Kevin Dyson was with Kent when the players lost their train of thought after bumping into a pack of the NBA's all-time greats in the foyer of an Atlanta hotel bathroom.
Michael Jordan, Magic Johnson, Charles Barkley and Dominique Wilkins were talking when Dyson and Kent walked in, and struck up a conversation. When it ended, they'd forgotten why they'd even walked in the room.
"We walked out the door and were like, 'You know what? We didn't even use the restroom, and we both had to go,''' Kent said. "We were too ashamed and embarrassed to turn around and go back in, so we had to find another restroom."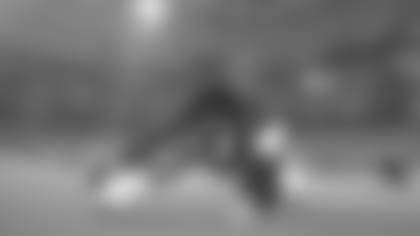 Titans tight end Frank Wycheck vs. Rams running back Marshall Faulk.
The two players agreed to play one another during the week on a PlayStation video game, a game that was billed as a preview of the Super Bowl – Titans vs. Rams.
Wycheck admits he was in it for the appearance money. He had no idea how invested he'd become.
With a crowd watching at an Atlanta sports bar, Wycheck was relayed some interesting information just before the game started.
"They told me that the player who won in past years, his team ended up winning the Super Bowl,'' Wycheck said. "It was a ridiculous streak. When I heard that, I had some pressure on me to win."
Wycheck's Titans fell behind Faulk's Rams early as he struggled with the controls.
Then he scored a touchdown before the half to cut it to 13-10, he recalled. All of a sudden, the event's organizers pulled the plug. Time was up. Faulk was declared the winner, and the game was just at halftime.
"I was like, "No, no, no! This isn't happening!,'' Wycheck said. "I was ticked off at the people in charge; I didn't get to play the whole game. To be honest, I felt like I let my team down.
"After we lost in the Super Bowl, I couldn't help but think: I should've won that damn game."
Perhaps the best behind-the-scenes story during Super Bowl week took place in a rental car packed with freezing, shirtless offensive linemen.
I've said it before: It's just a shame no one got it on tape.
The story goes like this: After eating dinner at the Varsity in downtown Atlanta, offensive linemen Bruce Matthews, Brad Hopkins, Jason Mathews and Jason Layman piled into a rental car driven by Matthews. They were headed back to the team hotel in Buckhead, north of Atlanta.
With temperatures in the teens, Matthews cracked his window to make the guys in the backseat – Mathews and Layman -- uncomfortable. Hopkins followed his lead, and within seconds all four windows were cracked.
"Then, somebody said, "Let's play freeze out,'' Mathews said. A friendly bet ensued.
Moments later, all four windows were down as the car hopped on the Interstate. Matthews then took his jacket off to up the ante, before taking off his shirt off. The other three players followed suit. A bet is a bet, after all. Then it was cranked up another notch: Matthews turned on the air conditioner.
"So now we are all shirtless, with all four windows down and flying up the Interstate in freezing cold weather, looking like complete fools,'' Hopkins said. "We were all freezing, but no one was going to give in."
The bet was clear-cut: The players couldn't cover themselves with clothing. Whoever got out of the car first lost the bet.
"When we got off the Interstate, I can't even imagine what the families at the light were thinking when they saw us,'' Hopkins said. "I'm sure people thought, "These guys are on something. … We're lucky we didn't all catch pneumonia and miss the Super Bowl."
After sitting in the hotel parking lot for a significant amount of time, Mathews recalled Matthews "cheating" and the game ended abruptly.
"Bruce had a layer of hair that kept him insulated with minus-3 degree wind chill, so he probably didn't feel a thing,'' Mathews said. "But it was miserably cold. What's funny is when I think about the week of the Super Bowl, I think first about that stupid, idiotic freeze-out game that all these dumb players were doing. We were idiots."
After a week's worth of preparation – and some fun and games – it was time to get serious.
Things got testy at the team's walk-through on the Friday before the game, when Mason and safety Blaine Bishop came to blows.
It happened with the second-team offense working against the first-team defense on the day's final period.
Mason said Bishop got upset because "we were moving the ball down the field, and I guess the defense didn't like it."
Bishop said the scrap had more to do with Mason poking fun and pushing defensive backs down during the period.
"I was like, "Next play, don't do all that. If you're going to do it, do it to me,'' Bishop said. "He ran through the middle and I just went after him."
Everyone agreed what came next was a pretty good brawl before Titans coach Jeff Fisher stepped in and broke it up.
"I think I took his helmet off and threw it at him,'' Bishop said. "It was pretty heated. But D-Mase and I were made from the same cloth. We're both competitive. He wasn't going to back down and I wasn't going to back down. And I took that as a sign, 'Hey, we're ready to play.'"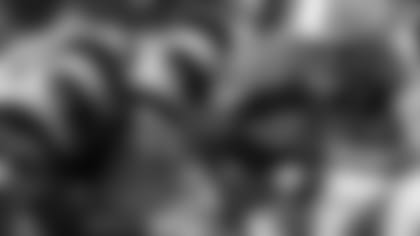 Earlier in the week, Piller couldn't resist getting in a dig at the old man on the team, 17-year veteran Bruce Matthews. Piller was in his rookie season.
"The first offensive line meeting we had, I walked in and said: Bruce, it took you 17 (freaking) years to get to this game?,'' Piller said with a smile. "What a joke."
On game day, the Titans were greeted with a gamut of emotions as they took the field for warm-ups.
Sanders heard a group of Titans fans call his name. When he looked over, he spotted over a half-dozen fans in his No.81 jersey.
"It was a surreal moment,'' Sanders said. "I actually started crying in pre-game. It was at that moment it really hit me, and made me realize one of my dreams came true.
"I think it really hit people when Faith Hill started singing the National Anthem. You could see guys getting teary-eyed and Steve McNair started crying. That was the moment when I think everyone realized, "Man, we are here."
Titans running back Eddie George said he'll never forget the feeling he had when the Titans were preparing to run out on the field as a team.
He started jumping up and down.
"I remember grabbing Steve around the shoulder and saying, "This is it man. This is what we worked our (butts) off for,'' George told McNair. "Me and Steve embraced. We knew when we came back to the locker room, that no matter what, win or lose, things would be different."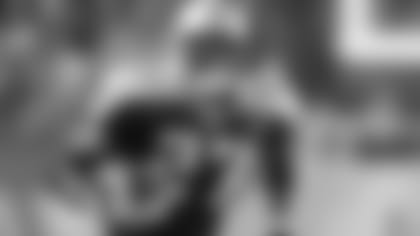 The first half hardly played out like the Titans had envisioned.
The Titans trailed 9-0 by halftime, and it was 16-0 when Warner connected with receiver Torry Holt for a nine-yard touchdown midway through the third quarter.
Frustration mounted on the Tennessee sideline.
"We just couldn't get anything going,'' Titans receiver Kevin Dyson said. "Things didn't look good at all."
Then came a motivational speech from Fisher that was captured by NFL Films. It produced a moment Wycheck will probably never live down.
With the Titans in a rut, Fisher gathered the team around him on the sideline.
"He was like, "Look at them over there! They think they have it won. He was like, "Look at them, they're celebrating! And he kept on repeating it, "Look at them!,'' Wycheck said. "So of course, I looked."
During the highlight package of SB XXXIV, Wycheck appears to be the only player who looked across the field. And he's heard about it ever since.
"When I talk to Frank, that's not the first story that's brought up, but it's maybe the second,'' Piller said with a laugh. "If Fisher wouldn't have yelled "Simon says", Frank probably still would have looked."
Wycheck makes no apologies, but he admits he's not sure the Rams were even celebrating. Still, he said it worked. The Titans responded with 16 straight points, including two touchdown runs by George -- to tie the game at 16-16.
"I get ripped to shreds by Bruce and Zach about that. They're like, "Frank, why did you look?,'' Wycheck said. "Of course I am going to look. I wanted to see what they were doing and how they were disrespecting us.
"I just can't understand why no one else looked."
Bishop had waited his whole career for a chance to play in the Super Bowl.
A scary collision during the third quarter of the game, however, resulted in him leaving the Georgia Dome on a stretcher. He wasn't on the field to try and prevent the game-winning touchdown from taking place.
"Any time the Super Bowl comes around you think about an opportunity that slipped by,'' Bishop said. "I don't necessarily think if I'd have been out there we would have won or not have won. It was just an unfortunate situation all around."
Bishop's game was cut short after a collision with Rams tight end Ernie Conwell. He lost feeling in his neck and arms. His jersey was cut off, and the facemack was removed from his helmet before being taken to Atlanta's Piedmont Hospital.
Bishop remembers listening to the game while undergoing an MRI.
"It was odd. I felt like I am supposed to be there,'' he said. "It was like it wasn't real."
Second-year safety Perry Phenix replaced Bishop. Free safety Marcus Robertson broke his left leg in the AFC Championship Game and was replaced by Anthony Dorsett, which put back-up safeties on the field at the end. Bishop was diagnosed with a strained neck.
He returned to the Georgia Dome after tests in a next brace he ended up wearing for three months.
"When I came back, there was confetti all over the ground,'' Bishop said. "When it was over, it felt like I hadn't played in the game."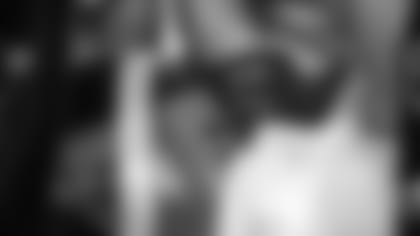 Dyson doesn't like seeing the ending from Super Bowl XXXIV.
Many of the Titans said the same thing – it's too painful.
After Rams quarterback Kurt Warner connected with receiver Isaac Bruce for a 73-yard touchdown with 1:54 remaining, the Titans got the ball at their own 12-yard line, trailing 23-16 with 1:48 left.
A nine-yard pass from McNair to Mason was followed by a 7-yard completion to Wycheck. McNair then ran for 12 yards, and the Titans got 15 yards added to that run because of a facemask call. The Titans had the ball at the St. Louis 45, with 1:05 left.
After a five-yard penalty on St. Louis, a two-yard run by McNair was followed by a seven-yard completion to Dyson. Another St. Louis penalty put the Titans at the 26-yard line with 28 seconds remaining, and it set the stage for a memorable, highlight-reel play two plays later by McNair, who he broke free from two defensive linemen before connecting with Dyson for a 16-yard gain that put the ball at the St. Louis 10 with six seconds left.
It set up the game's final play. The Titans called a time out.
"You could feel it,'' Wycheck said. "We were rolling. And we were going to win the game."
When the Titans broke the huddle, Wycheck was supposed to be the No.1 target, having scored on the exact same play in the regular season finale at Pittsburgh in 1999. On the final snap, Wycheck appeared to break open for a moment, but the Rams contend they had him accounted for in the secondary.
So McNair instead threw the ball to Dyson, who caught the ball and made his way toward the end zone before being met by Rams linebacker Mike Jones. Dyson couldn't escape the grasp of the Rams linebacker, however. He desperately tried to get the ball across the goal line as he fell to the ground, but he was one-yard short, even after a second lunge.
"That yellow paint was so close,'' Dyson said. "I thought I could reach out and get it across. It felt so close. It was a good play. But at the end of the day, they made the play and we didn't."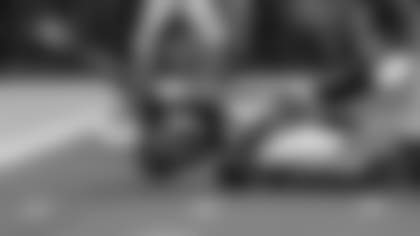 Confetti fell from the roof of the Georgia Dome immediately.
Many of the Titans still remember falling to the turf.
In the locker room afterward, it was an emotional scene.
"The finality of it hit us all,'' Kent said. "I remember coach Fisher saying we didn't lose the game, we just ran out of time. … It was hard for a lot of guys to deal with after how hard everyone had worked, especially the guys who went from playing in Memphis to Vanderbilt to Adelphia Coliseum.
"That entire 2-3 year period was bottled up in that one moment after the game, and I think it hit a lot of people. We knew that was it, and that team would never be the same again."
The Tennessee Titans take on the St. Louis Rams in Super Bowl XXXIV on Sunday, Jan. 30, 2000 at the Georgia Dome in Atlanta, Ga. (AP Photos)