**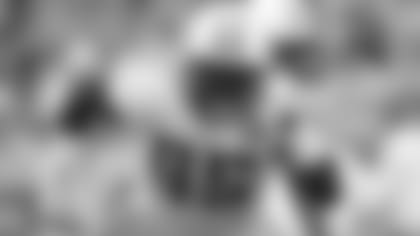 Tests revealed only a sprained right medial collateral ligament in the right knee of defensive tackle William Hayes.
NASHVILLE, Tenn. --** The Tennessee Titans feared the worst when starting defensive end William Hayes injured his knee at camp.
However, they breathed a sigh of relief Wednesday after learning he might be ready for their season opener. Tests showed Hayes only has a sprained medial collateral ligament in his right knee, welcome news on a team getting thin on the defensive line.
Hayes gingerly walked off the indoor practice field Tuesday with a trainer and doctor after getting hit on the outside of his knee during a drill. Hayes walked slowly into the locker room Wednesday with a brace on his right knee.
"Happy it's not an ACL,'' Hayes said.
"I definitely thought it was probably going to be a little bit worse than it was, but it's not as bad as we thought. Everybody's happy around here. Just be out for a couple weeks and get back into it.''
Coach Jeff Fisher said the Titans were excited to hear the test results.
"When you have that kind of injury on the practice field and upon immediate examination your fear is you've got an ACL involved. So with a mild MCL sprain that'll keep him out for a couple weeks, it's good news,'' Fisher said.
Hayes, entering his third year, started 11 games last season. He is the latest defensive lineman beset by injury.
Top draft pick Derrick Morgan has yet to practice with the full team because of injuries, and Jacob Ford missed three days with a hip flexor before practicing Wednesday afternoon. Tackle Jason Jones played a few snaps Tuesday to help finish off practice, and tackle Kareem Brown did the same Wednesday.
Tackle Tony Brown remains on the physically unable to perform list recovering from knee surgery himself and is waiting to be activated to the roster.
"If there's ever going to be a C-L involved, you don't want neither. But at the same time we're definitely glad it's not the ACL. We're praying and hoping he has a quick recovery,'' Brown said.
Hayes was a fourth-round pick in 2008 out of Winston-Salem State, but he played in all 16 games in 2009 with four sacks, five tackles for loss and 82 total tackles. Hayes has worked with the first-team line opposite Ford in training camp.
The Titans open the preseason Saturday night at Seattle with their home exhibition opener Aug. 23 against Arizona. Hayes said having coach Jim Washburn means every practice is like a preseason game.
"So preseason is good for the younger guys and for us to try to help with a couple little glitches in the game to help clear everything up a little bit. We'll be fine,'' Hayes said. "I'm going to come back out when I get cleared, practice hard and I'll be ready whenever it's time for me to go.''
Receiver Damian Williams and safety Nick Schommer came off the physically unable to perform list and practiced in a special teams session Wednesday. Williams is the third-round draft pick out of Southern California and expected to have the best chance at being the team's new punt returner.
He said he thought he was ready to return a couple days ago from his strained right hamstring, but team officials wanted to be cautious. He would love to play at Seattle.
"At the same time, I know this is one of those injuries you've got to be really careful of ... I'll leave that to coach Fisher,'' Williams said.
The Titans worked him back slowly in the team practice, but Williams had some nice catches going against the defense including a one-handed grab of a pass from Vince Young.
NOTES: Chris Johnson is a fan favorite, and he brought a crowd out Wednesday to get his autograph. At one point, fans pressing against a fence pushed it down, and storms in the area forced security to end the session. He apologized on Twitter to those who left disappointed. ... With the heat index reaching around 110 this week, Fisher is moving Thursday's practice indoors. That means practice will be closed to fans.