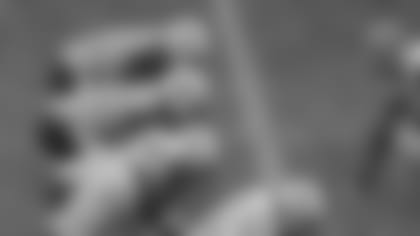 Tennessee's offensive line has been providing excellent pass protection for Matt Hasselbeck, who is off to one of the best starts of his 13-year NFL career.
NASHVILLE, Tenn. -- Rhythm with pass catchers starts with a comfort level with pass protectors, Matt Hasselbeck is saying quite often.
Hasselbeck, the 13-year NFL veteran, three-time Pro Bowl selection and off-season addition to the Titans, has helped Tennessee start 3-1 or better for the first time since 2008.
He has completed 88 of 132 passes (66.7 percent) for 1,152 yards and eight touchdowns against three interceptions. The passing yardage through four games ranks second only to Warren Moon (1,334 in 1990) in Oilers/Titans franchise history.
Through four games with the Titans, Hasselbeck has been sacked four times, compared to nine times in the first four games last season with Seattle. The offensive line did not allow a sack in wins against Baltimore and Cleveland.
Hasselbeck said consistency and stability on the line — left tackle Michael Roos made his 100th consecutive start and right guard Jake Scott made his 108th consecutive start Sunday — has helped him transition smoothly.
"I think what's nice is the continuity. Even though I am new, there has been a lot of continuity here. With the guys up front, it's nice to have five guys (Roos, Leroy Harris, Eugene Amano, Scott and David Stewart) that have played together for a long time. Even though we had (Harris) get hurt, the sixth guy in (Fernando Velasco) has been the sixth guy in for a while. Just having continuity with the teammates and with the guys, even though I'm new, they are really stable. It's not musical chairs, which has made it a lot easier for me."
Titans head coach Mike Munchak, a Hall of Fame offensive lineman who coached the unit before his promotion in February, and Hasselbeck have talked frequently about their commitment and desire for pass protection by the offensive line.
"We felt in our system, what we do as an offense with the offensive line, we felt we could take a guy like him and protect him — then he has a lot of good years left," Munchak said. "We didn't bring him here just to retire. Our plan was to bring him here and do exactly what he is doing."