**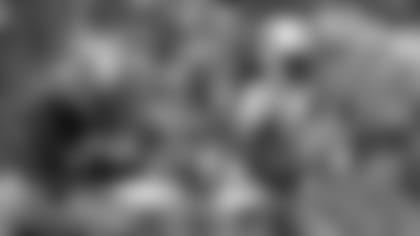 Chris Johnson leads the NFL in rushing with 959 yards and yards per carry (6.7) through eight weeks.
NASHVILLE, Tenn. --** Chris Johnson is flashy, from his gold-capped teeth to his iridescent pink BMW. He admires friend Chad Ochocinco and receiver Terrell Owens as football entertainers, lunches with the likes of country singer Faith Hill, and mentions NBA stars Kobe Bryant and LeBron James when he talks about making plays.
The Tennessee running back is a playmaker who wants to entertain.
"I'm just trying to make the whole world recognize that I'm one of those type players like a LeBron or Jordan or Kobe," Johnson said.
Bold talk indeed. Right now, the speedy second-year player is backing that up nearly every time he touches the football.
Johnson not only leads the NFL in yards rushing and yards from scrimmage but has an edge of more than 100 yards in each category. His 6.7 yards per carry average is the highest through nine weeks of the season since the NFL/AFL merger in 1970, and is better than Barry Sanders, O.J. Simpson and Jim Brown the years they led the league in rushing.
And he is 41 yards short of a second straight 1,000-yard rushing season for the Titans (2-6).
Johnson has 491 of his 959 yards rushing in the past three games, putting him on a pace not only to challenge Hall of Famer Earl Campbell's franchise record of 1,934 yards in 1980, but possibly reaching the magic 2,000. That hasn't been done since Jamal Lewis had 2,066 in 2003, and Sanders, Simpson, Eric Dickerson and Terrell Davis are the only other backs to do manage it in the NFL.
Buffalo coach Dick Jauron gets to plot defensive strategy against Johnson on Sunday. He can't compare Johnson to any other running back.
"He's just so fast and explosive. When he gets that step, there doesn't seem to be another person on the field that can catch him," Jauron said.
Speed is Johnson's biggest asset.
The Orlando, Fla., native was timed at 4.24 seconds in the 40-yard dash at the 2008 NFL combine -- believed to be the fastest electronically timed run since the combine began in 1982. He ran track at Olympia High, where his only losses came to Xavier Carter (2006 NCAA 100 meter champ) and Walter Dix (2008 Olympic bronze medalist in the 100 and 200 meters).
"That's something you've got to ask God," Johnson said.
Johnson's teammates call him special.
"It's amazing, it really is," said center Kevin Mawae, a 16-year veteran. "He's a guy who can take a play, the simplest of dive plays, and turn it into a big play for us. It makes our jobs easier and lets us know we can hit a home run anytime if we do things the right way."
Johnson has 10 of the Titans' 15 longest plays this season, with only one coming off a short pass, which he took 69 yards for a touchdown against Houston on Sept. 20. The others? All runs longer than 30 yards, with four for touchdowns.
"I've seen a lot of dynamic football players in this league," linebacker Keith Bulluck said. "Right now, he's like rewriting the record books. He's doing things I look at on paper and it's like, `Wow.' ... He has a bright future ahead of him."
Johnson's most dazzling run may have been one of his shortest.
Video replay had wiped out an 81-yard TD run in last week's 34-27 win at San Francisco when officials ruled his right heel came down out of bounds as he avoided a defender. Both Johnson and coach Jeff Fisher say he couldn't have touched because the back runs on the balls of his feet.
Facing fourth-and-1 in the fourth quarter, Vince Young ran left on the option and pitched to Johnson, who avoided 49ers linebacker Patrick Willis and danced his way along the sideline to score the go-ahead touchdown. Fisher credited Johnson with making the star defender miss.
"He has football speed," Fisher said of Johnson. "People often times talk in terms of, `Well, you've got a track guy playing football.' This is different. This is a football player with track speed is what he is."
Johnson has been more dangerous the past two weeks with Young starting at quarterback. The Titans are giving Johnson the ball more and have expanded the offense by using some option plays and quarterback draws with Young. But the running back also threw himself into a defender to clear the path for Young for his own TD rushing in San Francisco.
"He's doing a phenomenal job," Young said.
Johnson is going for his fourth straight 100-yard rushing game Sunday, which would be the first by this team since Eddie George had five consecutive such games in 1998. The running back who banged on bongos after a TD in Kansas City last season hasn't had any flashy, fine-drawing celebrations yet in 2009.
The reason? The Titans' 0-6 start.
"I have a lot of things planned this year, but we didn't start off the way we wanted to start off. ... We get a victory this week and next week, something will be coming very soon," Johnson said.
Fisher would prefer Johnson simply hand the ball back to an official. To Johnson, that's old school and just not as entertaining.
"I don't want to be boring," he said. "So anytime I'm on the field and my teammates are on the field with me, I just want them to have fun."
DINING WITH FAITH: Playing in Nashville offers the chance to make new friends and fans. Just ask Johnson.
He lunched with country singer Faith Hill on Tuesday, spending 45 minutes together at a place called Swett's that serves up an old-fashioned meat and three vegetables. Johnson couldn't remember how the lunch date was set up, but he said she asked lots of good questions. He gave her a signed jersey.
"She's a real big fan. I'm a fan of hers now, too,'' Johnson said.
This isn't Johnson's first country music moment. He was sent some drums last season by singer Martina McBride following a game in which he banged on some bongos in the end zone to celebrate a touchdown. He met McBride after she sang the national anthem at a Titans game.
So does Johnson like Hill or McBride more?
"I like both,'' Johnson said with a smile.