**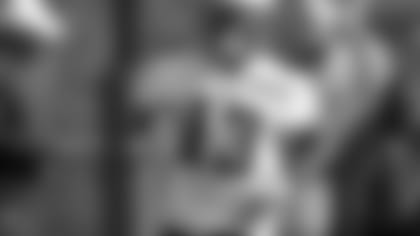 Former USC running back Stafon Johnson feels fortunate to be on an NFL roster after a weight room accident nearly claimed his life last fall.  

NASHVILLE, Tenn. - **Stafon Johnson's voice is husky, so scratchy it sounds painful listening to him to talk.
With a big smile, he insists he's very comfortable.
"I went from a light whisper to not hearing me at all to being able to hear me. Thank God I'm not a quarterback, so I don't really have to worry about that," Johnson said. "You never know what could happen next. I'm a football player. That's all I want, and all I care about is showing the Titans got a steal in a football player and that I'm OK and ready to play football."
That he is an undrafted free agent with the Tennessee Titans is a happy turn for the running back whose neck and throat were crushed in a weightlifting accident last September. It's amazing that he can talk at all, and he's happy to share his story, but he's more focused on pursuing his goal of playing in the NFL.
"First and foremost, I'm a football player, and all that other stuff was a little test to see what you can do. This is what I can show what I can do to the most of my ability," he said. "I think when you're out there playing football and you're showing your cuts and you're showing your range and you can do ... that's the best thing I can show."
He's getting that opportunity with Tennessee, who signed Johnson along with LeGarrette Blount as undrafted free agents looking for someone to fill the spot left when the Titans traded away LenDale White to Seattle a week ago. Johnson practised Friday and was due on the field Saturday as part of the Titans' three-day rookie orientation.
"The smile he had on his face when he walked off the practice field, the first time he practised since the accident with the exception of the workouts and those kinds of things," coach Jeff Fisher said after Friday's session.
"He was cleared 100 per cent, ready to play, and has skills. He has some skills."
It's only been seven months since the 5-foot-11, 214-pound Johnson was bench pressing about 275 pounds with a spotter at Southern California, and the bar slipped.
Receiver Damian Williams, still teammates with Johnson with the Titans, was only a couple feet away that day last September. He still remembers the accident vividly and the look on Johnson's face before Williams sprinted to the trainer's office for help.
Johnson needed emergency surgery, a tube in his throat and a feeding tube in his stomach. Three more operations followed, and he spent 16 days in the hospital.
"I got a chance to spend a lot of time with him in the hospital and take him on his daily walks and all that good stuff," Williams said. "It was definitely a learning experience for me. You definitely can't take anything for granted. He taught me a lot."
Johnson surprised doctors by regaining the ability to swallow and eat solid food. He recovered quickly enough that he played in the Senior Bowl in January, but went undrafted despite racking up 1,552 yards with 19 touchdowns at Southern Cal.
He had five teams interested in him after the draft, but he signed with the Titans after talking to another former Trojans running back — White, whose trade opened up a spot on the roster behind starter Chris Johnson.
Williams wants people to know Johnson is a great player.
"Anybody that can go through the things that he's gone through and find a way to make it back, even just any kind of athletic health (but) to be able to do anything athletic is a tremendous upside, and of course he's a great guy as well," Williams said.
Johnson is eager for the chance to work with the Titans' new running backs coach, Kennedy Pola. He is a legend at Southern California as a coach and a player, and Johnson said all he needs is this one chance.
And he insists he never asked why the accident happened or had his faith waver.
"My faith in God put me in position to where I just kept thinking I was going to be all right. I never once doubted myself that it would be all right and just do all the things my doctor told me to do, and here I am now," Johnson said.