**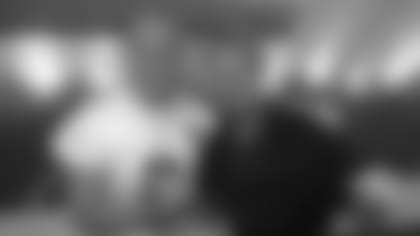 ESPN Monday Night Football commentator Jon Gruden (right) pictured with Titans kicker Rob Bironas during Saturday's practice.
Quick Hits from Camp**
• Heavy rainfall forced practice into the bubble.
• ESPN's Mike Tirico, Ron Jaworski and Jon Gruden watched the Titans practice from the media sideline today.  The three will be responsible for broadcasting the Titans/Cardinals Monday Night Football game at LP Field.
• Rookie safety Robert Johnson made a leaping interception on a short Vince Young screen pass.
• Vince Young completed a 50-yard fly route to Kenny Britt in 7-on-7 drills.  The two have looked very impressive the past few days during practice.
• In the red zone drill, Chris Simms hooked up with wide receiver Dominique Edison on a crossing route for a touchdown.
• Reminiscent of the game-winning touchdown against the Cardinals last year, Vince Young hooked up with Kenny Britt between two defenders in the back of the end zone for a touchdown.
Off the field Q&A with Gerald McRath
What's your favorite thing about Nashville?
"The culture.  The background.  The musical history.  I love the people.  Everybody is nice.  You get a sense of the southern hospitality.  Everybody is down to earth.  It reminds me of back home."
How did you spend your offseason?
"Here.  I spent my time in the weight room with the other guys and Coach Watterson just doing the offseason program."
Do you have any hobbies away from the field?
"I'm trying to become a DJ.  I want to learn how to play the turntables.  Also playing Call of Duty and watching cartoons."
What are your plans after football?
"Hopefully become an AD (athletic director) and coach at my high school."
Who was a role model for you growing up?
"My mom.  She taught me a lot.  How to take care of yourself.  How to keep working for the things that you want in life.  I learned a lot and am still learning from her."
What's your favorite musician or pop culture celebrity?
"Michael Jackson.  I remember growing up dancing in the kitchen in my one-piece.  Trying to slide across the kitchen floor.  His music was something that always seemed to bring my family together."
If you could be on any reality show, which one would you choose?
"Making the Band.  I feel like I relate to music a lot.  I love music.  Being a part of that would be fun."
Last movie you saw in theaters?
"Despicable Me.  It was so funny.  It was one of the funniest movies I have ever seen.  The 3D aspect brought it out even more."
Which one of your teammates is the worst dancer?
"Probably Rob Bironas.  I haven't seen him dance, but I just know."
(on what he hopes to accomplish when practicing with the Arizona Cardinals next week)
We just have one practice, it will be on Wednesday.  Coach (Ken) Whisenhunt and I are going to visit between now and our game and then again after and evaluate the health of the team.  It will be great work; it's nice to be able to work against somebody else.  We have a unique situation, you typically work before a game or you don't have a game, but this is one of those deals where we're just going to take advantage that they're going to be here.
(on if last year's game served as a confidence boost for some of the younger players)
It was good timing.  It came for some of our younger players and of course the final drive was a great drive.  It was a very, very exciting game with a tremendous finish, but it has no bearing on what happens this week.
(on if he likes practicing with another team)
Yeah, it's a nice changeup.  We had opportunities, clearly, to do it but I thought it was best for our team just to get through the couple weeks and we did.  We got through it without any difficulty and typically speaking, my preference would be to (practice) before the preseason games start against another club, not in the middle, but we're taking advantage of this.
Daily Trivia Question (answer revealed in tomorrow's notebook)
Which current Titan boasts about being a DJ for the past eleven years, including a degree in music engineering?
Answer to yesterday's trivia question:
What current Titans' player has played the most games against the Titans?