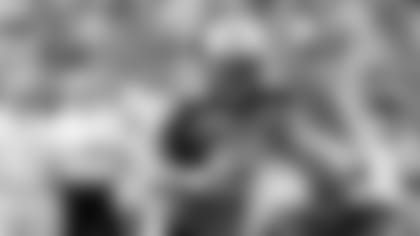 Linebacker Barrett Ruud spent his first six NFL seasons with the Tampa Bay Buccaneers.
NASHVILLE, Tenn. -- The laces and stiches on a football bind Barrett Ruud with family and friends.
The seventh-year pro has always been tied to the game. Ruud, his brother, father, two of his uncles and his great grandfather all played collegiately for Nebraska.
Ruud began extending the bonds beyond his hometown of Lincoln, Neb., when Tampa Bay drafted him in the second round of the 2005 NFL Draft. For six seasons, he developed family-like relationships with teammates and coaches.
Those friends and adopted family members will be on the opposing sideline Sunday.
"It will be a little different because a lot of those guys I've been playing against (in practice) for six years or so," Ruud said during a recent interview. (Cornerback) Ronde Barber, (coach) Raheem Morris, those guys are really close friends of mine.
"(Guard) Davin Joseph, (tackle) Jeremy Trueblood, I've been going against for six years. All those offensive linemen, really, it's going to be crazy because I've got a lot of good friends there … but when it gets down to it, football is football and you've got to see numbers (on jerseys). You can't see friends (during the game)," Ruud continued.
Ruud started at middle linebacker, the nerve and information center of a defense, in 68 of the 95 games he played for Tampa Bay. He led the Buccaneers in tackles in 41 of those starts and became highly involved in the community.
Ruud signed with the Titans as a free agent shortly after the lockout ended this offseason. In addition to changing residences, he began preparing to be a leader of defensive coordinator Jerry Gray's new scheme with the Titans and share his knowledge with incoming rookie Colin McCarthy. Ruud said he wasn't as worried about changing defensive schemes as he was about changing communities but both have gone well.
"I've always been the guy that ran the defense and made all the checks. The different part for me was moving to a new city and trying to figure out how the organization works," Ruud said. "You walk in here July 31st, and you've got to figure it out, just like when you're a rookie. Luckily for me it's a great organization and a great city to live in, so I've had a great time so far."
Ruud ranks first in Nebraska history books with 432 all-time tackles. His brother, Bo, ranks 22nd on the Cornhuskers' tackles list with 216 and their father, Tom, ranks 26th with 202 tackles and played five seasons in the NFL.
Ruud said he gained respect, admiration and enthusiasm for the game by being around his father, uncles and their teammates.
"I was always around the game and I know the history of the game and I appreciate it a lot," Ruud said. "I just liked hearing the stories. His roommates in college were Bob Nelson (a former member of the Bills, 49ers and Raiders) and John Dutton (who played with the Colts and Cowboys). I just like hearing their stories because there were some good times back then."
Ruud said his dad and friends ask him for stories now, but his can't compete with the entertainment value that theirs had.
"Their stories are on another level," Ruud said. "Those guys had a good time back then."
Ruud continued his tenacity and durability in Tampa Bay — he led the Buccaneers in tackles each of the past four seasons and missed just one game. He had 205 tackles, including a pair of 20-tackle games, in the 2009 season.
"I think 20 tackles can sometimes be a dubious achievement because it usually means you're on the field too much," Ruud said. "Usually, you are being productive and playing well but, at the same time, the defense as a team isn't getting off the field.
"They're nice in terms of productivity, but the 10-tackle games where you only play about 50 snaps and hold your opponent to three points, that's what you're looking for," Ruud continued. "The 20-tackle games, you're around the ball and you're hustling, but you're probably on the field too much when you're doing that."  
Ruud started the first eight games for the Titans this season, recording 63 tackles, three passes defensed, one quarterback hurry and an interception that helped finish off the Colts on Oct. 30. Ruud capitalized, snatching the ball from the air, after Jason Jones deflected Curtis Painter's pass attempt late in the game.
"Those are the ones if you're in the right place and you hustle, you should get one or two of those a year — a tipped ball or something like that," Ruud said. "It's just a matter of not blowing an open-court lay-up. It wasn't the toughest play ever but I'll take what I can get."
Most things in football are not that easy, however. Ruud persevered through a shoulder problem he had in the preseason to start the first eight games for the Titans, but a groin injury kept him from suiting up against Carolina. Ruud returned and started against Atlanta but re-injured his groin in the second quarter and may miss this week's game against his former team.
McCarthy, a Pennsylvania native who moved to Florida and played high school football in the Tampa Bay area, started in place of Ruud against the Panthers and relieved him against the Falcons. McCarthy returned from a hamstring injury against Carolina that had kept him out of the three previous games and recorded 12 tackles, including two for losses and a quarterback pressure. He also forced a fumble and led the Titans with 10 tackles against Atlanta. McCarthy said studying the defense and Ruud's tutelage prepared him for his first start.
"Barrett's been playing great," McCarthy said. "He's great to learn from. I think that's the biggest thing as far as being a younger guy. He's a guy that's been around the game. He knows how to study, he knows how to prepare."