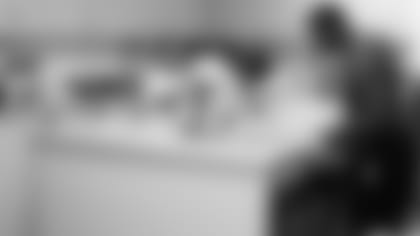 Second-round pick Zach Brown, a linebacker out of North Carolina, looks at his jersey after he checked in Thursday at Baptist Sports Park.
NASHVILLE, Tenn. --Rookies walked through a doorway that may lead to their dreams of making a spot on the Tennessee Titans' roster Thursday.
The Titans welcomed seven draft picks that were selected two weeks ago and additional players who were undrafted and signed after the 2012 NFL Draft for a rookie minicamp that begins Friday at Baptist Sports Park.
Defensive tackle Mike Martin, who was chosen in the third round with the 82nd pick, flew in from his native Detroit Thursday. Martin starred collegiately at Michigan, a place with which he had considerable familiarity from his youth.
"It's good to be here," Martin said. "It feels like college all over again, starting from square one, but I'm excited. I'm just trying to get to know everyone."
Martin and his classmates received equipment, were fitted for helmets, underwent physicals and were scheduled to have dinner with Titans coach Mike Munchak Thursday night.
They will work with their position coaches and hit the practice field twice (once without helmets and once with helmets) at Baptist Sports Park Friday. They will also lift weights and go through multiple meetings on Friday.
Martin said setting foot on the field will make him feel at home.
"It's completely new, but the one thing that stays consistent is we're playing ball, so that's the exciting thing about it," he said. "The field's a 100 yards long."
While most rookies arrived fresh out of college, the path to an NFL locker room for fullback Collin Mooney has been a little different.
Mooney drove 12 hours to Nashville Tuesday from Fort Sill, which is southwest of Oklahoma City, where he has spent most of the past two-plus years.
"I had never been to this city," Mooney said. "I was going to an NFL team, so it was a lot of emotions and feelings going on during that ride. I was trying to keep the emotions and the nerves in check."
Mooney attended the U.S. Military Academy and played for the Army Black Knights football team. He set the school record with 1,339 rushing yards in 2008, and then fulfilled his time commitment that the Army requires from its West Point Cadets. Mooney worked for eight months as a strength coach during his period of commitment.
Mooney, a native of Katy, Texas, met briefly with running backs coach Jim Skipper and spent some of his free time studying they playbook Thursday. He said he was able to familiarize himself with the area by getting here early. He located a movie theater, but expects to have little leisure time.
"My number one goal is to make the team," Mooney said. "Trying to learn my playbook and be ahead on the playbook, know what's going on and where I'm supposed to be. I think being perfect is nearly impossible, but I would like to be perfect on my play assignment if possible."