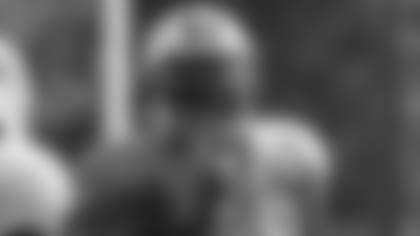 Rookie linebacker Gerald McRath has made a good impression early on in training camp.
NASHVILLE, Tenn. --** Gerald McRath is an imposing, impressive figure. Just 23 years old and a rookie, the linebacker from Southern Mississippi has made early impressions on Titans coaches.
Standing at 6-3, 231 pounds, McRath is a physical specimen, but even he is amazed when he looks to surrounding lockers with Keith Bulluck, David Thornton and Stephen Tulloch on the nameplates.
McRath, an extremely well spoken and humble individual, has been excited to learn from not only his teammates, but from revered linebackers coach Dave McGinnis. With veterans like Bulluck and Thornton and a young star like Tulloch to look up to, McRath has been able to learn a lot outside of the classroom, while still staying focused on McGinnis' teachings.
"It's a great opportunity for someone of my caliber as far as being a rookie," McRath said. "You are getting the players' aspect on the field and getting the coaches' experienced aspect. Everything I get from those guys, I take it and I run with it knowing that you have to be a tough critic and you have to be coachable, especially at this point in my career."
McRath was a fourth round pick in April's draft, and while the Titans are very deep at the linebacker position, the team felt that he was too big of a talent to let pass by. This talent has been displayed at practice as he can be seen flying around the field. This is a feature of McRath's game that he enjoys, as do the coaches.
"One thing I was taught at an early age, football is a contact sport. Coming from Southern Mississippi, that's one of the things we pride ourselves on -- running to the ball. It just so happens I got blessed and I've been put on a team that prides themselves on running to the ball. It's a perfect fit," McRath said.
McRath went on to compare his current situation to his status as a college freshman. With the "seniors" to look up to, McRath has been able to learn quite a bit and jump straight into the playbook.
One of the players that McRath can look up to is starting middle linebacker Stephen Tulloch. Although McRath has moved from the middle linebacker position that he played in college to outside linebacker with the Titans, he still looks to Tulloch for advice.
"I think Gerald McRath is going to be a very very very special player. He's a smart kid, willing to learn, loves to correct his mistakes and is always asking questions. He's far beyond where I was as a rookie," Tulloch said. "He's a very smart guy and the sky is the limit for him. He's an unbelievable rookie right now at this point because he's willing to learn and get better everyday and that's what is so special about him".
In last Sunday's Hall of Fame, McRath seemed to be all over the field, and made a particularly big play that changed the momentum of the game. After Tennessee's offense had stalled on a couple of series, McRath raced downfield on the punt coverage team, swooping in quickly to recover a muffed punt. The turnover gave the Titans great field position that led to their third touchdown, a score that would be just enough to hold off the Bills.
"We liked what we saw on defense and when he saw that ball he went and got it and that was good to see," head coach Jeff Fisher said. "He played a lot in the ball game. He played a lot of snaps, a lot of special teams snaps and was very active."
Fisher also complimented McRath on his work ethic and intelligence, saying that the rookie was entrenched in the playbook and learning as much as possible as soon as he got to Nashville. If Fisher is the teacher, McRath is an A student from this draft class. That type of work ethic is natural to the standout linebacker, and is something he prides himself upon.
"You want to do well, you want to represent for yourself, for your family, for your alma mater and at the same time for this organization," McRath said.
INJURY UPDATE: Wide receivers Chris Davis and Mark Jones, fullback Casey Cramer, linebackers Stephen Tulloch, Josh Stamer and Colin Allred all sat out of today's practice. Also, defensive linemen Jacob Ford, Jason Jones and Kevin Vickerson, and cornerback Cortland Finnegan rested today. During the physical session this afternoon, safety Vincent Fuller tightened up a little and didn't finish practice.
TOUGH MID-WEEK PRACTICE: Today's practice was very hard hitting, and out in the sweltering sun it was intense for the players. Tempers flared here and there, but the team seemed to get quite a bit done in terms of its own development.
"We covered a lot today. we covered run, we covered third down, we covered end of the game, we covered blitz -- we got it all in there today. It was a good practice," Fisher said.
The Tampa Bay Buccaneers, who come into Nashville on Saturday, have a new head coach, Raheem Morris. This coaching change means that the Titans don't have much to go on in their preparation for the preseason home opener, so the team has been focusing on improving themselves.
"There were a lot of things in the game that the first offense could have done better. We hope to correct those mistakes, add a little bit more to the game plan then go out and execute," Fisher said.
BRITT COMING ON: Wide receiver Kenny Britt seemed to be getting more into the action this afternoon, as the coaching staff is continuing to put him in positions to make plays. As the staff moves him around the field and creates mismatches, Britt is also continuing to learn the playbook.
"The more he practices the more opportunities he's going to get and we'll see the reason why we drafted him," Fisher said. "He's not having any difficulty with the system. He's getting lined up, he's doing the right things."