NASHVILLE, Tenn. -- Just one week after being named AFC Special Teams Player of the Week, Titans running back/kick returner Darius Reynaud has been named the AFC Special Teams Player of the Month for September, the NFL announced today.
Reynaud is the first Titans player to win an AFC Player of the Month Award (Offense, Defense or Special Teams) since Michael Griffin was named AFC Defensive Player of the Month for October 2010. He is the first Titans player to win AFC Special Teams Player of the Month since Rob Bironas in October 2007, and the first Titans returner to win the honor since Derrick Mason in October of 2000.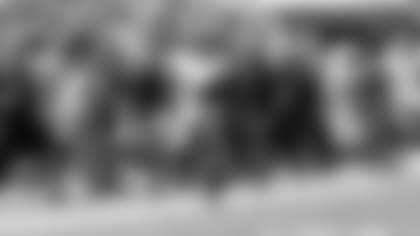 Through four games in 2012, Reynaud ranks fourth in the AFC with an average of 27.2 yards per kickoff return (15 returns for 408 yards). He has an additional 47 yards on nine punt returns.
Reynaud's 105-yard kickoff return against the Lions on Sept 23 is tied with Percy Harvin's 105-yard kickoff return (Sept. 30 vs. Detroit) for the longest single play in the NFL through four games.
Reynaud played a key role in Tennessee setting an NFL record with five touchdowns of 60 yards or more in Tennessee's Week 3, 44-41 overtime victory against Detroit.
In the first quarter, Reynaud fielded a punt at Tennessee's 37-yard line, took two steps and fired a perfectly-thrown lateral across the field to a wide-open Tommie Campbell, who raced 65 yards down the right sideline and into the end zone for a 10-7 Titans lead.
After Detroit took a 27-20 lead midway through the fourth quarter, Reynaud fielded the ensuing kickoff five yards deep into the end zone and brought it back a franchise-record 105 yards for a touchdown, tying the game at 27.
It marked Reynaud's first career NFL touchdown and broke the previous team mark of 104 yards set by Ken Hall vs. the New York Titans on Oct. 23, 1960. He returned four kickoffs for 174 yards (43.5 avg.) on the day.
A long-shot to make Tennessee's roster entering training camp, Reynaud made his case for a permanent spot during the preseason when he led the Titans in rushing yards (146), rushing average (6.1), punt return yards (152), punt return average (25.3 -- also a league high) and kickoff return average (33.3). Reynaud's combined 456 yards during the preseason ranked fourth in the NFL.
In his fourth NFL season, the 5-foot-9, 201-pound Reynaud signed as a free agent with the Titans in January after stints with the New York Giants and Minnesota Vikings.