**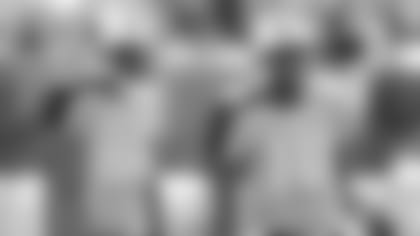 Randy Moss (left) said he's enjoyed his time with the Titans, noting it's important to have fun.
NASHVILLE, Tenn. -** Randy Moss says he's enjoying his time with the Tennessee Titans about two weeks into his tenure with his third team this season.
Moss spoke Friday after practice, a day after declining to talk to reporters. He said the Titans already had a great personality before he showed up of being loose and having fun while knowing when it's time to work and win games.
"I think these guys really understand that in this locker room,'' Moss said. "I think it's good to have fun, because if you don't have fun, this game won't last long to you. I've been able to survive 13 years with having fun, cutting up, making guys laugh and them making me laugh. So it goes hand in hand.''
The Titans claimed Moss off waivers Nov. 3, and he made his debut last week in a 29-17 loss to Miami where he caught one of four passes thrown to him. He will play his first game on home turf Sunday against the Washington Redskins (4-5) with Tennessee (5-4) trying to snap a two-game skid.
Moss indicated he is getting more comfortable with the Tennessee offensive scheme, but still makes occasional mistakes.
The Titans need Moss up to speed quickly because they have lost a starter for the next couple of weeks with tight end Craig Stevens having arthroscopic surgery on his right knee Thursday.
"Hopefully ... I'm feeling comfortable here and trying to learn the offense, knowing where to lineup. I still have a little problem here and there,'' Moss said. "But like I said, I just want to go out and help this team win. And we need this win bad. Hopefully we can get it. Like I said, we had a good week of work, and hopefully, it'll pay off.''
Moss will be playing with a second starting quarterback in as many games with Tennessee. Kerry Collins started at Miami, and Vince Young, whose left ankle is well enough that he's not on the injury report, will start against the Redskins. Moss said he gotten acclimated to Young this week in practice after Young played the second half in Miami.
The seven-time Pro Bowl receiver said Collins and Young are different players, which everyone knows.
"It's been a great week of work and preparation. Hopefully, what we did out there this week can hopefully pay off on the field on Sunday,'' Moss said. "We lost in Miami, and I think guys are disappointed that we did lose that game. Our focus this week is just going out and getting that win.''
Moss needs three catches to pass Andre Reed (951) for eighth place in NFL history. His next catch will be his 950th, making him just the ninth player in league history to reach that mark.
Redskins cornerback Carlos Rogers said he expects the same old Moss talent-wise Sunday.
"I think he's still fast, as fast as he was. You see what he did in New England. That lets you know he's fast,'' Rogers said.
Collins will be doubtful with a strained left calf, but might be the emergency third quarterback.
Receiver Kenny Britt (right hamstring) also will be out for a second straight game. Safety Vincent Fuller (hamstring) did not practice and is questionable. Cornerback Cortland Finnegan (shin) and defensive tackle Tony Brown (knee) practiced fully and are probable. Kicker Rob Bironas (back) was limited but is probable.