PALM BEACH, Fla. – Rams coach Sean McVay loves everything about receiver Robert Woods.
Everything, that is, aside from the fact Woods is now going to be on another team – the Tennessee Titans – in 2022.
Here at the NFL owners meetings on Tuesday morning, McVay raved about Woods while talking about how agonizing it was to bid him farewell in Los Angeles.
And he thinks he's found a perfect home in Tennessee, something he talked to Titans coach Mike Vrabel about on Monday.
"He's a tough competitor," McVay said of Woods. "He is one of those guys where he makes everyone around him better. But you talk about just embodying the way that you want to compete snap in and snap out, the mental toughness, the versatility. What we asked Robert Woods to do over the last five years (in Los Angeles), and I was talking to Vrabes about this yesterday, you could make a case that he has as complete of a game in terms of being able to compete with the ball, without the ball, catching short, intermediate, down the field (passes), running the football on jet sweeps – we put him in the backfield this year where he is taking offset gun runs.
"The (Titans) are getting a stud, that's what you're getting."
Earlier this month, the Rams traded Woods to the Titans in exchange for a sixth-round pick in the 2023 NFL Draft.
McVay said it was a tough decision, which came after the Rams added receiver Allen Robinson on a contract worth roughly $45 million in free agency. After that deal transpired, McVay said the team wanted to allow Woods to find a spot that fit him well, and on Tuesday morning he credited Titans General Manager Jon Robinson and agent Andrew Kessler, who represents Woods, for making it happen.
Woods has played in 125 career games, with 115 starts, in nine NFL seasons with the Rams (2017-2021) and Bills (2013-2016), and he's recorded 570 catches for 7,077 yards and 35 touchdowns in his playing career. He also has 74 career rushing attempts for 507 yards and five touchdowns.
A two-time captain with the Rams, Woods totaled 367 receptions for 4,626 yards and 23 touchdowns in 68 games in five seasons in Los Angeles. McVay said the Rams missed Woods in so many ways last season when he suffered a season-ending knee injury in November. Woods is rehabbing, and the expectation is he'll be ready for the start of the 2022 season in Tennessee.
"When we were talking with Robert throughout the process, Tennessee is an offense that is operated very similar to the way we have, and I think that is going to allow his game to continue to shine," McVay said of Woods, and the Titans.
"He's really been a foundational piece (for us). It was a really tough decision, but he was such a pro about it. He is such a great dude. Tennessee is getting a really special competitor. I love Robert Woods."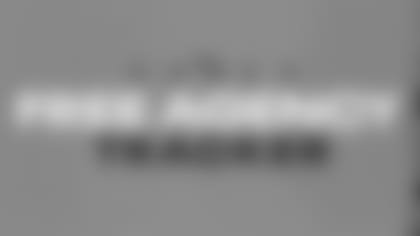 2022 Free Agency Tracker
Your official source for all Titans signings throughout the 2022 NFL Free Agency period.