NASHVILLE – The Titans introduced receiver Robert Woods at a press conference on Wednesday at Saint Thomas Sports Park.
On the same day, Woods sent out a thank you post on social media as he officially said goodbye to the Los Angeles Rams.
Trading for one of the NFL's most consistent receivers was quite a development for the Titans, and the move has been praised by many.
Shannon Sharpe and Skip Bayless of Undisputed on FOX spent a segment discussing it.
"I would like to congratulate all my friends in Nashville, Tennessee – and I have a bunch of them because I went to Vanderbilt University," Bayless said. "I congratulate them because they just got a really good receiver. … I also offer my condolences to Rams Nation because that's a big loss.
"Every time I am rooting against the Rams, I just watch (Woods) … and every play I am like: 'Don't let him get loose."
The Titans traded a sixth-round pick in the 2023 NFL Draft for Woods, which Sharpe called a steal.
"A sixth-round draft pick (for) Robert Woods," said Sharpe, a Hall of Fame tight end who starred with the Broncos and Ravens. "I get he is coming off an ACL injury. But Robert Woods is a damn good receiver. He put but big, big numbers. I think he is averaging 80 catches and about 1,100 yards over the last three years. He is a phenomenal receiver."
Added Bayless: "I am going to guess that the Titans stole him for a sixth-round pick."
In nine NFL seasons, Woods has played in 125 career games, with 115 starts, while spending time with the Rams (2017-2021) and the Buffalo Bills (2013-2016). Woods has recorded 570 catches for 7,077 yards and 35 touchdowns in his playing career. He also has 74 career rushing attempts for 507 yards and five touchdowns.
A two-time captain with the Rams, Woods totaled 367 receptions for 4,626 yards and 23 touchdowns in 68 games in five seasons in Los Angeles. Among all players (WR's, TE's, RB's) with a minimum of 50 games between 2017-21, he ranked in the NFL's top 12 with 5.4 receptions per game (12th), 68.0 receiving yards per game (12th) and 3.5 receiving first downs per game (11th). And among wide receivers during that span, his yards after the catch yardage total (1,992) ranked fifth in the NFL.
"He does so many things," Sharpe said of Woods. "He catches it, he runs it, he's a hell of a blocker.
"To pair him with A.J. Brown, they are going to be really good. And they got Austin Hooper at tight end – hopefully they can recapture what he had going on in Atlanta. … This is a very good situation for Tennessee."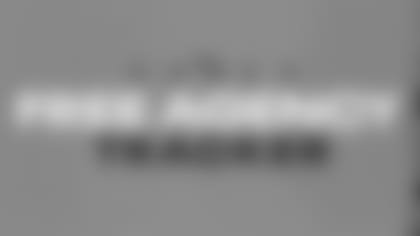 2022 Free Agency Tracker
Your official source for all Titans signings throughout the 2022 NFL Free Agency period.