NASHVILLE – Long before Monday, tight end Austin Hooper had heard a lot about – and visited – Nashville.
At one point, he even had visions of playing for the Titans one day.
In college at Stanford University, Hooper was roommates with the team's center, Graham Shuler, who played at Brentwood Academy. Shuler talked plenty about Nashville, Hooper said.
Later, at the end of his playing career at Stanford, Hooper made a pre-draft visit to the Titans. Back then, in 2016, Mike Mularkey was the team's head coach, and Jon Robinson was in his first year as the team's general manager.
Six years later, Hooper was back in town being introduced at a press conference at Saint Thomas Sports Park after signing a one-year deal with the team.
"It's funny," Hooper said. "The Titans were one of the teams that was interested in me coming out (for the draft), and now, here we are. I'm excited, and I'm ready to get started."
A two-time Pro Bowl selection (2018-19), Hooper (6-4, 255) joins the Titans after two seasons (2020-21) in Cleveland and four years (2016-19) in Atlanta.
Hooper has also spent time in the city at "Tight End University," on-field workouts organized by tight ends George Kittle and Greg Olsen.
"It's great to be here," Hooper said. "I am excited. I am excited to be at a place where I am wanted, on a team that has a ton of talent, with the potential to do something special. Me, I am just going to go out and put my best foot forward and be the best I can be. I want to get back to doing what I know I can do."
Over his 88-game NFL career, Hooper has started 57 games and he's tallied 298 receptions, 3,024 yards and 23 touchdowns in his career. Hooper earned Pro Bowl honors following the 2018 and 2019 season, when he combined for 146 receptions in Atlanta over the two seasons, a total that ranked fourth among NFL tight ends during that span.
Last year in Cleveland, Hooper accounted for 38 receptions, 345 yards and three touchdowns.
Hooper on Monday gave his former college quarterback Kevin Hogan, a back-up with the Titans, a lot of credit for giving him positive vibes about the organization, speaking about the culture created by head coach Mike Vrabel and Robinson.
Hooper said Titans quarterback Ryan Tannehill has already reached out to him to welcome him to the team.
"He throws a good ball," Hooper said of Tannehill, "and he definitely has a good command of the huddle and has a good grip of the offense. I heard he's a good dude, too, so I am looking forward to meeting him whenever that time is."
Hooper made it clear he's happy to be with the Titans, and ready to help.
"Watching this team from afar, and being a fan from afar, and seeing what they do and how they go about their business," Hooper said. "To be able to get a legitimate opportunity to be a part of it, it was an easy decision.
"(I'm) a hungry player. Every year is a new year, every year you are unproven, every year you have to prove yourself to the world. So, I am just excited for the opportunity, excited to get after it, excited to compete and earn my role with the team. … Whatever my role is here I'll accept it and do my best to excel. I want to be the best version of myself I can be."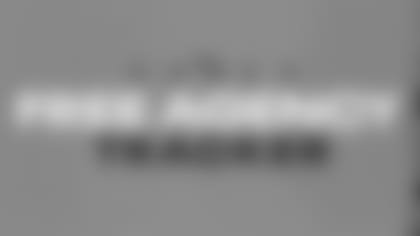 2022 Free Agency Tracker
Your official source for all Titans signings throughout the 2022 NFL Free Agency period.