NASHVILLE, Tenn. – The Titans just wrapped up Day 8 of training camp with a practice at Nissan Stadium.
Here's what you need to know …
• The offense was a little shaky out of the gate before settling down. Receiver Eric Decker was flagged for a penalty early, and defensive lineman Jurrell Casey busted into the backfield and was credited with a sack. Linebacker Brian Orakpo was also in the backfield on the first series. The offensive unit settled down, and went on a pair of long drives led by quarterback Marcus Mariota. (More on this to follow).
• Tight end Jonnu Smith showed up early and late.  Smith caught a pass from Mariota on the first offensive series, and later in practice he caught a pair of touchdowns in a period near the goal-line.
• Running back Derrick Henry continues to take advantage of his opportunities. He ran the ball well on Saturday night, busting off some nice inside runs while also bouncing some to the outside.
• Receiver Taywan Taylor had a great first week of camp, and he made some plays on Saturday. But Taylor also lost the ball in the return game for the second time in as many nights, a practice after he failed to haul in a catchable pass in the end zone.
• It was a good night for defensive back Curtis Riley, who showed up several times vs the run and was also in good position in coverage. Riley was there to say hello to Henry on a play at the goal-line.
• A big no-no for tackle Taylor Lewan. After banging heads with linebacker Nate Palmer, Lewan lost his cool and was flagged for an unsportsmanlike conduct penalty. Coach Mike Mularkey wasn't happy about it, but said he was glad it happened in a scrimmage and not a game.
• Decker continues to make plays. He caught several balls across the middle on Saturday, including one when defensive back Kalan Reed was in tight coverage.
• Receiver Mekale McKay is an intriguing prospect who has made plays in camp, and he made several on Saturday. The 6-foot-5 McKay caught a touchdown pass in the back of the end zone after making several other grabs on the night.
• Safety Denzel Johnson turned in a pick-6 on a ball that should've been caught by receiver Jonathan Krause across the middle. A few plays later, cornerback Demontre Hurst nearly picked off quarterback Alex Tanney.
• Veteran receiver Harry Douglas and quarterback Matt Cassel paired up for a nice play.
• Kicker Ryan Succop was a perfect 4-for-4 on field goal tries.
Mariota was back on the field and in uniform at Nissan Stadium for the first time since suffering a fractured fibula last season, and he looked good after the so-so start.
Mariota led the first-team offense to a pair of scoring drives in the scrimmage, making several nice throws along the way.
Something else was encouraging: Mariota took off and ran for a touchdown on a play from the two-yard line.
"I like some of the plays that he made," Mularkey said of Mariota. "I thought he made some good decisions."
Tight end Delanie Walker was on the receiving end of a touchdown pass from Mariota on the team's second drive. Walker went up high to catch a ball in between safety Da'Norris Searcy and Palmer.
"I think Marcus is looking great," Walker said. "The chemistry with us is always there. I am just excited to see what he is going to do for us this year because he's getting better and better."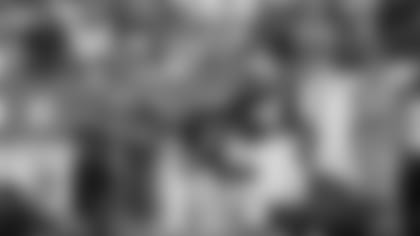 I'm going with rookie Adoree Jackson in the return game here, and I'm pointing out several plays.
Jackson took a kickoff and busted through the coverage team with his speed. He also showed some nifty footwork while returning punts.
The Titans are auditioning several players in the return game, but Jackson is clearly standing out.
"It is just something that when my name is called, I'm going to go out there and do my thing," Jackson said. "Everybody is going to get a fair opportunity, so when you get yours you have to make the most of it."
Mularkey was clearly impressed with the first-round pick on Saturday night.
"He is a pretty exciting player," Mularkey said of Jackson. "He showed his speed, and showed what he is capable of doing. He'll be a threat, just like he was in college. But he showed his speed tonight."
• Running back DeMarco Murray (hamstring), receiver Corey Davis (hamstring), receiver Tajae Sharpe (foot) did not practice.
• Linebacker Victor Ochi suffered a torn ACL in Friday night's practice, and is out for the season, Mularkey said.
• A crowd of 11,400 was announced for Saturday night's practice.
• Titans controlling owner Amy Adams Strunk was back in Nashville after attending Hall of Fame festivities and meetings in Canton a day earlier. Strunk signed autographs for fans before practice.
• A Hawaiian tune blared from the speakers at Nissan Stadium when Mariota and offensive players took the field in warm-ups.
• Several former Titans attended Saturday night's scrimmage, including safety Michael Griffin, safety Chris Hope and center Kevin Long.
• NFL Network analyst Charles Davis was on hand for the scrimmage.
Next practice: Monday, 6:55 p.m. at Saint Thomas Sports Park.
Titans players take the field for Day 7 of the team's 2017 training camp at Nissan Stadium. (Photos: Donn Jones, Gary Glenn)