**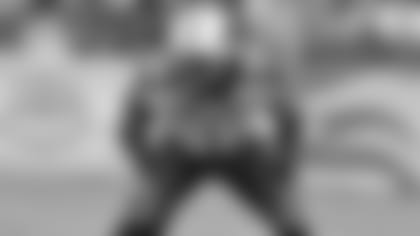 If healthy, veteran David Thornton could be in the mix to spell Gerald McRath early on.
NASHVILLE, Tenn. —** There are several questions swirling around the linebacker position at the Tennessee Titans' camp.
Throughout the offseason, none of the Titans' three starters from a year ago have practiced during the voluntary organized team activities.
Keith Bulluck tore the ACL in his left knee last December and still is rehabbing and unsigned as a free agent. David Thornton is healing from pectoral surgery, and middle linebacker Stephen Tulloch has been AWOL, finally signing his $2.521 million tender Monday as a restricted free agent.
The NFL announced Monday that Gerald McRath, a projected starter this season, will miss the first four regular season games after a positive test for a banned substance under the NFL's performance-enhancing drug policy
"We have plenty of options as far as the position is concerned," head coach Jeff Fisher said. "We have great competition. We have guys that have played, so we have plenty of time to get that thing sorted out."
Some of those options could include Thornton, Rennie Curran, Jamie Winborn, Colin Allred and Stanford Keglar. Fisher said long-time Titan Keith Bulluck could also be re-signed, pending his status from off-season knee surgery.
"David (Thornton) is certainly still in our plans. Again we have options," Fisher said. "Tully's [Stephen Tulloch] thing is going to get worked out. He signed his tender which is a good thing. This situation is going to get worked out. We have Spoon [Will Witherspoon] here who is having a great offseason. Colin Allred has played out there. Jamie Winborn has played out there. Kegs [Stanford Keglar] has played. We have options and as I have said all along I'm still watching the Keith Bulluck situation. I have not changed on that. We have options and fortunately we have plenty of time to deal with that."
Meanwhile, Fisher's players are staying prepared.
"I'm going to prepare just as if I'm the guy. Every time I step on the field, I feel like I have an opportunity," said Curran, the rookie linebacker out of Georgia. "You never know when that injury might happen. Your mindset has to be that you're the best when you walk on the field.  That's my mentality, whether I have four people ahead of me or one person ahead of me."
Witherspoon, who signed with the Titans as unrestricted free agent from the Philadelphia Eagles during the off-season, is quickly becoming one of the unit's stabilizing forces. 
"It's kind of in a state of flux, but as always you try to bring stability to the situation. You make sure you understand what's going on and how you can approach the situation. That's exactly what I want to do," Witherspoon said. "I want to come in here and be on the field playing, making plays and doing what I've always done throughout my career. That's the way I look at it.
"I'm one of the older guys who has to bring the younger guys along, but at the same time, making sure I'm understanding the defense and knowing the ins and outs and tweaks of every situation."
Witherspoon has been a steady influence on Curran and the rest of the younger linebackers.
"I've seen a lot of great things out of Rennie. He's focused, he takes his time and he responds well to  any kind of commentary," Witherspoon said. "He asks a lot of good questions, even the ones that may be a little tough. He has the ability to do whatever we need him to. He just has to get comfortable in doing it."
Curren appreciates the wisdom and guidance he has received from the veteran linebacker.
"I feel like every single one of the linebackers that are here have really taken us in under their wings -- not only me, but the rest of the rookie linebackers," Curran said. "They're willing to give advice if I make a  mistake on one play or if I don't do something right, they're on my neck, telling me this is the way to do it. It's a blessing to have those types of guys who don't feel threatened by you and are willing to help you in any way."
A wiser, older veteran, Witherspoon is more than willing to help lead the younger players along as the unit gains more experience playing together.
"I don't think there's any more or less on my shoulders. I know there's a lot of questions on everyone's minds right now," Witherspoon said. "I've never been a guy who is an in your face leader. I'm more of a quiet guy who more or less tries to lead by example and makes strides step by step. If I have something to tell you, I'm going to tell you."
Curran will continue taking the veteran's advice as one of the potential candidates to see increased playing time early in the season.
"For me, my effort has nothing to do whether who is on the field, who is injured or who isn't," Curran said. "Every day I go out I'm just trying to give my best effort, best attitude, stay positive and just wait for my break to come."
*Gary Glenn contributed to this report *
---