INDIANAPOLIS —After opening with offensive linemen, tight ends and special teamers Thursday, Friday's media sessions at the NFL Combine shift to quarterbacks, running backs and wide receivers.
There are 19 quarterbacks, 36 running backs and 48 wide receivers who were invited to Lucas Oil Stadium to participate in the NFL's annual evaluation of top prospects. In addition to the media sessions, most of the more than 330 players attending the combine will undergo medical examinations and participate in on-field timing and testing drills.
The event is a significant part of the preparations for the 2014 NFL Draft in May.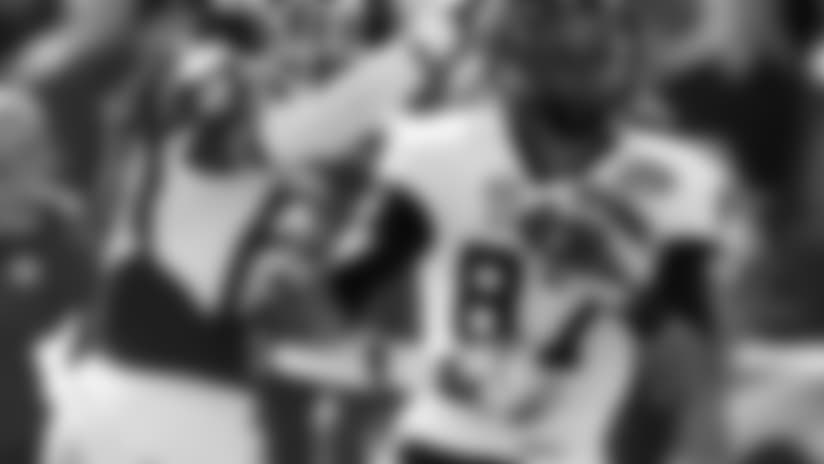 Vanderbilt senior Jordan Matthews is one of 48 receivers at the NFL Combine. The position group is scheduled to participate in media interviews Friday and on-field workouts Sunday.
The SEC and ACC tied for the most invitees (five per conference) at quarterback. Johnny Manziel (Texas A&M), A.J. McCarron (Alabama), Zach Mettenberger (LSU), Aaron Murray (Georgia) and Connor Shaw (South Carolina) are from the SEC, and Tajh Boyd (Clemson), Stephen Morris (Miami), Bryn Renner (North Carolina), Tom Savage (Pittsburgh) and Logan Thomas (Virginia Tech).
Manziel, Louisville's Teddy Bridgewater and Central Florida's Blake Bortles are the three non-senior QB entries at the combine, and all have received high grades from NFL Media analysts.
Daniel Jeremiah ranks Manziel as the seventh overall prospect, Bridgewater 10th and Bortles 18th in his Top 50 list of players and recently projected Manziel as the third overall pick (Jacksonville), Bridgewater at fourth (Cleveland) and Bortles at fifth (Oakland) in a mock draft. Bucky Brooks and Mike Mayock, however, rank Bridgewater as the top QB, followed by Manziel and Bortles, then Fresno State's Derek Carr and McCarron in their top five.
Quarterbacks have the option of participating in throwing drills or waiting until the pro days that their schools host. Renner, Cornell's Jeff Mathews and West Texas A&M's Dustin Vaughan were invited as throwing QBs.
The 36 running backs include three fullbacks and 14 underclassmen. Among the early entries are Auburn's Tre Mason and Missouri's Henry Josey, whose teams met for the SEC Championship. Three players from LSU's backfield were invited (running backs Alfred Blue and Jeremy Hill and fullback J.C. Copeland). LaDarius Perkins (Mississippi State) is the sixth player from the SEC among the running backs.
The position group also includes Western Kentucky's Antonio Andrews, who starred during high school at Fort Campbell, about an hour from Nashville.
Brooks' top five running backs are: Ka'Deem Carey (Arizona), Hill, Carlos Hyde (Ohio State), Mason and Charles Sims (West Virginia), but both he and Jeremiah think the position will be devalued in draft order. Mayock's top five RBs are: Hyde, Hill, Bishop Sankey (Washington), Andre Williams (Boston College) and Mason.
The top five receivers, according to Brooks, are: Sammy Watkins (Clemson), Marqise Lee (Southern Cal), Odell Beckham, Jr. (LSU), Mike Evans (Texas A&M) and Allen Robinson (Penn State). Mayock's top five at the position were Watkins, Lee, Evans, Kelvin Benjamin (Florida State) and Jarvis Landry (LSU).
In addition to Beckham, Evans and Landry, other receivers from SEC schools are: Bruce Ellington (South Carolina), Marcus Lucas (Missouri), Jordan Matthews (Vanderbilt), Donte Moncrief (Ole Miss), Kevin Norwood (Alabama) and L'Damian Washington (Missouri). Former Vanderbilt receiver Chris Boyd was also invited to the combine.
Receivers in Jeremiah's Top 50 are: Watkins (2), Evans (14), Benjamin (17), Lee (21), Landry (31), Oregon State's Brandin Cooks (32), Fresno State's Davante Adams (38), Beckham (40) and Colorado's Paul Richardson (41). He projected Watkins to Buffalo as the ninth overall pick, Evans to St. Louis (13th), Benjamin to Pittsburgh (15th), Lee to the New York Jets (18th), Cooks to Kansas City (23rd), Adams to Carolina (28th) and Landry to Denver (31st).