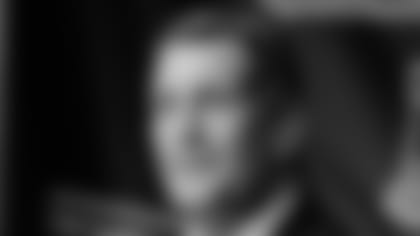 Titans GM Mike Reinfeldt hasn't given any hints on how the Titans will replace Vince Young. His club owns the 8th overall pick in the NFL Draft, which starts Thursday night.
NASHVILLE, Tenn. —** Vince Young isn't gone from the Tennessee roster just yet, not that the Titans want him back. So quarterback is at the top of their shopping list this NFL draft.

The Titans still intend to try and trade Young once a labor deal is reached or release him before the 10th day of the new league year - whenever that is - to avoid paying him a $4.25 million roster bonus. So nothing has changed in when it comes to Young since Jeff Fisher left after 16 full seasons as head coach.

That leaves the Titans, who have the eighth overall pick, looking for a new quarterback for the first time since 2006. Not that they're giving any hint yet who they want or which round they will fill that need.

"When we make our picks, then it'll become evident at that point in time,'' general manager Mike Reinfeldt said.

Rusty Smith is currently the only other quarterback on the roster, and the sixth-round pick out of Florida Atlantic didn't impress in his lone emergency start last season. The Titans also plan to add a veteran whenever free agency starts to groom whomever they pick to avoid sticking the rookie onto the field too soon.

The Titans have visited with Cam Newton of Auburn, Florida State's Christian Ponder, Jake Locker of Washington, Missouri's Blaine Gabbert, Andy Dalton of TCU, Arkansas' Ryan Mallett and Nevada's Colin Kaepernick. It's a deep pool, but with Munchak and new offensive coordinator Chris Palmer, the Titans are giving no hint of who they want or even what type of offense they will run.

A mobile quarterback seemingly has the edge to make Chris Johnson the dangerous threat he was in 2009 with his 2,006 yards.

"It's a class with the quarterbacks that have different skill sets, and there's different opportunities whether the first, second or third round,'' Reinfeldt said. "That's part of the process. We were trying to evaluate what is the best scenario for the Tennessee Titans.''

Reinfeldt has nine picks, giving him the ammunition to take the best player available at No. 8 and maybe trade up later to get that quarterback.

The Titans went 6-10 with a collapse after a 5-2 start exposing the defensive line where new coordinator Jerry Gray wants to add size to bulk up to stop AFC South running backs like Arian Foster and Maurice Jones-Drew. Tackle Tony Brown's balky right knee ended his season early last year, and Pro Bowl end Jason Babin is a free agent. Ends Jacob Ford and Dave Ball also could be free agents depending on how the labor deal is resolved.

Tennessee visited with defensive end Da'Quan Bowers of Clemson, Auburn's Nick Fairley, Alabama's Marcell Dareus and Texas A&M linebacker Von Miller. The Titans also visited with Georgia receiver A.J. Green and Julio Jones of Alabama. The Titans' new defensive line coach, Tracy Rocker, knows Fairley very well after coaching him at Auburn.

With no chance yet to fill holes through free agency, the best player available is a strong option when the Titans go on the clock.

"I think it opens up your draft board. I think you look at more possibilities you're interested in more players. I think it actually makes it more interesting in some ways. More opportunities, more possibilities,'' Reinfeldt said.

The lockout means Munchak and his new staff haven't been busy with the offseason program, so they've stayed busy breaking down film of prospects and meeting with scouts. This team is very prepared for this draft.

Reinfeldt also isn't buying the idea that the Titans will struggle so much with the late coaching change and the labor concerns that they should tank the 2011 season to draft quarerback Andrew Luck of Stanford in 2012. He sees enough talent on the roster if the Titans make the right picks.

"That's one of the things that's been proven over the last couple years in the NFL. Teams that have struggled have jumped back into playoff contention much quicker than people expected them to,'' Reinfeldt said.

Munchak will be helped with a schedule ranked 25th easiest in the NFL that has the Titans traveling the fewest miles in the league. He just doesn't know when or if he'll get to work with his players this year.

Speaking of Munchak, he was the pick the last time this franchise held the eighth selection overall. Whoever the Titans take first has a high standard to try to live up to since Munchak capped his career in the Hall of Fame.

"That would be nice if he was half as good as the last guy,'' Reinfeldt said with a laugh.