**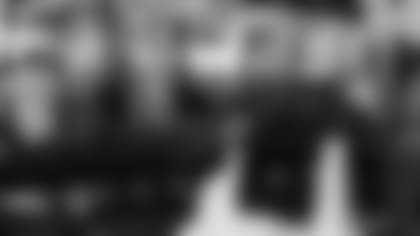 Former Marine and current Titans fullback Ahmard Hall is one of many players leading by example in the team's off-season program.
NASHVILLE, Tenn. --** An 8-2 finish left the Tennessee Titans feeling good about the way the 2009 season ended. However, their 0-6 start is what currently serves as motivation during the team's off-season training program at Baptist Sports Park.
Titans players showed up in force this week as they continued the early stages of what they hope will become a successful season, one that includes a long playoff run. Tennessee missed the playoffs by only one game last season. They hope a strong beginning to the off-season program will get them started on the right track.
"Starting off 0-6 really didn't help us out last year. We feel like we're going to do everything we can to be successful this year," said defensive end William Hayes, one of the players figuring to play a large role in the defensive line rotation in 2010. "It helps out with injuries, it helps you get stronger, faster and it helps build your wind up, which is my biggest thing.
"I don't think I put enough time into the off-season program last year," Hayes admitted. "I think everyone now is just trying to dedicate themselves to this off-season program so we can collectively get better. Personally, I'm going to try to put my heart into this off-season program."
With the free agent losses of Kyle Vanden Bosch and Alge Crumpler, combined with the additions of Will Witherspoon and Jason Babin, the off-season program can also go a long way towards building team chemistry, players said.
"Team chemistry is the most important thing you have in football. When the team can connect together and perform as one heartbeat, you can win a lot of games that way," said fullback Ahmard Hall, a former Marine who knows all about hard work. "When you come in sweating and working hard together during the off-season, it builds a lot of team chemistry and helps you roll into the season with momentum."
As players worked out in the practice bubble Thursday morning, Vince Young was seen joking with receiver Kenny Britt. Cortland Finnegan and Chris Hope were chiming in nearby. The mood was light, yet the hard work and sense of accomplishment was evident as players left the field.
"The camaraderie is big with all of the guys here working out, getting used to the new faces," quarterback Vince Young said. "Some of our leaders have moved on, but a lot of guys are still here ready to lead the team to Dallas (site of Super Bowl XLV). We have some new faces and guys like myself to talk a little more and get the guys more motivated. I'm willing to take on that job.
"The big thing right now is getting the chemistry down, getting to know different faces and characters and go from there."
On a typical day, players arrive around 7:30 a.m. Some lift weights until the 9:30 run, while others opt to get their lift in afterwards. Strength and conditioning coaches Steve Watterson and Jason Novak implement the program. The players are left to do the dirty work.
"Coach Watterson and Jason Novak, they do a good job of pushing you," Hall said. "They're always studying, trying to find the next best thing out there to bring back to us so we don't have to venture out and we can have everything we need right here."
It's a formula that has worked well. Sometimes players even suggest implementing their own ideas into the program.
"Many of the guys visited a lot of different places in the off-season and they're bringing back things they've learned on the outside and implementing it into our system here with the Titans," Hall said. "We're all working together showing everybody new things just to get better. It's looking good right now."
Young, who wants to use the off-season program to strengthen his hamstring, legs and quads, already has goals in mind for the 2010 season.
"My leadership has to play a major role this year because we've had some guys that have left the team," he said. "Individually, I just want to get better as a quarterback in the pocket, throwing the ball around and making good reads. Also I want to be more confident, build on last year, and get extra work in here with the wide receivers. The off-season is going to help out a whole lot talking and getting the chemistry down."
So far, he likes what he sees.
"As a team, the guys are here now working hard. I see a lot of motivation out of the young guys and everyone trying to keep everyone motivated is big for us," Young said. "Just to see everyone out here working hard and taking care of their responsibilities and assignments – and this is one of our assignments -- we need this in order to take things to the next level in the playoffs and in order to reach the Super Bowl. We're doing that right now."