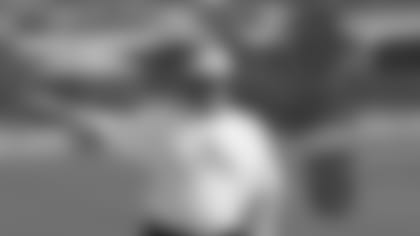 Offensive coordinator Chris Palmer, shown here at a recent Titans "Play 60" event, told club season ticket holders Jake Locker could start if he proves to be the team's best quarterback.
NASHVILLE, Tenn. —** New offensive coordinator Chris Palmer tells Titans' fans that if Jake Locker turns out to be the best quarterback on the roster, the rookie will start.

Palmer also is confident about one thing in his running game: Chris Johnson can score every time he touches the ball.

"Chris Johnson is one of our playmakers, and we want to get as much out of him as we could," Palmer said.

The Titans put their offensive and defensive coordinators on a conference call Thursday with season ticket holders in their latest outreach to fans during the NFL lockout. Mike Reinfeldt and Mike Munchak had a similar call May 6, while NFL Commissioner Roger Goodell talked to Titans' fans May 26.

Palmer noted coach Mike Munchak and general manager Mike Reinfeldt have declared the starting quarterback job an open competition. Palmer also recalled being with New England when the Patriots drafted Drew Bledsoe and brought in a veteran to hold the starting quarterback job until they thought Bledsoe was ready.

"Ten days into camp, it was very clear to players, the coaches, the fans that Bledsoe was our best quarterback," Palmer said. "...As this lockout continues, we may have to pare down some of the things we do, but I don't think it'll affect our play on the field. And when they're ready to play, they're ready to play."

Neither coordinator could be too specific on some answers. The Titans, coming off a 6-10 season, still have holes to fill when the lockout ends and free agency begins.

For Palmer, that includes the veteran quarterback to work with Locker and Rusty Smith, a sixth-round draft pick last year. Kerry Collins has been with Tennessee the past five seasons and believes he can play a couple more years. Seattle quarterback Matt Hasselbeck also will be a free agent, and Reinfeldt knows him well from his years working in Seattle.

Turns out Palmer knows Hasselbeck too. He said he's known Hasselbeck since 1986 when both lived in the same town.

"I think our pro personnel people and Mike Reinfeldt are working on bringing in a veteran quarterback," Palmer said. "Who that guy's going to be, it's too early to say."

Fans quizzed Palmer on what kind of offense he plans to run, if he'll throw downfield more, if they'll see the screen pass again and if it's time to cut back Johnson's workload. The running back was fourth in the NFL with 1,364 yards rushing in 2010, the second-best follow-up by any of the NFL's six 2,000-yard rushers.

Palmer said he's checked how Johnson maintained his weight throughout last season and isn't worried about his back handling the work. On offense, Palmer wants to be balanced between running and throwing with the run game remaining the same. The coordinator would only say the passing attack will be a little bit different.

Palmer said Munchak mandated to him that the offense work on the screen game. Palmer said too often screens look ugly in practice with players going half speed and work better in games. He estimated they now have 15 or 16 screen pass plays in the playbook.

One fan asked defensive coordinator Jerry Gray how the Titans can trim penalties, especially on third down. Only Oakland (1,276 yards) and Philadelphia (1,101) had more yards off penalties than Tennessee (1,040) last season.

"We can control jumping offsides, we can control hitting the quarterbacks ... Those are some of the little tricks we can do. And to me, you can put earplugs in. It doesn't matter how much the quarterback is counting or bobbing his head. If you're watching the brown thing, when the brown thing moves, go," Gray said.

Gray also told ticket holders that the Titans will use more multiple looks defensively thanks to the return of end Derrick Morgan from a torn ACL that ended his rookie season in his fourth game and the drafting of linebacker Akeem Ayers of UCLA.

His options at end depend on free agency. Pro Bowler Jason Babin, Dave Ball and Jacob Ford are among those who could sign anywhere.

But the cornerback job opposite Cortland Finnegan will be another open competition. Jason McCourty started the first three games before getting hurt. Rookie Alterraun Verner replaced him in the job to finish the season.
---
Follow Teresa M. Walker at http://twitter.com/teresamwalker