**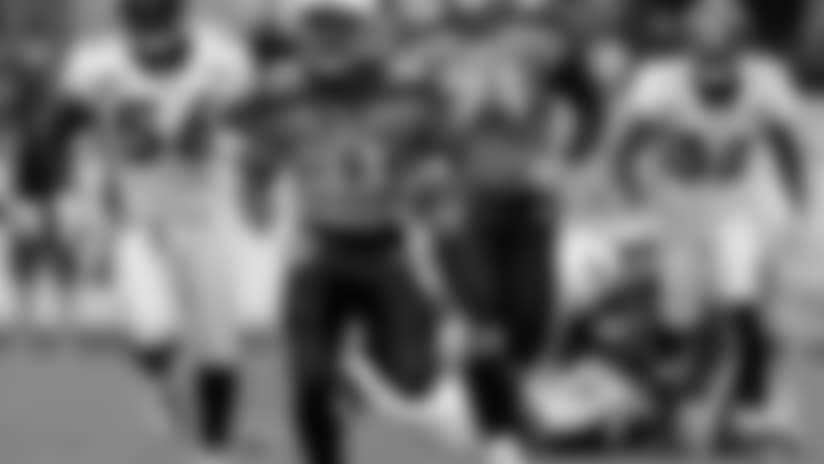 Running back Javon Ringer breaks loose for a career-long 54-yard run that set up a Titans touchdown three plays later.
NASHVILLE, Tenn. -** Kyle Orton better stay warmed up. The
Denver Broncos
are leaning more and more on his right arm.
Orton completed 35 of 50 passes for 341 yards and two touchdowns as the Broncos ran for a measly 19 yards. Orton rallied the Broncos by tossing a 6-yard TD pass to Correll Buckhalter with 1:33 left, helping Denver beat the Tennessee Titans 26-20 on Sunday.
The Titans did their best to disrupt Orton, sacking him six times and intercepting him once. But Orton just kept throwing away.
''I don't think we played our best football the whole time, but anytime you can give yourself a chance to win in the fourth quarter on the road against a good football team, we'll take it,'' Orton said. ''When it got down to it, we made the plays.''
Denver coach Josh McDaniels said Orton was hit way more than he wanted.
''But he never lost his poise, continued to be confident on the sidelines, and made a lot of critical throws for us to change field position. He executed when we needed him to execute. I'm very pleased with the way he's leading our football team and the way he's playing,'' McDaniels said.
The Broncos (2-2) clinched the victory when wind shortened the ensuing kickoff. The Titans (2-2) let the ball bounce, and rookie Marc Mariani, who already had a 98-yard return for a touchdown, ran up and jumped trying to catch it only to be hit by David Bruton.
Cassius Vaughn recovered, and Matt Prater kicked his fourth field goal to pad the lead.
Tennessee had one last chance with 33 seconds left, but Vince Young's third incompletion fell to the turf as time expired to overshadow a game in which Tennessee had a season-high in sacks and an interception. Young's second pass went through Kenny Britt's hands deep in Denver territory.
''This loss is unfortunately an example of just not being able to make the play at the end to close this game out, and that is exactly what happened,'' Titans coach Jeff Fisher said.
Denver came in with the NFL's top passing offense, and Orton helped the Broncos hold the ball for more than 35 minutes. The Broncos, who got only two field goals on five trips inside their opponent 20 in losing to the Colts last week, scored on six of seven such trips against the NFL's best defense in that category.
The only time the Broncos didn't score?
When Jabar Gaffney couldn't collect a low throw from Orton at the back of the end zone with 4:33 left. Gaffney atoned for that on the next drive as Orton threw deep to the receiver, and officials flagged Titans safety Chris Hope for pass interference putting the ball at the Tennessee 1.
Orton put Denver ahead with his TD pass to Buckhalter, his second of the game.
''Jabar had been asking for the ball the whole game,'' Orton said. ''(I) just didn't have time to get him the ball in some of those situations, went back to him, and he made a great play.''
Denver's defense also did its part with two sacks and one turnover. The Broncos held Tennessee to just 46 of its 288 yards on offense in the second half with three first downs. Chris Johnson ran for only 53 yards, including an 8-yard run that gave the Titans their lone first down in the fourth quarter trying to protect a lead.
''The situation is we are not a good running team right now,'' said Johnson, who ran for 2,006 yards last season. ''We got work to do.''
Tennessee led 20-16 after Mariani's kickoff return for a TD in the third quarter, and Rob Bironas kicked his second field goal of the game with 5:00 left in the third quarter.
The Titans sacked Orton three times in the first quarter and outgained the Broncos 115-15. But Bironas pushed a 35-yard field goal wide right, and Johnson fumbled to end two drives deep into Denver territory.
''We've actually got to start scoring touchdowns on defense and making big plays and interceptions and fumbles,'' Titans cornerback Cortland Finnegan said when asked what more they could do defensively. ''We have to put that on ourselves. We have the added pressure ourselves to start making plays.''
Denver took advantage of a roughing call by Sen'Derrick Marks on Orton on third down where the lineman appeared to grab the quarterback around the thigh. A play later, the Titans jumped offside for a neutral zone infraction, and Orton put Denver up 7-0 on the ensuing play with a 2-yard TD pass to Eddie Royal.
The Titans answered almost immediately. Javon Ringer, Johnson's backup, broke loose on a 54-yard run, and Young found Kenny Britt for an 8-yard TD to tie it up on the next drive. The teams swapped field goals to go into halftime tied at 10 apiece with Bironas kicking a 55-yarder as time expired to atone for his earlier miss.
NOTES: Denver rookie Demaryius Thomas had his first career kickoff and took it 36 yards in the second quarter. That's the longest kickoff return for Denver this season. Then he had a 65-yarder in the third quarter. ... Gaffney needed 11 yards to reach 4,000 yards receiving for his career, and he had 51. ... Titans wide receiver Justin Gage hurt his left hamstring, and Fisher said he didn't have updates yet on rookie defensive end Derrick Morgan's left knee or Marks who got hurt late.