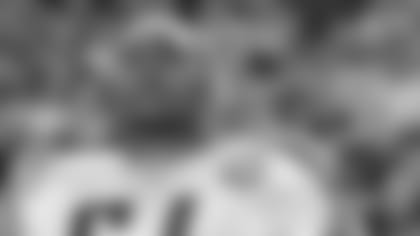 Offensive lineman Leroy Harris finally gets his chance to shine in 2010.
NASHVILLE, Tenn. -- Capable of playing both guard and center, Leroy Harris is a valuable member of the Titans offensive line. After being the Titans' primary backup at the three interior line spots for the past three seasons, Harris will get his shot at a full-time starting spot in 2010.
When he's not clearing the way for Chris Johnson and other Titans' rushers, however, Harris is playing what he considers his most important role: family man.
Ever since he was a child, Harris has known the value of a strong, committed family. When Harris was 3 years old, his mother, Dorothy, passed away as a result of a tragic surgical accident. Because his father, Leroy Sr., had to work 60 hours per week in a soy bean plant, Harris spent most of his time at his grandparents' house, where his aunts, Carol McDougal and Margaret Harris, also lived.
"My aunts did a lot for me," he said. "They became my mother figures."
Harris' older sister, Neice, lived with aunts in New Bern, N.C., which was very close to Harris' home in Raleigh, N.C. Although the situation wasn't exactly convenient for anyone, Harris said the experience helped the family to grow closer.
"The bond became really strong," he said. "We all took care of each other, and that's what I learned from it. When times get tough and things happen, family sticks with each other and they get through it."
Harris especially appreciates the sacrifices his father made to provide for the family. He said it was this influence that has inspired him to become a strong role model for his sons, Leroy III (4) and Christian (newborn).
"What my dad taught me was how hard a man had to work to support his family, and that's what I try to do," Harris said. "No matter what you're doing, you have to put your heart into it, and you have to make sacrifices for your family."
Even though Leroy Sr. spent much of his time working, he still found time to be highly involved in his children's lives.
"That's what's crazy about it," Harris said. "Everything I did – baseball games, football games, basketball games – he was always there, even though he worked so many hours."
But Leroy Sr. wasn't the only one there. Harris' whole family – aunts, uncles, cousins and grandparents – supported each other in all of their endeavors. They even got to watch every one of Harris' collegiate games while he played at North Carolina State.
"Not a lot of people get a chance to say that they can bring their whole family to their games," Harris said. "Even though my mom passed away, I consider myself so fortunate to have a family that's been there for me the whole way."
Harris played in 43 collegiate games for the Wolfpack with 42 career starts. He was named All-ACC during his junior and senior year and even served his senior year as offensive team captain. Not a bad resume, considering he got a late start to the sport.
"I wasn't allowed to play football when I was younger because of the weight restrictions in elementary schools. Even as a third grader, I was almost 100 pounds," Harris said with a laugh. "So I didn't get to play football until late in middle school."
Fortunately for Harris, football worked out for him. He will be starting at left guard for the Titans this season, and he brings both toughness and versatility to the offensive line.
Although Harris feels he still has plenty of football left in him, he has already considered his plans for his post-football career. A business minor in college, Harris said he has always dreamed of becoming an entrepreneur. He began this journey in February when he and his wife, Christina, opened Kid's Night Out, a drop-in day care center in Nashville. When he's not on the football field, Harris can often be found at the day care helping the full-time staffers take care of the children.
"When we first opened it up, my wife and I would work 16-hour days sometimes because we didn't have a staff," Harris said. "Now, we know all the people and all the kids by name. It's a lot of fun."
Eventually, Harris hopes to try his hand at coaching. He already holds an annual football camp in Raleigh, and he knows the impact that a knowledgeable, dedicated coach can have. Harris wants to give the children in his hometown an opportunity to learn both good teamwork and technique.
"I've been fortunate enough to have good coaching at every level – high school, college and in the pros here with Coach (Mike) Munchak," he said. "I want to coach so that I can share some of the same skills that were taught to me."
To find out more about Harris or to sign up for his football camp, log on to www.leroyharris64.com.