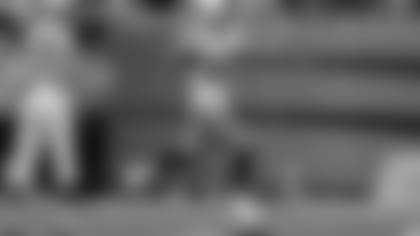 Marc Mariani got things going with a 79-yard punt return for a touchdown. Chris Johnson sealed the victory by rushing for 104 of his 130 yards and a TD in the second half.
CHARLOTTE, N.C. —  The Titans kept giving the ball to Chris Johnson, and the running back got it going in the second half Sunday.
Johnson had 10 carries for 26 yards in the first half against Carolina, but his team showed patience, he showed persistence, and it paid off.
Johnson finished with 130 rushing yards – 104 of which came in the second half -- on 27 carries and scored from 1-yard out to help the Titans defeat the Panthers 30-3 at Bank of America Stadium.
"I just wanted to come out here and keep running hard and playing good," Johnson said. "I just can't go out there and try to be Superman and things like that. Just have to keep running hard."
While not "faster than a speeding bullet," Johnson showed he's still speedy and dangerous when given running room. He also caught four passes for 44 yards.
Johnson rushed for more than 100 yards for the 26th time in his 56-game career. He also became the third player in franchise history to rush for more than 5,000 yards, joining Eddie George (10,009) and Earl Campbell (8,574) and tied Steve McNair with 36 career rushing touchdowns, which ranks third all-time.
Tennessee (5-4) scored the first 17 points, and kept handing off to Johnson to run the clock and keep Carolina (2-7) from mounting a comeback.
"We finally gave him carries," Titans coach Mike Munchak said. "We had an opportunity to give him carries in the second half last week. He had five carries in the second half. This was one of those games that, finally, we were waiting for. It's been a while that we gave him enough carries, because again, at some point if you do that with a good back, he's going to have a good day."
Johnson had six carries for 50 yards on the Titans' final possession, an 11-play, 83-yard drive that lasted more than six minutes and ended with his touchdown with 2:32 remaining in the game.
Johnson showed explosive plays in the first half a week earlier against Cincinnati when he rushed nine times for 55 yards in helping Tennessee build a 17-7 halftime lead against the Bengals, but he had just five carries for nine yards in the second half, and the Titans lost.
START FAST, FINISH STRONG: The Titans said the memory of last week, combined with the desire to start their final eight games with a win were important to finishing the Panthers.
"When we had them down 17, we knew we had to keep it going," Marc Mariani said. "To be in that position two weeks in a row, we knew instead of easing up on the pedal, we had to push harder. We needed to smell blood in the water and just go after them."
Tennessee's defense held Carolina to a three-and-out on its opening possession, and Mariani returned the punt 79 yards punt return for a touchdown. It was the first kick return for a score of the season for Mariani and second longest punt return of his career.
"The wind was swirling pretty good today," Mariani said. "It was tough to judge; we were guessing but we had a good call on for that kick. When I looked up they had made a wall."
Mariani returned a punt 87 yards against Washington and a kickoff 98 yards against Denver in his rookie campaign when he made the Pro Bowl. He said he kept believing the Titans would break one this year because of the faith he has in his blockers.
"We've been so close all year," Mariani said. "The 10 guys in front of me have been working their butts off, and it's a credit to them because they made it look easy. I look up and see nothing but holes and open field, it makes my job look easy."
WILLIAMS HITS MILESTONE: Damian Williams moved up the depth chart when the Titans lost Kenny Britt for the season with a torn ACL and MCL. He caught five passes for 107 yards, going past the century mark for the first time in his two-year career.
Williams turned a short gain into a 43-yard touchdown, the longest play of his career. He caught a quick pass from Hasselbeck, immediately spun from the grasp of one defender, made another miss and sprinted the rest of the way. 
"I knew what the down and distance were," Williams said. "I knew I had to get out there and try to get the first but they brought a blitz with two linebackers in the middle. Matt threw it out there quickly and gave me time to make a move."
Williams added a 40-yard catch in the third quarter to set up one of three field goals by Rob Bironas.
"He's got confidence," Munchak said. "You can see it growing and it makes him get that first play. We're on the sidelines going, 'Did he get the first down?' and he found a way to make them miss and score a touchdown. You're seeing a guy grow up and learn how to play in this league. Matt has confidence in him. We knew that all along, so he's turned into a really nice weapon for us."
DEFENSE FORCES TURNOVERS: The Panthers moved the ball into the red zone on their second possession but Will Witherspoon forced a fumble that fellow linebacker Akeem Ayers recovered at the Tennessee 8-yard-line. The play gave the Titans' defense its first forced turnover inside their own 20 this season and helped Tennessee take control of the game early.
The Titans' offense went 92 yards on six plays on the following series, with quarterback Matt Hasselbeck completing passes of 18 yards to tight end Jared Cook, 29 yards to Johnson and the TD pass to Williams.
Titans defenders forced another turnover after the Panthers had moved to the Tennessee 17-yard-line in the fourth quarter.
Cornerback Alterraun Verner tipped a pass from Cam Newton to Legedu Naanee, and safety Chris Hope intercepted the ball and returned it seven yards in his first game back from a broken forearm.
"I felt pretty good about getting back out there," Hope said. "It's so frustrating sometimes, trying to be a motivator from the sideline, but it's a positive when you're out there and interacting with the guys, telling them what you see and alerting them on what's going to happen."
MCCARTHY MAKES FIRST START: Rookie Colin McCarthy made his first career start at middle linebacker, filling in for seven-year veteran Barrett Ruud (groin).
McCarthy had been inactive the previous three weeks because of a hamstring injury that he suffered at Pittsburgh and entered the game with two tackles and five tackles on special teams. McCarthy led the Titans with eight tackles, including one for a loss and recorded one of eight quarterback pressures on the day.
"Yeah, I think that just shows you what we saw in him," Munchak said of the fourth-round draft pick. "Again, it's hard to watch everything he did, but he handled himself very well, especially on the road. He's calling the defenses, he's getting guys lined up, he's making adjustments. I just think it's great that he's in there looking poised and composed and is definitely a big part of how we play our defense.
Witherspoon said McCarthy "did a great job. Colin made the plays we needed to make, made the calls that we needed to make and executed the defense for us."
SACK PACK: In addition to pressuring Newton eight times, Tennessee sacked Newton five times for a loss of 46 yards and defended six passes.
Ayers sacked him for a loss of 9, Cortland Finnegan dropped him for a loss of 14, Jason Jones got the rookie QB for a loss of 10, Witherspoon dropped him for a loss of 6, and William Hayes and Sen'Derrick Marks combined for a loss of 3.5.
"We got pressure in a lot of different ways with different guys winning one-on-one battles … kind of taking them out of their game early," Munchak said. "That was huge. That was fun to watch. That's what it takes to win in this league as we know, and to hold them to three points was a hell of an effort by a lot of people."