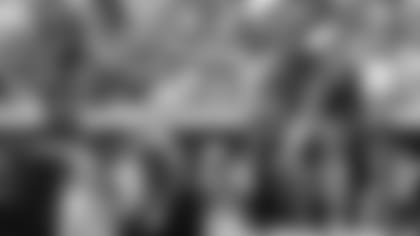 Matt Hasselbeck engineered a furious comeback at Jacksonville that fell short in the final seconds.
JACKSONVILLE -- A furious comeback by the Titans couldn't overcome a sluggish start Sunday as Tennessee opened a new era with a 16-14 loss at AFC South divisional rival Jacksonville.
Titans quarterback Matt Hasselbeck connected with Kenny Britt on two touchdown passes, but the pair failed to unite on a deep desperation heave with less than 20 seconds. Jacksonville's Dwight Lowery intercepted the pass to seal Tennessee's fate in the respective debuts of Hasselbeck and head coach Mike Munchak.
The Titans' final possession started at their own three-yard-line after a punt by Jacksonville's Matt Turk bounced near the 25-yard-line and rolled toward the end zone, pinning Tennessee close to the goal-line with 1:45 remaining.
Hasselbeck started the final drive with a 9-yard scramble, followed by a completed a pass for 10 yards to Nate Washington. After Hasselbeck hit Washington for a short gain, he found Britt for 18 yards to the Titans' 46. Tennessee spiked the ball to stop the clock and went for the deep pass that Lowery intercepted a play later near the Jacksonville 20.
Hasselbeck claimed responsibility for the decision to try to hit Britt deep instead of trying a shorter pass to get the Titans within field-goal range for Rob Bironas, whose career long is 60 yards.
"I got a little greedy," Hasselbeck said. "That's exactly what happened. It was a matchup situation and the play that was called, I felt, could end the game. It didn't go down, obviously, like I envisioned but Rob (Bironas) is a kicker with a big leg and there wasn't a lot of time left. The smarter play would have been probably to hit Chris (Johnson), hopefully spike it, and give our field goal team a chance."
Munchak, an NFL Hall of Fame offensive lineman, said several elements of his first game as head coach were "frustrating" but there were also areas on which the team can build.
"The positive thing is, we had a shot to win that thing. I think we all believed in that," Munchak said. "That was the fun part of it on the sideline. As miserable as it was for three quarters, we made the big play to Kenny and got the touchdown to get within two, the defense did get the stop and made them punt … then, there we were, 20 yards away from a field goal attempt to win that thing."
Hasselbeck completed 21 of 34 passes for 263 yards. The 13-year NFL veteran improvised on a play in the third quarter, scrambling and floating a shovel pass toward Britt, and the explosive third-year receiver caught the ball and streaked for an 80-yard touchdown.
The duo's second touchdown was from 2 yards when Hasselbeck threw a jump ball to Britt in single coverage, and Britt landed both feet in the end zone before landing out of bounds.
Britt, who missed much of the preseason with a hamstring injury, finished with five catches for 136 yards. Washington added six receptions for 67 yards.
"He played exactly how we thought he could play," Munchak said of Britt. "He is a big playmaker and is someone who has a chance to be a difference maker for us. Like I said, we wish we had gotten some things started earlier for him and some of the other guys, but the opportunities were slim."
Rushing totals sway results againThe Titans-Jaguars matchup is often decided by the ground game. Sunday marked the ninth time in the past 11 contests in which the team that's won the rushing column on the stat sheet has won on the scoreboard.
The Jaguars rushed 47 times for 163 yards Sunday, compared to 13 rush attempts for 43 yards by the Titans.
Maurice Jones-Drew led Jacksonville with 97 yards on 24 carries, including a 21-yard touchdown to cap the Jaguars' opening drive. Deji Karim spelled Jones-Drew, rushing 14 times for 33 yards and caught three passes from Luke McCown for 39 yards. Jacksonville controlled the line of scrimmage, often creating third-and-short situations for its offense and possessed the ball nearly 40 of 60 total minutes.
Titans running back Chris Johnson, who joined the team Sept. 2 after a protracted holdout until he received a new contract, had 24 yards on nine carries and caught six passes for 25 yards.
It was the lowest opening weekend output of Johnson's career. The four-year pro had averaged 97.3 rushing yards and 115 yards from scrimmage in his first three season openers. He had four carries for three yards in the first half.
Munchak said the Titans needed to get Johnson going earlier in the game.
"He made some plays here and there, but there wasn't a lot of running room, and if you want to get a back going, he's got to have more than four carries in the first half," Munchak said. "It's hard to judge someone who, I think in the end, only carried the ball seven or eight times. It's kind of hard to judge where he's at when he didn't have the opportunity. He'll be fine, but I think this was one of those games where we really couldn't get him involved because we didn't have a whole lot of plays."
Johnson, who led the NFL with 4,598 rushing yards on 925 carries in the past three seasons, said the Titans can create more opportunities for the run game by having more productivity on first down.
"On first down, we would have no gain or a yard and we would have to throw the ball," Johnson said. "That would leave us third down and you have to throw it again, so there was not many opportunities to run the ball. I feel like we just have to work as a whole offensive unit on the field."
The Titans and Jaguars have split contests each of the past two seasons. Each time, the team that won out-gained the loser in rushing yardage. Jacksonville will visit Tennessee for this year's rematch on Dec. 24.
Seven rookies log first playing timeSeven of the nine Titans rookies logged their first minutes of NFL action Sunday.
Linebacker Akeem Ayers, who was picked in the second round of the 2011 NFL Draft (39th overall), started at strong-side linebacker and recorded seven tackles.
Defensive tackles Jurrell Casey (third round), Karl Klug (two tackles) and Zach Clayton (one tackle) all played on the rebuilt defensive line, and Colin McCarthy (one tackle) and Tommie Campbell also played. Campbell downed a punt at the Jacksonville seven-yard-line.
Rookie running back Jamie Harper had 10 rushing yards on three carries and turned a short screen pass into a 21-yard reception.
Quarterback Jake Locker, the Titans' first round pick (eighth overall) did not play, and offensive tackle Byron Stingily (fifth round) was inactive.
Rule change diminishes returnsThe Titans kickoff return game was holstered by an off-season rule change that places kickoffs at the 35-yard-line instead of the 30. The change was billed as a way to increase player safety by having fewer kickoffs returned and more result in touchbacks, eliminating the need for some special teams tackles.
Jacksonville's Josh Scobee forced the Titans to take touchbacks on each of his five kickoffs, taking away return opportunities from Tennessee's Marc Mariani, who made Pro Bowl last season in his rookie campaign when he had 1,530 yards on 60 kickoff returns (25.5 yards per return).