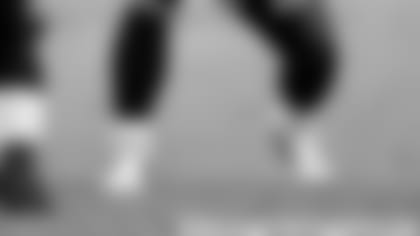 Veteran offensive tackle Michael Roos makes his 100th career start on Sunday.
NASHVILLE, Tenn. — Michael Roos didn't realize the milestone was upon him.
Roos hadn't kept track of the number of consecutive starts he's made for the Titans since his rookie season of 2005. He was told this week, however, that he is scheduled to make his 100th consecutive regular season start Sunday when Tennessee (2-1) visits Cleveland (2-1).
"It's great to be able to get that many so far, and hopefully, I'll be able to get that many more from now on," Roos said.
Roos, a native of Estonia who didn't play a snap on the offensive line until his sophomore year of college, hasn't missed an opportunity in the NFL. He made his first career start by filling in for former left tackle Brad Hopkins in a season-opening 34-7 loss at Pittsburgh in 2005 and has started every game since.
"It was definitely a unique experience to start out as a rookie," Roos recalled. "For any position, one of the best ways to learn is trial by fire." 
The Titans moved Roos to right tackle, where he started the remaining 15 games in 2005, and back to left tackle in 2006. He helped running back Chris Johnson rush for 2,006 yards in 2009 and has helped new quarterback Matt Hasselbeck, a 13-year NFL veteran, post the best numbers of his career through the first three games of a season.
Mike Munchak, who coached Roos on the offensive line in his first six seasons before being promoted to head coach, said Roos combines stability, intelligence and execution to play well every week.
"He's had a very good career so far," Munchak said. "His durability has been awesome. He's smart and has been exactly what we hoped he would be."
Munchak, who garnered 10 selections to the Pro Bowl during his 12-year career, said Roos should be considered for the Pro Bowl more often than he has been. Roos made the Pro Bowl one time, after the Titans started the 2008 season 10-0 and finished with the best record (13-3) in the NFL.
"He plays good against whoever he's playing against," Munchak said. "It's not one of those things where he plays up and down to his opponent. He plays at a high level every week, and we count on him to do that, and he's done that."
Roos said "you kind of have to in this league because every week guys are slightly different, but everybody is a great rusher or great player." He added that he tries to avoid emotional highs of playing well or lows from not playing as well as he wants.
Munchak said Roos does "a nice job with his leadership," he fixes things on the fly, has a great understanding of the offense, which helps Hasselbeck and other players, and does it all with a "calm, poised" demeanor.
Roos said that's where the experience he's logged helps.
"I've been around for a couple of years," Roos said. "You learn through trying different techniques that might work on certain guys. During a game, if something's not working, you've got to change it up and see if you can do something else — whatever it takes to get your job done."
The Titans, a team normally known for its ability to run the football, rank last in the NFL in rushing yards (51.7 yards per game) but are seventh in the league in passing yards (300.7) per game. Tennessee ranked 25th in passing yards per game (194.2) in 2010 when injuries led to three different quarterbacks making starts for the Titans.
Roos said the offensive line takes pride and responsibility in trying to protect Hasselbeck, who's been sacked four times and completed 78 of 112 passes for 932 yards and five touchdowns.  
"It's fun for us when we're able to throw the ball that many times and we can keep him clean, so it keeps him fresher and able to find all those open guys and makes our offense that much more dangerous," Roos said.
HOPE LIKELY TO RETURN: Munchak said Friday that Titans safety Chris Hope (shoulder) did well in full practice this week and is likely to play against the Browns.
"He did everything all week, wasn't limited at all, so I think we feel good about him having an opportunity to play," Munchak said.
Hope, a 10-year NFL veteran who turned 31 Thursday, started at Jacksonville and recorded eight tackles but missed the past two games as coaches waited for strength to return to his shoulder.
"It was mostly being precautious, not trying to have something that continues for the entire year," Hope said. "I appreciate the coaches for giving me an opportunity to rest and the training staff. Most of the time, at this point in the season, you're still trying to establish your identity. You don't have a chance to rest."
The Titans started off-season signee Jordan Babineaux in place of Hope the past two games.
AVERY CATCHING ON: Munchak said coaches saw enough from receiver Donnie Avery to consider playing him Sunday. Avery, the newest Titan, signed with Tennessee Wednesday to add depth at receiver after the loss of Kenny Britt.
Avery had 100 catches for 1,263 yards in his first two seasons with St. Louis but missed 2009 with a torn ACL. Avery started this preseason with the Rams but was cut before the season started.
Munchak said the Titans tried to practice Avery in certain spots so he could learn the basics as quickly as possible.
"We're only going to have him play in areas where we think he can help and not put a lot of pressure on him or the quarterback," Munchak said. "He's got a good chance to be (active). We haven't decided that for sure. I think he gives us the possibility of suiting him up."
PASSING THROUGH THE WIND: Gusty breezes in the area Friday allowed the Titans to prepare for any winds they may encounter in Cleveland.
Munchak and Titans offensive coordinator Chris Palmer, who coached the Browns in 1999 and 2000, both remember that Cleveland's proximity to Lake Erie can produce difficult weather conditions.
"Even when it's not predicted it seems to get windy there in the second half off the lake, so it was good work to go against the breeze (Friday)," Munchak said.