**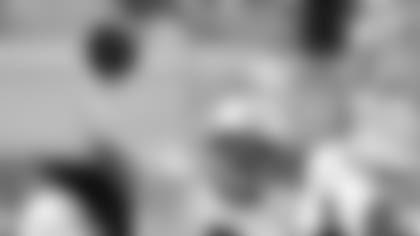 Head coach Jeff Fisher said Kerry Collins will remain the starting quarterback for the Titans.
NASHVILLE, Tenn. -** The messages are flying on Facebook and Twitter. Fans are calling for change on talk radio. Tennessee coach Jeff Fisher isn't budging.
Fisher is sticking with veteran Kerry Collins at quarterback rather than switch to Vince Young, looking for a spark as he did in 2006 when the Titans also were winless. Fisher said Monday the difference now is the Titans won 13 games with Collins in 2008, while they hadn't won a game with Young when the switch was made in 2006.
"Kerry's not the problem," Fisher said. "Kerry's making plays and putting the ball where it needs to be put. I'm not pleased with the interceptions, but other than that going back over the last few weeks, Kerry's made some great throws. We just need to play better around him."
Young started only once in 2008 after losing his starting job to Collins, and that was in a meaningless regular-season finale in Indianapolis. Fisher repeatedly has called Young the franchise's starter of the future, and fans have been vocal in asking when that time arrives.
That time isn't now, not with Fisher focusing on trying to win a game. He insists Collins is their best chance to do that.
And the coach doesn't expect owner Bud Adams to weigh in despite being a fellow Texan who once said, "VY is my guy." Fisher said he's been communicating with Adams throughout the 0-4 start that is the team's worst since beginning 0-5 in 2006.
"He feels no differently than we do. We all had high expectations, and we're disappointed. He also understands we're dealing with some injuries and understands the game," Fisher said.
The Titans' four losses are to AFC teams with Indianapolis (4-0) up next Sunday night in a nationally televised game. Fisher said the staff is looking at everything including parking assignments after a 37-17 loss in Jacksonville on Sunday.
Fisher did make changes to the week's schedule, including pushing back his weekly Monday news conference two hours. Practices later this week also will start 30 minutes later.
But the longest-tenured coach with his current team in the NFL isn't making any changes to personnel or his coaching staff.
"The players that are playing right now with the exception of guys who need to heal up ... are the players we're going to go with. I don't see any drastic or dramatic changes no," Fisher said.
Collins hasn't played as well as he did in 2008 and already has five interceptions after having only seven all of last season. He cost the Titans their chance to rally late against Houston on Sept. 20 when he fumbled away the ball trying to tuck it and run. He couldn't complete a pass on his final 13 attempts Sept. 27 in a loss at the New York Jets.
Even with the AFC's leading rusher in Chris Johnson, the Titans threw 48 of their 67 plays in Jacksonville with most coming in catch-up mode after the offense went three-and-out four of its first five drives. Then Johnson fumbled and Collins was intercepted to end their final two drives of the first half.
"We weren't on the field long enough to try to do some different things, and that responsibility falls on me," Collins said.
Indianapolis coach Jim Caldwell was at Penn State when Collins played there and called the quarterback a hardworking, conscientious player with good mobility.
"I think it will be a good matchup," Caldwell said.
NOTES: Fisher said X-rays on cornerback Nick Harper's ribs were negative and that he is day to day. The Titans had to finish up Sunday with rookies Jason McCourty and Ryan Mouton playing with Harper getting hurt and Cortland Finnegan scratched with an injured right hamstring. Fisher said the only player ruled out against the Colts is defensive back Vincent Fuller (broken right forearm).