**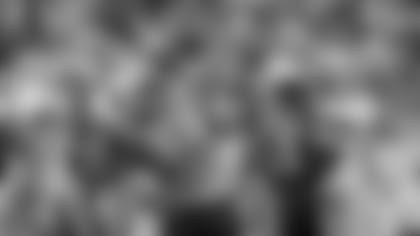 Titans defensive end Jason Babin is one of several pending NFL unrestricted free agents that would be impacted by the lack of a new labor deal.
NASHVILLE, Tenn. -** Jason Babin has won the gamble he took by signing a one-year deal with Tennessee.
The defensive end racked up a career-high 12 1/2 sacks and earned his first Pro Bowl berth. But all his hard work may not pay off in a multimillion dollar deal.
NFL labor strife will likely mean Babin won't be wined and dined on an owner's private jet during free agency.
With the collective bargaining agreement expiring March 3, Babin and other would-be free agents face the very real possibility that they get ordered back to their old teams at the bargain basement price of 120 percent of their last salary. Play another season, risk serious injury. And wait.
"That's really scary to me,'' Babin said. "That definitely wouldn't be good timing. Hey, there's so many guys in a similar situation as myself with contracts expiring, it would be unfair practice and I think a lot would have a huge problem with it.''
Babin has lots of company in facing this nightmare scenario.
More than 700 NFL players have contracts expiring with the labor deal, a group that includes players like Indianapolis running back Joseph Addai finishing up his fourth season in the league to Titans linebacker Stephen Tulloch who missed out on free agency in 2010 when rules for the final year of the CBA allowed Tennessee to keep him with a one-year deal.
How many years a player needs to reach free agency is something that could change in a new labor deal.
There are veterans like Titans quarterback Kerry Collins, who might to decide to retire after 16 NFL seasons. Tennessee fullback Ahmard Hall signed his first league deal as a free agent in 2006, and the former Marine is ready to capitalize on blocking for a 1,000-yard rusher in each of his five pro seasons.
Vikings linebacker Chad Greenway was a Pro Bowl alternate this season and with his five years' experience could find himself not eligible for free agency. He doesn't know what's happening this offseason with his family wanting to know where they'll live next.
"For me, of course you're anxious because you want to know what's going to happen, but at the same time ... you can't do too much about it. Just going to stay patient,'' Greenway said recently.
The Titans are his fifth NFL team in seven seasons. A first-round pick out of Western Michigan in 2004 by Houston, the 6-foot-3, 260-pound Babin didn't fit in as the outside rushing linebacker they wanted. He had just 13 sacks in his three seasons with the Texans before Houston traded him to Seattle in September 2007.
He played four games before the Seahawks released him a year later. Kansas City signed him as a free agent in November 2008, and Babin landed in Philadelphia in August 2009 where he played in 12 games with 2 1/2 sacks. Babin signed an offer for $1 million with Tennessee on March 19, and the Eagles declined to match.
For the kid who once dragged a tire down the streets of Paw Paw, Mich., trying to prepare himself for the NFL, Tennessee proved the perfect defense for Babin as he turned in the best year of his professional career. He had 58 tackles, those 12 1/2 sacks and forced two fumbles in a performance that earned him a trip to Hawaii as a starter.
Babin is back home in Texas with his family and says he tries not to worry about what he has little control over.
"There's so many moving parts to this and so many people that will be affected by it, it would be atrocious on the owner's side of things to forego the season ... they would be looked on by the public as monsters. I don't think they want that,'' Babin said.
The NFL and the NFL Players Association met for a few hours Wednesday, then canceled Thursday's session.
Teammates elected Babin as an assistant player's representative during the season, so he stays in touch updating fellow players because they all want to know the latest information whenever they run into each other or talk on the phone.
"It's in everybody's minds,'' he said.
Babin said he has been planning a long time for whatever happens in 2011 in case the NFL suffers its first stoppage in play since 1987 and feels he's been pretty wise. He has a side business running a hunting ranch in Texas. He's much more worried about younger players.
"Those guys in their second or third year that don't have much saved or don't have much direction if things do go south. That's who I think is really in the most jeopardy and most concern in my mind,'' Babin said.
"Everyone's been talking about it. It's obvious the owners have been preparing for it for three years secretly so they think it's a real possibility to at least prepare for it. I'm glad now I'm kind of on the inside to see the truth of what's really going on. It's something that happens every ... 25 years it seems like. It's the NFL timetable.''
Tennessee is a team Babin wanted to return to with a new contract. But his defensive line coach Jim Washburn is now in Philadelphia, the Titans parted with coach Jeff Fisher at the end of January after 16 full seasons as head coach and replaced him by promoting offensive line coach Mike Munchak on Monday.
So Babin isn't sure yet what defense will be run until Munchak hires a new coordinator and line coach. He just monitors the situation closely with friends texting him updates every time something new happens in Nashville. He's staying busy living life as a father and husband as he usually does each offseason.
Though this offseason brings this new twist.
"There's definitely a wait and see,'' Babin said.