NASHVILLE – In Daniel Jeremiah's most recent mock draft, the NFL Network analyst has the Titans taking Miami's Jaelan Phillips.
Phillips, an edge rusher, has been a popular early pick for the Titans in mock drafts.
But on Tuesday, during a conference call with reporters, Jeremiah mentioned a few other possibilities in Tennessee, not just at No.22 in the first round, but also with the team's second-round pick.
There's a scenario the Titans could move back in the first round of the draft, which would widen the possibilities.
"When you're looking at edge rushers, it's an interesting group because there's some flaws with these guys, but there's also a lot to like," Jeremiah said. "To me, I'm higher on him than some others, but I really like Ronnie Perkins from Oklahoma. I have him in kind of the 30s on my list, but I would have no problem if he went late in the first round because he just plays his butt off, man. He can play with his hand down or you can stand him up. He's got speed to power. He's got some ankle stiffness there, but real violent hands. He plays with great leverage."
Perkins is ranked 38th on Jeremiah's list of top 50 prospects.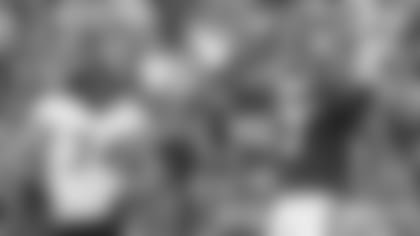 Jeremiah also mentioned edge rushers Kwity Paye (Michigan), Azeez Ojulari (Georgia) and Jayson Oweh (Penn State), along with Joe Tryon (Washington). Texas pass rusher Joseph Ossai is a player ESPN's Mel Kiper thinks would fit with the Titans as well.
"This edge rusher group is really, really tough to sort out and figure out because you've got a mixture of guys who were opt-outs, who didn't play this year," Jeremiah said. "You've got like Jayson Oweh from Penn State who's going to run in the 4.3s as a dynamic athlete who didn't have a sack this year, so you've got to kind of figure that out. You've got Kwity Paye from Michigan who is going to test like a freak at his pro day, but they moved him all around. Azeez Ojulari is a really good player on tape, and the more I've watched him, the more I've liked him. … I think teams are all over the map on these edge rushers."
As for Tennessee's second round pick, Jeremiah mentioned a few receivers who could be in play.
"When you look at receivers, if you want to go in the second round and look at some wide outs, let's assume that they lose Corey Davis," Jeremiah said of the Titans and Davis, who is scheduled to become a free agent next week.
"So, if you wanted to find another big receiver that could kind of function in that role, I think you've got Terrace Marshall from LSU who's around that range, you've got Rashod Bateman from Minnesota. Both those guys give you some of that size, that ability to play above the rim, down the field, and give you some run after catch, as well. I think both those guys are really good players."