**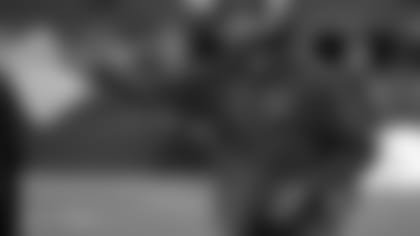 Titans defensive coordinator Chuck Cecil has been fined $40,000 by the NFL.
NASHVILLE, Tenn. -** The NFL fined Tennessee Titans defensive coordinator Chuck Cecil $40,000 Monday for his obscene gesture at game officials.
The league said Cecil violated a rule that prohibits use of abusive, threatening or insulting language or gestures to game officials.
Television cameras caught Cecil using his right hand to make the gesture when officials flagged his defense for a neutral zone infraction during the second quarter Sunday. The penalty gave Denver first-and-goal, and Kyle Orton threw a 2-yard touchdown pass on the next play for a 7-0 lead.
Titans coach Jeff Fisher confirmed the fine in his Monday news conference. He called the league's punishment swift and appropriate.
"Clearly, I'm speaking on behalf of the organization that kind of conduct on the sideline, any place for that matter, is inappropriate. The league has already dealt with the issue,'' Fisher said.
Video of Cecil's gesture was on YouTube by halftime. Cecil declined comment after the game, a 26-20 loss in which the Titans were flagged 10 times for a season-high 111 yards in penalties. He apologized in a statement Monday night.
"I want to apologize to the NFL, organization, fans and my family for my gesture yesterday. It was inappropriate, and there is no excuse for that type of behavior under any circumstance,'' Cecil said.
Fisher said he didn't realize Cecil had made the gesture until he got into his car Sunday night. A suspension would have kept Cecil away Sunday when the Titans (2-2) visit Dallas (1-2). But Fisher said he discussed the incident with Cecil, a man fined often by the NFL when he was a hard-hitting safety in the league.
"Clearly, Chuck's an emotional individual, and it was a heat of the battle thing and he got frustrated. He understands he's got to maintain his composure, and we move on. We've moved on. He's done a nice job with the defense thus far,'' Fisher said.
"The defense is playing hard. They're playing aggressive, not cheap. They're playing aggressive, and they played well enough for us to win (Sunday).''