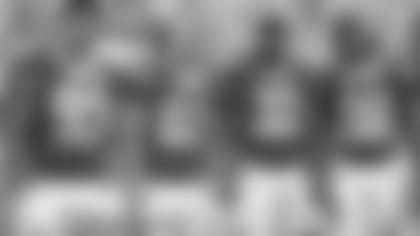 From L to R: Titans Pro Bowlers Jason Babin (93), Marc Mariani (83), Michael Griffin (33) and Chris Johnson (28) pictured before the game.
HONOLULU --** MVP DeAngelo Hall had one of his team's five interceptions and returned a fumble 34 yards for a touchdown to help the NFC match a Pro Bowl scoring record in a 55-41 victory over turnover-prone AFC.

The Pro Bowl earned its highest television rating since 2000, drawing a 7.7 rating and 12 share on Fox. That's up 8 percent from last year, when the game first moved from after the Super Bowl to the week before it.

Ratings represent the percentage of all homes with televisions tuned into a program. Shares represent the percentage of all homes with TVs in use at the time.

AFC quarterbacks Philip Rivers, Peyton Manning and Matt Cassel each threw first-half interceptions to help the NFC blow open a 42-0 lead.

Alex Mack of Cleveland scored the final touchdown on a 67-yard pass play that featured two laterals with 16 seconds left.

Carolina's Jon Beason returned the fifth interception thrown by the AFC, and second by Matt Cassel, 59 yards for the NFC's final touchdown to match the single-team scoring record set in the NFC's 55-52 victory in 2004.

New England coach Bill Belichick, after his Super Bowl favorite Patriots lost to the New York Jets in the divisional playoffs, had to watch his AFC squad muddle through the one-sided first half.

The NFC led 42-0 after Steven Jackson waltzed through the AFC defense for a 21-yard touchdown -- and there still was 4½ minutes left in the second quarter.

Rivers, starting in place of injured Tom Brady, was picked off twice in the first quarter, the second by Hall.

Manning, in his 11th Pro Bowl, came on briefly in relief and his second pass was picked off. Then Cassel got his chance and quickly joined in the spirit of things, throwing his second pass of the game directly into the hands of Minnesota cornerback Antoine Winfield.

But just when it appeared it would be the most one-sided game in Pro Bowl history, eclipsing the Joe Theismann-led 45-3 NFC rout of the AFC in 1984, the AFC scored three touchdowns in a row. The last came on the game's seventh turnover, when Devin Hester tried to hand the kickoff return to Hall, but the ball fell to the turf. Montell Owens of Jacksonville scooped it up and ran it in 10 yards for the score to make it 42-21 with 10 minutes left in the third quarter.

With his seven extra points, tying a Pro Bowl record, along with two field goals David Akers moved ahead of Morten Andersen (45) for most Pro Bowl points with 52. The Philadelphia kicker would have had more but his 36-yard field goal try in the fourth quarter bounced off the right upright.

A tropical downpour preceded the game but subsided just before kickoff as the game returned to its traditional home in Hawaii after a one-year detour to Miami .

Eagles quarterback Michael Vick started but played only the first quarter, completing 5 of 10 passes for 59 yards.

Adrian Peterson rushed for 80 yards in 14 carries for the NFC, including a 14-yarder to set a Pro Bowl record with four career rushing touchdowns. Atlanta got good performances from Matt Ryan (9 of 13 for 118 yards and two touchdowns with an interception), Michael Turner (eight carries for 53 yards) and Roddy White (five catches for 69 yards).

GAME NOTES: A 70-yard punt by Mat McBriar of Dallas in the first quarter tied for second-longest in Pro Bowl history. ... The state of Hawaii is paying the NFL about $4 million this season and next to keep the Pro Bowl team in Honolulu. Location for the contest is up in the air after 2012. ... Peterson had been tied with three career rushing TDs with Earl Campbell, Chuck Muncie and Mike Alstott. ... Tony Gonzalez added to his Pro Bowl record for career receptions (42) and moved into first in TD catches with his sixth. ... The attendance of 49,338 was just shy of a sellout.