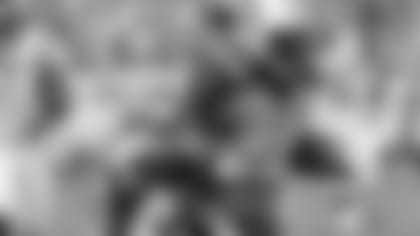 Third-year tight end Jared Cook is looking to take his game to the next level in 2011.
NASHVILLE, Tenn. - Titans tight end Jared Cook patiently answers questions, all the while scratching at the bumps covering his arms.
Training camp is challenging enough. For Cook, it's even more miserable because he's allergic on grass.. The Titans practice on grass, the same variety as at LP Field, and hold most walkthroughs in camp outside.
It's much too hot for Cook to wear long sleeves to protect himself until cooler temperatures kill off the grass. So he battles symptoms using over-the-counter allergy medicine and medicated creams.
That "kind of calms it down a little bit, but there's really nothing you can do,'' Cook said with a slight smile. "It gets you pretty bad.''
The way he's playing can help him forget the itching. A new coaching staff has him very busy, and the Titans see the 6-foot-5 Cook as a potent offensive weapon ready for his breakout season.
Coach Mike Munchak said new offensive coordinator Chris Palmer has been real excited about Cook's potential since the first day of seeing him on film. Cook's confidence also is growing, and Munchak said they just need Cook to pick up where he left off in the final month of last season.
"He knows that he belongs now, and he expects himself now to (play) great,'' Munchak said.
The word potential has been stuck to Cook since the Titans swapped a second-round draft pick to New England to draft him with the 89th pick overall in third round of 2009 out of South Carolina.
Physically, Cook is impressive. He started college as a wide receiver and was first-team All-Southeastern Conference as a junior. Cook was measured with a 41-inch vertical leap at the NFL Combine.
As a rookie, he caught nine passes for 74 yards, and he had 29 catches for 391 yards and a touchdown in 2010. He made his first career start Dec. 19 against Houston and caught his first TD pass Dec. 19.
Cook credits some of his improvement to Randy Moss, claimed by the Titans in November. Moss only caught six passes with the team, but Cook said the veteran worked with several Titans, including drills where Moss had them running on giant rubber bands hooked to a weight bar.
Moss' best advice may have been in reminding Cook to use his hands and size at 248 pounds to get separation, use his speed to take off and become a big target.
"Him telling me that and me being able to learn from him was just awesome,'' Cook said.
Both of the Titans' new quarterbacks have seen just how tall Cook can get. Cook leapt high in the end zone last week during practice to haul in a TD pass from Matt Hasselbeck while defended by Cortland Finnegan.
"He's got like Antonio Gates' style about him,'' Hasselbeck said. "And you know he's getting opportunities to get outside and run slants and comebacks and go's and some ... possession routes. (They're) giving him chances to do everything so it's an opportunity.''
Jake Locker isn't sure he can throw a pass too high for Cook to pull in after the tight end jumped up for a third-down catch in the preseason opening 14-3 win over Minnesota.
Palmer said the Titans believe in Cook.
"Now he sees there's a lot of plays for him. It's easier to get motivated to come out and practice. Now we just have to push him to a higher level and get him better,'' Palmer said.
Cook is beginning to understand his value to a team that let veteran Bo Scaife leave as a free agent after 2010. The Titans also have Craig Stevens and signed veteran Daniel Graham, but Cook is the man getting the chance to catch passes everywhere on the field.
Cook said his potential role in the offense has helped him understand his worth to the team. He also loves getting more feedback from coaches.
"It's kind of like a totally new offense, kind of time for tight ends and everybody else to shine. New quarterback, new system. Coach Palmer is a great coach. Who wouldn't look forward to that? It's kind of setting you up for success,'' Cook said.
Now if only he could find a better way to deal with an allergy discovered when he was a high school sophomore in Suwanee, Ga. By the time it's cool enough to practice with long sleeves, that pesky grass will be dying off.
And Cook knows there's no way he could work behind a desk indoors to forego all the discomfort.
"I can deal with it,'' he said.