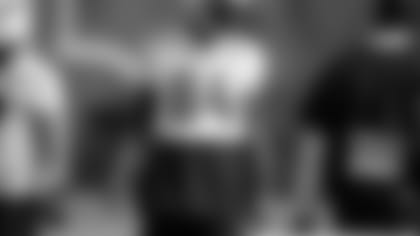 Wide receiver Randy Moss practices with his new teammates Wednesday at Baptist Sports Park.
NASHVILLE, Tenn. - Randy Moss says he's sorry things didn't work out with in Minnesota and that he isn't upset with the Vikings or coach Brad Childress for waiving him.
The well-traveled receiver insists he isn't in town - his third NFL city this season - to start trouble.
Moss spoke Wednesday for the first time since Minnesota waived him Nov. 1. Wednesday was also Moss' second practice with the Titans, the only NFL team to put in a claim for the player with 153 career touchdown catches.
"I made Minnesota my home. I loved being there, and it just didn't work out,'' Moss said. "Just I had my own beliefs in what I believe, and coach had his. Am I bitter or mad that he let me go or the organization? No. You never know what the future holds. Right now I'm a Tennessee Titan. I'm here to do whatever coach (Jeff) Fisher wants me to do.''
Moss began his media session with a statement, but did take four questions -- the entire exchange lasted 3 minutes, 4 seconds. Two questions concerned what effort the Titans can expect from him play to play. Moss asked the reporter what he expected from him, and the reporter said he didn't know what to expect.
"I don't know what to expect neither," Moss said.
It was a change for Moss, who blew off the media in Minnesota several times and drew a $25,000 fine from the NFL. He last spoke publicly Oct. 31 after his last game with the Vikings, a 28-18 loss to New England. He refused to take questions, instead going on a bizarre rant gushing about the Patriots and coach Bill Belichick and criticizing Vikings coaching.
Childress told his players the next day Moss was being waived, and the team actually put him on waivers a day later on Nov. 2. Tennessee claimed him 24 hours later.
Moss began his statement Wednesday telling his family that everything was going well with him -- though his family was not in attendance.
"I've been through a lot in the last couple of weeks," Moss said. "Like I said, I've got these broad shoulders. I can carry a lot of weight. I feel good about the acquisition of coach Fisher getting me here. The process of getting here has been kind of crazy."
That it has, and it's why Moss can become the first player in NFL history to catch a touchdown pass with three different teams in a single season with his first TD reception for Tennessee. The 13-year veteran started the season with New England before the Patriots traded him to Minnesota on Oct. 6 only to be waived less than a month later.
"I said it before, I didn't want to go to Minnesota and mess anything up," Moss said. "I guess everybody blamed me for it. I'm going to say it again. I'm not coming here to start no trouble. I'm just coming here to work every day and hopefully win."
Moss, who arrived in town Sunday, is in a much different situation in Tennessee. The Titans (5-3) are tied atop the AFC South, and Fisher is giving Moss a fresh start in Tennessee. That pass play in New England where Moss has been accused of not running while drawing a pass interference call? Fisher said receivers sometimes lose the flight of the ball.
"He's automatically guilty because it's a lack of effort," Fisher said of Moss. "He's going to work out. He's working hard out there. I expect him to play hard in the ballgame."
Fisher said Moss will play Sunday against Miami (4-4) and is listed as a starter. Fisher noted Moss participated in most of the offense at practice Wednesday.
One reason Moss might be enjoying himself is the Titans also like to have a little bit of fun while they work.
They had rookie safety Robert Johnson put on Moss' No. 84 jersey and run onto the practice field with TV cameras and photographers shooting away, thinking it was the star receiver. Moss jogged out a few minutes later, pulling his helmet on with his usual red gloves instead of the blue Johnson wore.
"I think some of the veteran DBs put him up to it," Fisher said. "It was a good imitation. He just had the wrong colored gloves."
Moss has immediately impressed his latest teammates. Kenny Britt, who will miss Sunday's game at Miami, wants to learn how Moss catches go routes with his hands while the other receivers struggle to pull them into their bodies.
"He made it so easy," Britt said.
Moss caught balls mostly from backup Kerry Collins, a teammate for a year when both were in Oakland. Young watched practice with his sprained left ankle, but Fisher said they hope Young is back on the field Thursday.
The Titans only hope Moss debuts just as he has in each of his previous first games with a new team. He has scored at least one touchdown and is averaging 122 yards.
Collins said the Titans are seeing the great attitude and work ethic Moss brings along with his desire to win. That ratchets up the expectations across the board.
"We all should raise the bar just a little higher with him here," Collins said. "He's a dynamic player. He can be a game changer and be the kind of guy that can turn the game on one play."